The Importance of Making Eye Contact with Your Children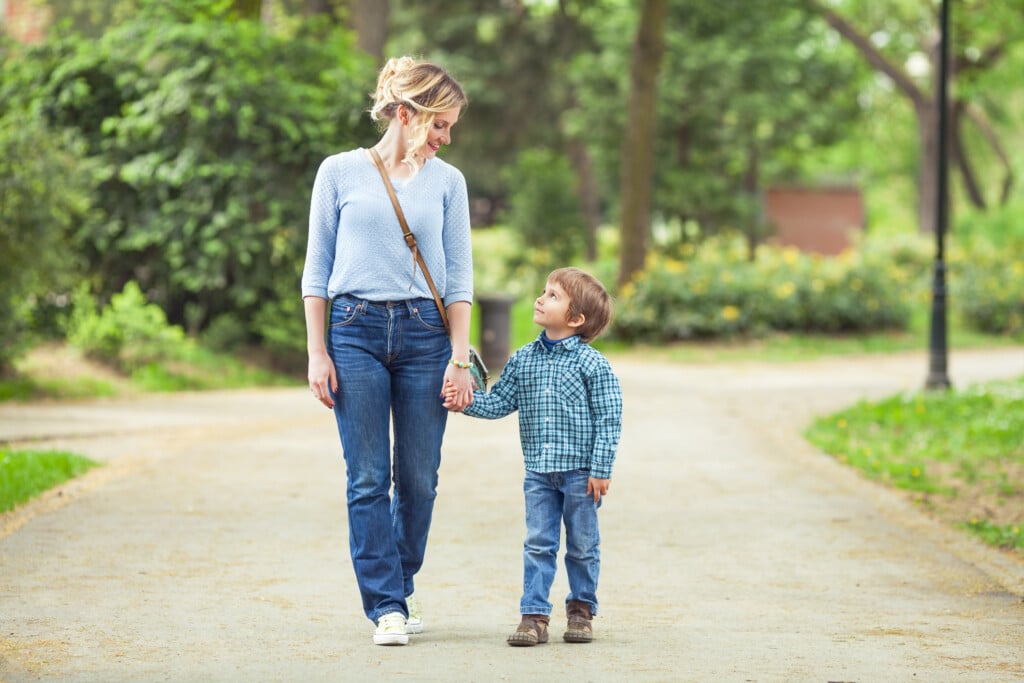 We've all heard stories of poor little rich kids who had all the toys money could buy, but never had their parents' attention. It's true, we can strive to give our children all the material things they desire, but if we don't give them our undivided attention—our focus—it's hard for them to feel loved. While few of us are dashing off to exotic locales and leaving our children with nannies, we often end the day having rushed from one activity to another with scant time to actually connect with them in a meaningful way—to even make eye contact with them.
"One-on-one time with our kids is key to helping them feel loved," said Erin Kurt, teacher, author and international life coach to working mothers. Kurt, a Canadian currently living in Windsor, England with her husband and two children, has taught in international schools all over the world. She said that children in all the different cultures where she has taught desire the same basic things from parents. "They want time just with dad and just with mom. That one-on-one attention made them feel completely loved and happy."
The Basic Four
Kurt understands the pressure parents are under, especially working parents, to get everything done and spend quality time with each child. "It brings on the whole guilt thing," Kurt said. "But there is a way to do it that doesn't take a lot of time."
According to Kurt, there are four basic things that communicate love to children:
Physical touch
Eye contact
Focused attention
Discipline
"When we have one-on-one time with them, we are giving them three out of the four things they need," Kurt said. So snuggling with them at bedtime as you read a bedtime story; listening attentively, while making good eye contact, as they tell you about their day; giving them a hug and a kiss before they leave for the bus, are all ways of making them feel loved. "If you can check off those four things on a daily basis, you've done your job for the day," Kurt said.
Kurt stresses that even teenagers want their parents' attention. "As kids get older they tend to spend more time with their peers. But the one-on-one time you do have with them tells them that you really like them. In teenagers that is a great comfort to them. The peer pressure they may face is lessened, because they remember this connection with you."
Make a Date With Your Child
Kurt, who is also the founder of ErinParenting, a childrearing method that offers simple, loving parenting tips, said that she encourages busy parents to make monthly "dates" with each of their children.
"Sit down with each child and say something like, 'Mum has been really busy, but I value you so much that I want to spend time just with you.' Then brainstorm ideas about what you might do."
Kurt said that she and her son come up with ideas together and write them on slips of paper. "I have a routine where every month he picks a slip of paper and that is our date. I put it on the calendar and draw a heart around it. By doing this," Kurt said, "kids know that even though you don't have a heck of a lot of time, that date is important. You can't leave these things to chance. You have to plan it."
No, You Don't Have To Play Barbies
Don't like to play "cars?" Barbies not your thing? It's OK, according to Kurt. "Sometimes we feel we have to do exactly what the kids want us to do," Kurt said. "What I suggest to parents is to do what you love to do. I love baking. When I bake I am so there. I am fully focused and fully present. My son feels my excitement and my presence. My husband doesn't like to read, but loves documentaries and basketball. My son loves sharks. Together the two of them can play with the basketball and watch shark documentaries!"
Kurt believes it is much better to be fully present, doing something you love, than to be half-heartedly doing something you don't enjoy.
Focus
According to Christine Carter, Ph.D., author of Raising Happiness: 10 Simple Steps for More Joyful Kids and Happier Parents, focus is the most important thing.
"It is the bull's eye," Carter writes, "the sweet spot of parenting. Sure, kids need time to just hang around with us while we check our email or cook dinner and they read or do their homework. But they also need us to focus on them a little bit each day, be totally present with them."
"Many moms today feel as if they are not good mothers unless they are racing around shuttling their children from lessons, to practices and back to lessons again," Kurt said. "Children are incredibly wise and see the world more simply than we do. Perhaps it's time we start taking their advice. Maybe we would all feel a little less stressed if we were satisfied with the fact that doing the little things really is good enough!"
---
Top 10 Things Kids Really Want From Their Parents
Erin Kurt, international teacher and parenting expert, has asked children around the world to give her advice on being a mother. When asked what their mother or guardian does for them that makes them feel loved and happy, they all say the same basic things:
Come into my bedroom at night, tuck me in and sing me a song. Tell me stories about when you were little.
Give me hugs and kisses and sit and talk with me privately.
Spend quality time just with me, not with my brothers and sisters around.
Give me nutritious food so I can grow up healthy.
At dinner talk about what we could do together on the weekend.
At night talk to me about anything: love, school, family, etc.
Let me play outside a lot.
Cuddle under a blanket and watch our favorite TV shows together.
Discipline me. It makes me feel like you care.
Leave special messages in my desk or lunch bag.