The Black Male Teacher: The Importance of the Unicorn in the Classroom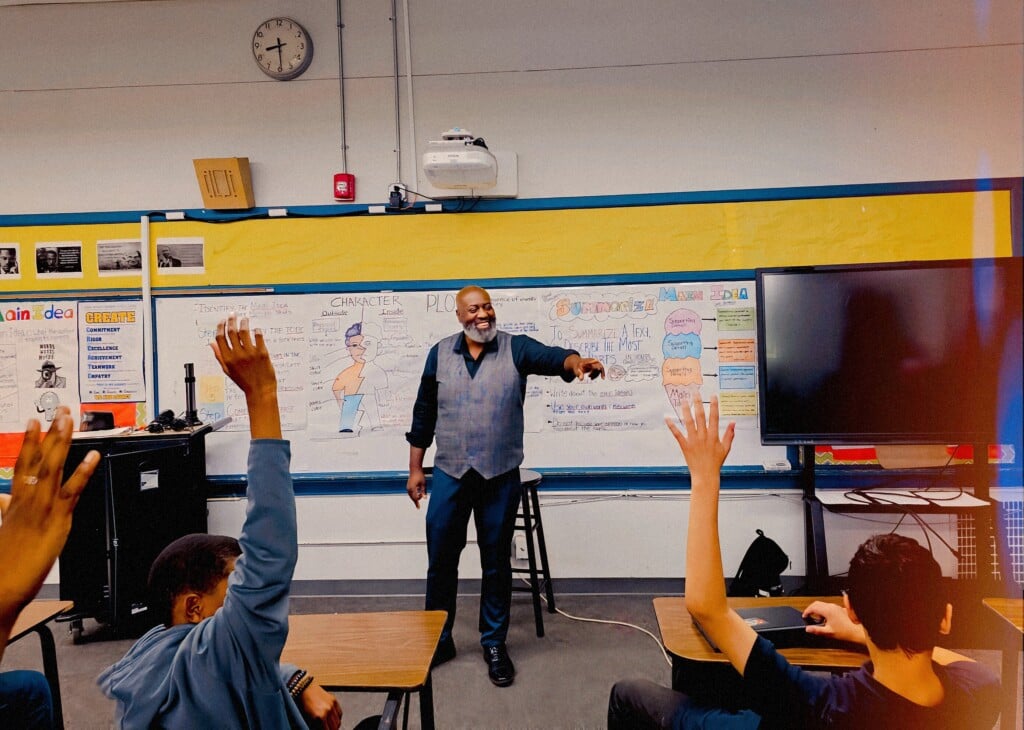 As I walked toward Mr. Hank Byrd's classroom at Legacy Charter School, I saw a student jump up, give him a high-five, and say, "Hey, Uncle Byrd."
Mr. Byrd looked at me and laughed, and said, "Yeah, they call me Uncle Byrd because, at 51, I am the oldest teacher in the school." He continued, "I have been teaching for about four years, and the most rewarding thing is hearing from the students how much I mean to them, and when they stop by my classroom to say hello and share parts of their lives with me."
Mr. Byrd shared, "I looked for meaningful ways to give back to my community, and teaching allowed me to have the most impact."
Nationwide, 1.9 percent of elementary teachers are Black males. In Tulsa, where 24 percent of the elementary students are Black, their percentage of Black male teachers matches the nation's percentage at 1.9 percent. Unlike the national and local percentages, Legacy Charter School's percentage of Black male teachers is 45 percent. Why are these numbers significant? Two words: student success.
As a Black male teacher, Mr. Byrd said that having a diverse teaching staff, particularly Black male instructors, is essential. "Father figures and role models are often lacking in the homes of the scholars I teach," he said, "so I feel that scholars require a compensatory male presence in their lives. There are many conversations I've had with my male scholars that they've only felt comfortable sharing with another male."
The social-emotional gap also impacts performance, college enrollment and fairness.
Black students perform better in K-12 when Black male instructors positively impact staffing biases and student outcomes. Principal Staci Brown Hegler at Legacy Charter School said Black male teachers matter because schools without Black male instructors tend to have higher suspensions and IEPs (Individual Education Plan) among Black male students.
2. College enrollment.
Black male teachers can increase Black students' chances of enrollment in college and reduce K-12 dropout rates. When I asked Byrd's students what they liked about him, a scholar raised her hand and said, "He teaches us about life." Another said, "He gets us ready for high school." Mr. Byrd asked, "Which…?" The entire class responded, "Gets us ready for college." Again Mr. Byrd asked, "Which…?" The class responded, "Gets us ready for life."
4. Fairness.
Studies show that having more male instructors of color positively impacts every student regardless of race. One of Mr. Byrd's students said she appreciated that Mr. Byrd "never sugarcoats anything, and he is fair to everyone."
I asked Principal Staci Brown Hegler how Legacy Charter School had 45 percent Black male teachers when Tulsa and the nation's average was 1.9 percent. She said it happened organically. She said most of her staff had a personal call to action and wanted to give back to their community. Brown Hegler also said Legacy Charter School's executive director was "connected to the community, which gives them access to candidates who would like to teach."
She suggested that organizations should expand the way they recruit. For example, Legacy was involved with the Dream Center, My Brother's Keeper and 100 Black Men. This meant that when it was time to hire candidates, they were "accessible to the organizations within the community with clear connections with people who desired to be in the classroom."
Here are three things that can help positively impact learning in terms of hiring more Black men as teachers.
1. Recruitment.
Mr. Byrd suggests that Black male teachers should recruit Black male teachers. He said, "Usually when recruitment happens, it's coming from administrators. Black male teachers can build relationships with high school and college-aged Black males in the community, answering questions and telling them about the rewards, community impact and fulfillment of being a teacher.
2. Programs.
Mr. Byrd suggests there should be leadership programs that incentivize Black men in teaching. Several nationwide programs are trying to increase the pool of teachers from diverse backgrounds that offer incentives, such as loan forgiveness and mentoring. These include Call Me Mister Program (an acronym for Mentors Instructing Students Toward Effective Role Models), Men of CCD (Charleston Country School District), and He is Me Institute. While these programs are outside Tulsa, they are certainly worth looking at to see if a program can be developed for Tulsa.
3. Leadership.
Principal Brown Hegler stated, "As a leader, it's important to manage systems and lead people. Leaders should be purposeful in engaging with all staff members. It's essential to see the potential in Black men educators and to be mindful of not underutilizing them. At Legacy, Black male instructors are set in leadership roles as core content teachers and leads. Their voice must be heard because their positive impact on our scholars is undeniable."
A diverse teaching staff contributes to students' success. It's vital to mind the gap and retain Black male instructors.
Dr. Tamecca Rogers is Director of Diversity, Equity and Inclusion at Tulsa Technology Center. She is a writer and mom to three boys who love adventures.
---