Pre-K, Preschool, Public, Private: the ABC's of Early Learning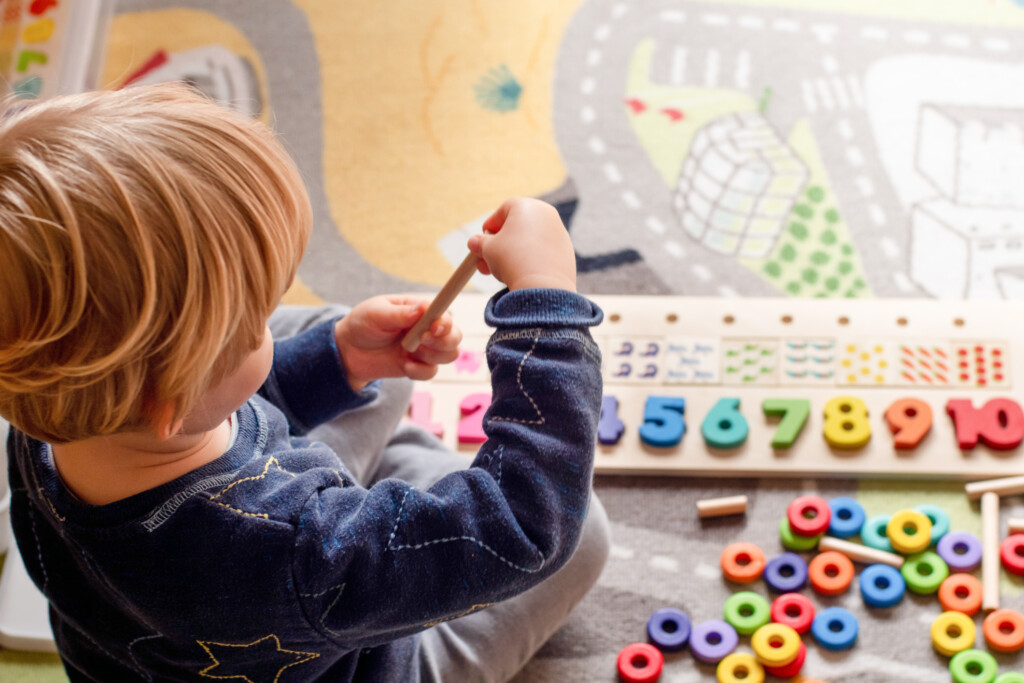 Of all the lists Oklahoma manages to get itself onto, the one that gives our state enormous bragging rights is the one dealing with our littlest learners. And rightly so. According to the State of Preschool 2008 report published by the National Institute for Early Education Research, Oklahoma ranks No. 1 in access to preschool education for 4-year-olds, with 88 percent of children that age enrolled in a state-funded prekindergarten, special education or Head Start program.
That's the good news for our children. Unfortunately, many parents struggle to look beyond the numbers in order to make decisions about which programs are right for their children. This article will address some of the key questions that parents have about education for 4-year-olds, clarify some of the confusing terms, and provide some key points to consider when choosing a program.
Public vs. Private Options
What is the difference between a 4-year-old public school program and a private preschool? The short answer is funding streams. A 4-year-old program – also called a public pre-kindergarten or pre-K program – is a publicly-funded program that is either a public school-based or a federal Head Start program. A private preschool is a fee-for-services arrangement, with some preschools accepting subsidies from OKDHS or tribal sources.
Are the standards different for 4-year-old programs and preschools? That depends on the preschool program. Public 4-year-old programs must have a degreed, early childhood certified teacher in the classroom; maintain a 10-to-1 or better child to teacher ratio; and follow state adopted curriculum standards (PASS objectives) and early learning guidelines.
In contrast, not all private preschool programs meet similar standards. The ones that do are typically the ones nationally accredited by an organization such as the National Association for the Education of Young Children (NAEYC). NAEYC's framework for accreditation encompasses curriculum standards, teacher credentials, ongoing teacher professional development, and more. To receive a 3-Star rating from the Oklahoma Department of Human Services (OKDHS), a center offering preschool programs must be nationally certified by NAEYC or another recognized accrediting body. According to OKDHS, 25 centers in Tulsa County are designated as 3-Star programs; the NAEYC website lists 22 centers in Tulsa as accredited by its organization.
Developmental Considerations
In terms of similarities, public or private programs that best serve 4-year-olds are those that are developmentally appropriate for the age group.
"In the marketplace, there are programs that say they are developmentally appropriate, but in reality are not delivering the high quality services we would expect to see with that label," said Diane Horm, Ph.D., the George Kaiser Family Foundation Endowed Chair of Early Childhood Education at OU-Tulsa.
What does a developmentally appropriate program look like? Experts from universities, to public school administration, to private preschools agree that the program should center on the child and not on the adults who work there.
"If I were a parent going to choose a program for a 3- or 4-year-old child, I would look for lots of opportunities for child choice and for big blocks of free time. But 'big blocks of free time' does not mean a free-for-all," said Horm.
Instead, the learning environment should be arranged in centers – blocks, dramatic play, science, literacy, writing, and outdoor centers. "A teacher should have purposefully placed materials that he or she has considered to be learning opportunities into the centers," she said.
Sand Springs' Early Childhood Education Center
Purposeful and developmentally appropriate are key words that describe the design of the new Early Childhood Education Center that opened in Sand Springs this school year. The $14 million facility, funded in part with Vision 2025 funds, is a jewel in the Sand Springs Public Schools system and provides full-day access to public-funded PreKindergarten programming for all of the district's 4-year-olds. Robert Franklin, Assistant Superintendent for Instruction at Sand Springs Public Schools, is excited by the debut of the center, which is designed for and about early learners. Franklin says the center's 20 classrooms are arranged in pods to promote a family style environment.
"There's no cafeteria, no gymnasium, but you'll see tons of play areas, equipment, and learning materials that are specifically designed for kids 6 months to 5 years old. It's really developmentally appropriate in regard to its design and the scope of the materials," he says.
Play is Key
Both Horm and Franklin recognize that what is developmentally appropriate for children looks like child's play to parents. It is supposed to. The research is clear, and so is NAEYC, about the function of play as enhancing children's growth in all developmental realms – physical, cognitive, language and social/emotional. The organization's recently published third edition of Developmentally Appropriate Practice guidelines (NAEYC Books, 2009) calls play essential to fostering the elements of self-regulation that allow for children's healthy development.
"Rather than detracting from academic learning, play appears to support the abilities that underlie such learning and thus to promote school success," the report said.
In fact, fostering children's self-regulation and social/emotional growth in a small community of their peers is a key reason to provide children with a pre-kindergarten experience. Pamela Goodwin, executive director of Trinity Episcopal Day School, a NAEYC-accredited program in downtown Tulsa, called the social/emotional component to learning "huge" and added that a child's attitudes and motivation about school in general are influenced by his or her first exposure to it.
"There is so much to navigate and do in a (primary) school setting if the child hasn't been exposed to it in preschool. Children have to feel safe and secure to learn and grow," she said.
If children's early learning environments are too heavily structured or have too many primary school-type transitions, that learning can be discouraged.
"Children perform better if there is consistency and a predictable routine. Once they've mastered their environment, all of their energy can be focused on growth and development. With a lot of transitions, they are in a higher state of alert in that they are constantly scanning the environment, trying to figure it out. They're consumed with that scanning and it can cause anxiety," she said.
How do I know which program is right for my child? First of all, visit the school or center. Ashley Lewis, pre-kindergarten teacher at Eisenhower International School, said she has an open door policy and invites parents to sit and observe in her classroom. And when parents do observe, they should see integrated learning experiences and not isolated, direct instruction on skills or concepts (e.g., drills, pencil/paper tasks, lecturing).
"Kids should know what an A is by experiencing it in the environment, and not because a teacher is making them write it over and over again," she said.
Other tips include:
• Look for a full day program. Lewis says that much of the vital learning time is cut out of a half-day program.
• Consider your wrap-around needs. Depending on your district, before and after care may not be available for 4-year-olds. Consider how much your child will be moving from one place to another during a single day.
• Ask a lot of questions. NAEYC publishes a helpful booklet titled A Guide For Families: Using NAEYC Standards to Find Quality Programs for Young Children. For each of the 10 NAEYC accreditation standards, the booklet lists "What you want to see" points for parents. These points are relevant for assessing either public or private programs.
• Assess the environment. Is it child centered? Does it promote choice? Does it include outdoor experiences? "Since I moved here, I have been shocked at the dearth of outdoor play time. Adults should see outdoors as a learning area, which should have the influence of planning in respect to developmental goals for the child," Horm said.
• Assess the routine. Goodwin said this is crucial. "When you ask about routine, you're looking for flexibility. If you have a child who needs three extra minutes to get from point A to point B, is it there?" she said.
• Consider the grouping size for activities. Most activities should encourage independent discovery and active learning. However, a short, whole group "family time" (not more than 15 to 20 minutes) is appropriate. "There should be no desks in rows, no teacher in front lecturing," said Horm.
• Know your child. Goodwin says this is the most important point of all.
"Do you feel like this environment, knowing your child's temperament, is an environment in which he or she can grow and flourish? It has to be from the child's perspective."
FAQs
When is a child eligible for a 4-year-old program?
According to the Oklahoma State Department of Education, children are eligible if they turn four on or before September 1.
Is my child required to attend a 4-year-old program?
No. Oklahoma's 4-year-old programs are voluntary, not compulsory.
Are all 4-year-old programs alike?
Some districts offer full day programming; others have half-day options. Some are site-based at individual schools; some are centralized, so don't assume your neighborhood school will have a program. Visit your district's website or contact your local school for details. Private school options vary, so contact the schools that interest you.
When does enrollment begin?
Again, it varies by district or center. Some private centers enroll year-round, depending on availability; many try to follow a school year enrollment pattern. Public school enrollment may take place in spring or summer, depending on the district. It is wise to begin making inquiries in the autumn for placement in the 2010 school year. That allows parents ample time to make site visits and avoid rushing any decisions.
Allison Geary is a doctoral student in reading with an emphasis in early education.
To Learn More
To inquire about public school 4-year-old programs, contact the local school directly or contact the Enrollment office at your school district.
To find a 3-Star rated child care center, visit the Oklahoma Child Care Locator at the Oklahoma Department of Human Services website at childcarefind.okdhs.org/childcarefind/
To find a NAEYC-accredited program, visit the organization's website at ais.naeyc.org/search_programs
To review the State of Preschool 2008 report, visit the National Institute for Early Education Research website at nieer.org/state-preschool-yearbooks
10 Questions to Ask
The NAEYC Guide for Families booklet has a complete list of what to look for in a high quality preschool program. Here are a few questions to get you started:
What experience/education do the teachers have?
What is the daily routine? Group activities? Independent play? Centers?
What is the parent involvement and how are parents involved?
Is there time for the parent and teachers to discuss the child? What other assessment methods are used?
How is discipline handled?
Does the school have an outdoor space? Is it used daily, if weather permits?
Does the school take field trips?
What is the child/teacher ratio?
What is the policy for taking care of sick or injured children?
As you observe the school, are children happy? Does it have a lively, creative order? Is the room decorated with children's art and projects? Do teachers interact positively with children?