Tea Party Treats
Apricot Balls, Blueberry Jam Muffins, Lemon Bread and Tea Party Punch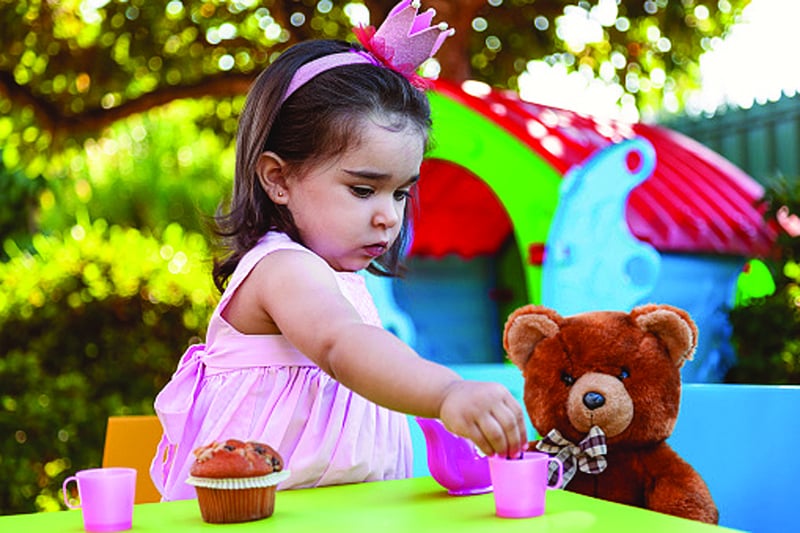 One of my favorite pictures of one of my daughters is her sitting at the kitchen table with a big smile, holding a teacup. She's only 2 years old in the photo, and wearing a bib, but she's already loving the idea of tea time.
We had little tea parties, usually with water, milk or juice, from the time my kids were toddling around. The parties were never very elaborate, but a fun thing to do on a rainy day or on days when we needed to hit the family reset button. Asking cranky kids to set the table for tea doesn't always work. But it's sure worth a try, and actually it can often turn bored or fussy kids into busy, purposeful kids.
A tea party can be as simple or fancy as you want it to be. An impromptu tea party of herbal tea and cookies during the witching hour was the most common for us. But my kids have also enjoyed planning nicer tea parties, setting the table for their cousins, aunt, grandmothers and friends.
Setting the table with china may not be the right job for a 4-year-old, especially if you have ceramic tile floors. When my kids were preschoolers, a friend gave me a good tip: Buy an inexpensive set of cups and saucers from Goodwill or a garage sale. Save your nice cups and saucers, and let the kids have tea parties and playtime with the set that won't cause tears if it breaks.
Tea parties are an opportunity to use imagination – kids can dress up, change their accents, giggle and spin stories about the faraway land from which they've traveled.
If your kids have already discovered the joy of tea parties, you might consider hosting a tea party for their next birthday parties. Birthday tea parties are fun and offer opportunities to go as crazy as you want with a color-coordinated theme and decorations.
Kids won't mind at all if your tea party is all store-bought cookies, peanut butter and honey sandwiches and chocolate milk.
But, once they are elementary school-aged, they will notice – and some will even appreciate – care taken to make more sophisticated treats. Scones, fresh whipped cream and berries and cucumber sandwiches are fun tea party foods. One simple treat my kids enjoy is biscuit dough rolled in sugar and cinnamon before baking. This slightly sweet biscuit goes perfectly with tea.
So whether it's vanilla wafers and apple juice or custard tarts and chamomile, make the time for a tea party, no matter if it's for toddlers or teens.
---
It's fun to try something new or different, like this easy apricot cookie, at a tea party.
Apricot Balls
Makes 4 dozen
2 cups coconut flakes, packed
1 cup dried apricots, chopped
2/3 cup sweetened condensed milk
1/8 teaspoon salt
1. Combine all ingredients in a large mixing bowl; mix well.
2. Shape into 3/4 inch balls, then place on parchment-lined baking sheets. Bake at 325 degrees for 15 minutes or until golden.
---
Kids can help make these sweet muffins. Blueberry is good, but you can choose any flavor of jam that you like.
Blueberry Jam Muffins
Makes 10 to 12
1 cup all-purpose flour
1/4 cup sugar
3/4 teaspoon baking powder
1/8 teaspoon baking soda
1/8 teaspoon salt
1/2 cup sour cream
1/4 cup butter, melted
1 banana, mashed
1 egg
1/2 teaspoon vanilla extract
1 to 2 tablespoons milk
1/2 cup blueberry jam
1. Mix dry ingredients together in a bowl. Stir in next five ingredients. Add a little milk if batter seems too thick. Spoon batter into 10 to 12 lined muffin cups, filling half full.
2. Drop one teaspoon of jam in to the middle of each muffin cup. Bake at 400 degrees for 12 to 15 minutes. Cool slightly before removing from pan.
---
Lemon Bread
Makes 1 loaf
6 tablespoons butter, softened
1 1/3 cups sugar, divided
2 eggs, beaten
1 tablespoon lemon zest
1 1/2 cups all-purpose flour
1 teaspoon baking powder
1/2 teaspoon salt
1/2 cup milk
3 tablespoons lemon juice
1. Beat together butter and 1 cup sugar. Beat in eggs and lemon zest.
2. In a separate bowl, combine flour, baking powder and salt, then add to butter mixture alternately with milk, beginning and ending with flour mixture.
3. Pour batter into a greased and floured 8- or 9-inch loaf pan. Bake at 325 degrees for 45 minutes or until a wooden pick inserted in the center comes out clean.
4. Meanwhile, combine lemon juice and remaining 1/3 cup sugar in a small microwaveable bowl. Heat on high setting for 30 seconds, then stir until sugar dissolves. Pour glaze over hot bread. Let cool completely in pan before removing.
---
Tea punch is fun for a party. It's also a good choice for kids who aren't big fans of tea but still want to fill their cup with something "grown up."
Tea Party Punch
Serves 10
2 quarts strong-brewed tea
1 (12-ounce) can frozen lemonade
1 (46-ounce) can pineapple juice
1-2 cups ginger ale
1. Combine all ingredients, stirring while tea is still hot. Taste, and add more ginger ale or juice to taste. Chill, and serve cold.
Natalie Mikles is a mom of three. She writes about food, sharing recipes for busy families and picky eaters. She has been recognized for her food columns as well as features on families and issues affecting local children. She loves pizza and movie nights with her family.
---