Talking to Kids Can Help Prevent a Crisis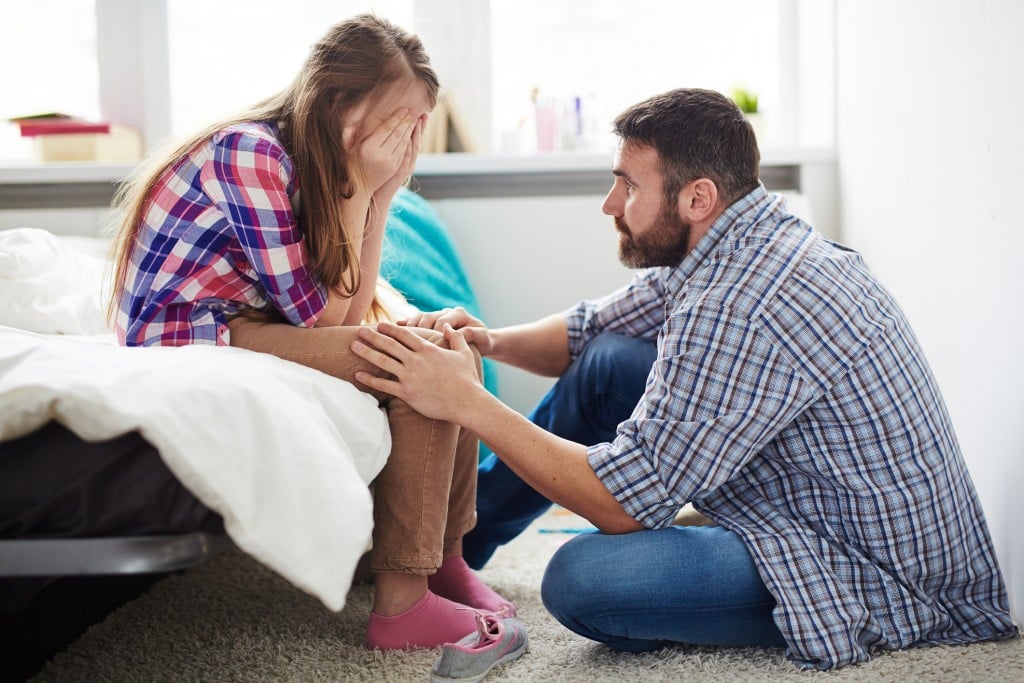 "We want to prevent suicide, and we can prevent it if we talk about it," says Emily Farmer, senior clinical director and suicidologist at Family & Children's Services (F&CS) in Tulsa.
Farmer says that national suicide rates continue to rise. During COVID, Oklahoma was an anomaly. While national rates fell, Oklahoma's suicide rates continued to rise.
"There are a lot of different reasons for that," Farmer says. "Access to resources, access to mental health care, different kinds of stressors for people who live in our state – environmental factors, emotional factors."
And the numbers continue to increase for young people.
Farmer says it's a myth that talking about suicide will make people more likely to carry it out.
"Everyone should talk about it in ways that highlight support and resources that are available," Farmer says. "We make sure that adults are aware that they can recognize warning signs, and we make sure that kids are aware of the warning signs to decrease suicides in the clients that we serve in our community and the agency."
What Are the Signs?
Parents or others who work with children can look for changes in mood, behavior or in the topics their children are talking about. The changes are behaviors that are outside the norm for that child.
"A lot of times, young people will be more irritable and angry," Farmer says. "Parents may be frustrated and want to discipline that, but some people express their struggle through anger. The key is change."
Parents might notice other changes in their child's behavior such as losing interest in friends or activities that they used to care about, or changes in sleeping and eating. Some children and young people will verbalize their thoughts or post them on social media. They may say things like, "I don't want to be here anymore," or "I don't want to live anymore."
Take a Preventative Approach
Farmer suggests that parents monitor social media even before they think there's a reason.
Taking a preventive approach with communication can build positive relationships with children, which can avert a crisis or make things easier if a crisis should arise.
"Be mindful of the risks that our kids have right now," Farmer says. "Start thinking about those things before you think you have to, before an overt issue comes up. Just know that because of their age and what they've been through (during COVID isolation), a lot of our young people are at risk. Try to be proactive about what they're going through."
Start the Conversation
Talking about brain health should be just as normal as talking to children about healthy eating, wearing a seat belt, getting enough sleep and other preventive health topics. Develop an open environment where kids feel comfortable coming to you. Listen to them.
If parents are picking up on behaviors that concern them, Farmer suggests starting a conversation to check in.
"Reach out in a way that's comfortable for them," she says. "I always talk in their language. It can be a simple as saying, 'How's everything going?' or 'Is everything OK?'"
If they try to deflect, keep gently pressing. You might say, "No, really. I noticed you don't want to go to soccer practice anymore. Is there something going on?" Give children plenty of room to talk, and then calmly listen without thinking ahead to the next steps.
"Don't try to problem solve too soon," Farmer says. "They should feel heard and understood."
Farmer also says that parents shouldn't be afraid to ask directly if their child has considered suicide.
"There's so much out there now that kids are seeing and being exposed to, and the idea is already out there," she says. "If you ask directly, it can be a relief. You care enough to ask these things."
If the answer is "yes," Farmer says that Tulsa has resources to help. "Stay calm, continue to listen and, once you have a full understanding of what's going on, think of your next steps."
How COPES Can Help
Family & Children's Services operates COPES, a 24-hour crisis line for Tulsa County. COPES also has a crisis team that can come to you 24/7. Anyone can call – kids, parents, teens.
"We talk with the caller and give a recommendation for what should be most helpful," Farmer says. "We start with what we can do over the phone, find out what is needed and decide if the mobile response would be helpful."
Farmer asserts that people can be helped. It's a myth that it's impossible to stop a person who wants to take their own life.
"They're at highest risk to carry out the plan for a very short period of time," she says. "If we can interact in a positive, supportive way, we can help that dissipate. Something happens to stop that plan. They might not have access to dangerous items. They may have a good conversation with someone who recognizes the warning signs. A lot of times, people won't have a plan B. If we can mitigate their plan, many times we can save the person's life."
Farmer encourages young people to connect. They can be involved in extracurricular or faith-based activities. "Sometimes it's enough to be in a classroom with someone," she says. "The pandemic took away those daily kinds of caring interactions."
Knowing that resources are available can give parents the confidence to get help if they need it.
"Ask. Check in. Listen," Farmer says. "We don't listen enough in our world to really learn. Have the confidence to have the conversation if they (children) need it."
Resources
YES Tulsa
crsok.org. 24/7 Urgent Youth Crisis. Provides immediate crisis response, assessment, stabilization and coordination referral for families and youth ages 6-17 years old, 24 hours a day, 7 days a week. 918.779.HELP
COPES
fcsok.org. 24/7 local crisis and emotional support helpline for F&CS clients, community, adults and children. If you are depressed, overwhelmed anxious, have thoughts of suicide or fear that someone you love is suicidal, call 918.744.4800.
988 Suicide and Crisis Lifeline
988oklahoma.com. New National Suicide Prevention Lifeline. Available 24 hours.
---