Taking Back Recess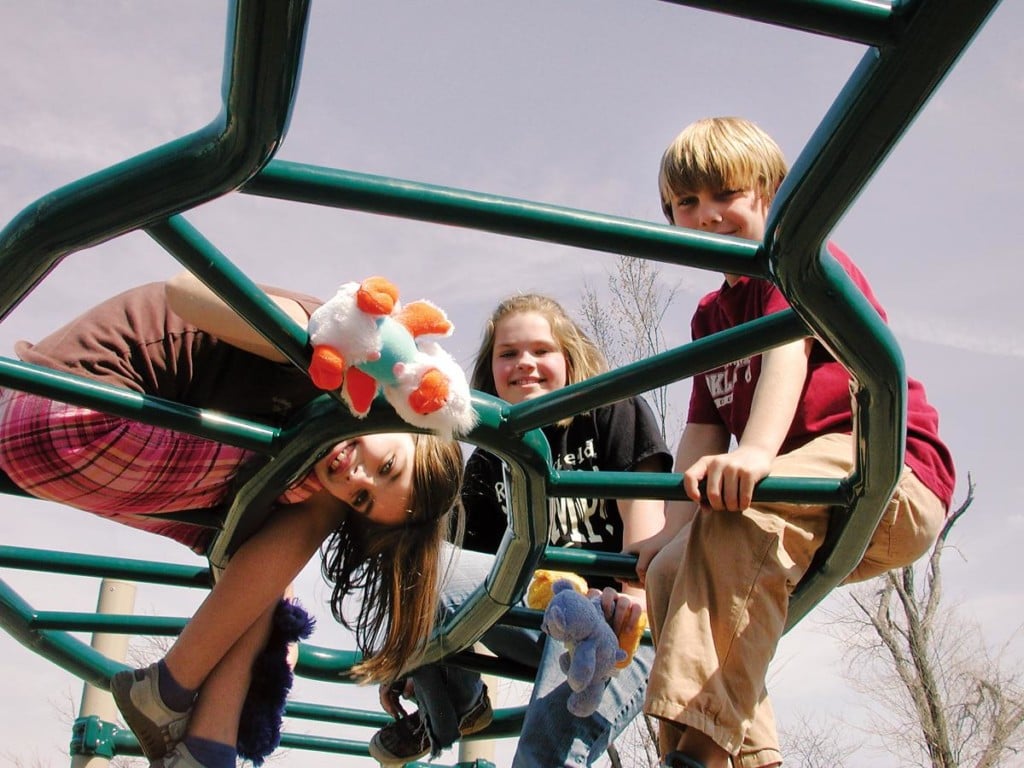 Freely flipping on the red parallel bars on her school playground, Paula's sandy brown pigtails settle back beside her ears as she comes to a wavering halt atop one of the bars. The Lee Elementary School kindergartener catches her breath and grins, "Recess is my favorite class." Paula flips again and quickly chases away to the swings.
Lee's school bell rings at 7:55 a.m. Paula and her classmates have spent their morning engaged in class work. Now, following lunch, the kindergarteners have 30 minutes to slide, swing, climb, negotiate a hopscotch course, tee up the tetherball, shoot some baskets, play four square or just giggle with friends. Thirty glorious minutes to rest their minds, exercise their bodies and rejuvenate their spirits.

Right to Play
Free play is considered to be so vital to the physical and mental health of children that the United Nations in their 1959 Declaration of the Rights of the Child stated, "The child shall have full opportunity for play and recreation which should be directed to the same purposes as education; society and the public authorities shall endeavor to promote the enjoyment of this right."
Yet, during the 1990's school recess throughout the United States was shortened from 30 minutes to 15. And, in some school districts, recess was eliminated and new elementary schools were built without playgrounds.
The American Academy of Pediatrics report, "The Importance of Play in Promoting Healthy Child Development and Maintaining Strong Parent-Child Bonds" by Kenneth Ginsburg, MD, states, "A 1989 survey taken by the National Association of Elementary School Principals found that 96% of surveyed school systems had at least one recess period."
Another survey a decade later found that only 70 percent of even kindergarten classrooms had a recess period. In the same report, one of the reasons given for lack of recess is that "[m]any school districts throughout the United States have responded to the No Child Left Behind Act of 2001 by reducing time committed to recess, the creative arts and even physical education in an effort to focus on reading and mathematics. "
School districts also cite an increase in concerns over injury and liability on the playground as reasons for decreasing recess time. And, some schools simply do not have enough teachers to monitor children during recess.
Without a recess break during the day, students are expected to sit and focus in class for hours at a time, a task even an adult would find difficult.

Taking Back Recess
When elementary schools began to chisel recess down from 30 minutes to 15 minutes a day, or eliminate it all together, parents and teachers began to see a change in students' classroom demeanor. Usually attentive students grew fidgety as the day went on.
Recess time versus classroom time became a catch-22. Parents and teachers agreed academics were a priority, but restless students hindered teaching. Parents began to visit school principals and school boards in order to rescue recess. Their efforts made an impact.
To date, Virginia, Connecticut and Michigan have passed legislation requiring recess in elementary schools. Michigan's State Board of Education states in its "Policies for Creating Effective Learning Environments" that public schools offer daily recess periods or periods of physical activity for all elementary and middle schools.
Under the guise of the Oklahoma State Department of Education, public elementary schools are to have six hours of instructional time each day. Recess is not considered instructional time. Thus, if a school is in session from 8 a.m. until 2:45 p.m., lunch period followed by recess is about 50 minutes.
LaDonna L. Atkins Ed. D., CFLE, associate professor of Family Life Education at the University of Central Oklahoma serves on the national board of the USA International Play Association (IPA) as the recess liaison for all states. IPA World, a non-governmental organization, was founded in Denmark in 1961. The organization seeks to protect, preserve and promote play as a fundamental right of all human beings.
Atkins says she became involved in the organization because some of her research found that children in Oklahoma were not getting recess. "I am an advocate for play," she says.
"In Oklahoma, recess is recommended by the state legislature under a nutrition bill. So, right now, the state is encouraging schools to have recess. However, being the state advocate, I get calls and emails from teachers and parents who are concerned because their children are not getting recess," she adds. "Many times recess is taken away as a form of punishment. Or, children do not get recess until after the standardized testing is over."
In March, Senate Bill 1186, authored by Tulsa Senator Mary Easley, was passed by the state senate. The bill would integrate an additional hour of physical activity in school each week for full day kindergarteners through fifth graders in addition to the hour of physical education already mandated by law.
The physical activity time may include physical education, exercise programs, fitness breaks, recess, classroom activities, and wellness and nutrition education. The bill will go before the Oklahoma House of Representatives for consideration this spring.

Brain Break
Melissa Pierce, a teacher at Lee Elementary in Tulsa, refers to recess as a "brain break."
"You can tell when the kids need a break in the classroom," she says. "They lose their focus very quickly." And, usually, loss of focus in the classroom leads to the fidget factor.
Students at Lee enjoy at least a 30-minute recess daily. Pre-kindergarten and kindergarteners many times enjoy two recesses each day, depending on the weather.
Olga Jarrett, professor of child development at Georgia State University, discovered, in her research, the amount of classroom time lost to fidgeting adds up to the amount of time it takes to have recess.
A child's brain needs downtime. The more recess is delayed, the more inattentive a child can become. "After recess, my students are energized. They are ready to get back to work," says Pierce.
Dr. Anthony Pellegrini, associate professor of educational psychology at the University of Minnesota, says, "Our research proves that breaks, or play, actually encourage academic achievement. Recess improves academic achievement, peer relations and school adjustment. For young children, it can provide a welcome respite from intense cognitive activity."
Recess at Riverfield Country Day School in Tulsa actually inspired the fourth grade class to conceptualize a new playground for the middle school. In fact, recess turned into a classroom project.
When a parent offered to help fund new middle school playground equipment, Riverfield Middle and Upper School Director Toby Clark created an enrichment class in which the students became the playground designers and engineers. "The students researched, designed and even helped construct the new play areas."
Their months of research touched upon many academic skills: math, to determine the cost of equipment; writing, to present their ideas and science, to determine size and safety of the play devices. The new playground sports a climbing wall, an age appropriate slide and climbing piece, and a multi-purpose court used for shooting baskets, wall ball or four square.

Recess – Unstructured Time of Day
Children are often busy with after school sports and lessons, which have taken the place of unstructured outdoor, neighborhood playtime. Concerns over safety often keep kids confined to small backyards or playrooms.
With both parents working during the day, latchkey children return home to spend their afternoon focused on passive entertainment such as video games and television. Neighborhood, unstructured play — the kind that creeps into the evening until mom calls you in to dinner — has slowly become a thing of the past.
For many children, school recess has become their only opportunity to enjoy the out of doors and engage in free play with friends.
Recess, even once a day, can "rebuild a child's spirit," says Holland Hall School's Head of Primary School, Joann Vargo.
"Recess is such an integral part of the day because when children are in the classroom, they are using their minds so intensely. I see recess as less structure, where the child is in more control and the teacher is more of a guide. During recess a child's imagination stretches and problem solving skills emerge."
A classroom is considered a closed setting, where the leader is the teacher. Recess, on the other hand, is an open setting where children lead.
Observing a recess, an adult might see children zooming in all directions, quickly moving from one piece of play equipment to another or from one imaginative play scenario to another.
Several kindergarten boys might transform a piece of climbing equipment into a fire truck. They take turns being the driver and making loud siren noises. All of a sudden, the rules change. Two boys decide the "fire truck" is now a spaceship. The fellow "firemen" either adjust into astronauts or choose to join another group of children on the swings.
Recess allows children to create their own rules and methods to get along. As a result, they learn patience, cooperation and group dynamics, in addition to the social skills of taking turns and resolving conflicts.
On a good recess day, the children make the rules, the children bend the rules and the children work it out. Yet, with 20 to 30 children on a playground, disagreements are bound to happen.
At Lee, at least four teachers are stationed throughout the playground to observe and moderate recess. With whistles around their necks, they don't want to interfere with free play, just make sure it's safe and fair.
Lee's Physical Education Instructor, Linda Hilsabeck, created a set of recess procedures for each game and piece of play equipment. The bright yellow laminated "procedure" poster hangs on the wall in every classroom. Principal Sharon Atcheson says teachers review the procedures during the first week of school.
"The procedures give the students steps on how to play a game such as four square or how to use the swings safely. The procedures help eliminate conflicts. We want the students to learn responsibility, cooperate and resolve disagreements, especially the older ones. The younger ones need the teacher to step in many times and remind children to share and be nice."

Physical Benefits
Children start as early as pre-school in organized sports led by adults. The wee athletes are instructed to attempt to perform specific and scripted movements and drills.
Recess, on the other hand, is free form. During recess children roll, tumble run, jump and spin in circles. There is no set play and no maneuvers, just outdoor space for energetic motion.
Holland Hall's Vargo says recess allows children to navigate their bodies in a less structured environment than a classroom, where children have to be more aware of their physical movements amidst desks, chairs and bookshelves.
"The playground provides an opportunity for children to experience large and small movement. By using their bodies, they become better in all activities, whether it is an organized sport or physical education."
The National Association for Sport and Physical Education says physical education class should not be substituted for recess.
The Association says physical education provides a "sequential instructional program" while recess provides unstructured playtime where children have choices, develop rules for play…and practice or use skills developed in physical education.

Middle School and High School Recess
The intensity of academics and the length of back-to-back classroom time increases when children reach middle and high school. Like a first grader, a middle school student can become fidgety after sitting in a desk for several hours. Outdoor time with the possibility of a quick game of soccer, basketball, four square or social time with friends is this age group's idea of a brain break.
Hanging out with friends during class breaks or recess tends to become a bit more popular than the swings and slides for middle school students. At this age students are beginning to experiment with socializing, and school is a safe environment for them to interact.
Riverfield's Director Marty Clark believes if schools don't provide social opportunities for middle school students, they will find other ways and times to socialize. "At this age, they just need some time away from the classroom to refocus and spend time talking," she asserts. "Students need a break, whether they are in elementary school, middle or high school."
Grades six through twelve share a common lunch period at Riverfield. "After lunch, the 6th to 8th graders tend to still play games, but some do hang out and talk. The high school students will talk, play guitars, use the computers or do homework. Many use this time to meet with a teacher to discuss an assignment."
Watching Riverfield's middle schoolers enjoy their playground break, every piece of equipment was being used – from the climbing wall, to the swings, to the monkey bars and slide, to the basketball court. Several students also strolled down the wilderness trail, talking and enjoying nature. As 13-year-old Chris Wolman put it, "I just like the woodsy-ness."

Rescuing Recess – Cartoon Network and PTA
In the spring of 2006 the National Parent Teacher Association (PTA) and the Cartoon Network launched Rescuing Recess. The goal of the campaign, according to the PTA, is to recognize unstructured break time as an essential element of the school day and to connect educators, parents and kids as advocates to bring back or keep recess. Cartoon Network has pledged $1.3 million to go toward grants to help save recess. The grants support protecting and saving recess at local schools by funding playground equipment, volunteer programs and research studies.
Last fall, Broken Arrow's Lynn Wood Elementary became a recipient of a $5,000 Rescuing Recess grant. Tiffany Kelly, Lynn Wood PTA president, says the entire school (500 + students) participated in writing and drawing why their school needed to save recess.
"We used the money to purchase tetherball poles and balls and an awesome climbing wall. This grant was perfect for us since we do not have a gym at this time and the climbing wall is excellent for strength exercise. Tether ball is a classic and I could not see my three kids playing at recess without a tetherball victory under their belt, memory lane."

Safety First
A look at playground equipment then and now.
Recess Equipment Then (Mom & Dad's Playground)
Steel metal 12-foot high slides with no side protection. (They got very hot on a summer day.)
Straight line Monkey Bars and Pull Up bars
See-saws
Metal Merry-Go-Rounds on which your friends spun while you grasped the bars for dear life.
Steel Frame Swing Sets: swings hung by chains allowing you to twist the swings so tight that when you let go you spun in circles.
Giant metal "rocket ship" in which you could climb up bars in the middle of the ship.
Tetherball on a pole and chain
Black top with a piece of chalk to draw hopscotch or four square game.
Gravel or a worn grassy or dirt ground which never cushioned a fall or leap from a swing.
Recess Equipment Now
Plastic slides attached to incredible wooden climbing apparatus. Slides twist and turn in all directions.
Brightly colored bars at a safe height on which to twirl and hang.
Equipment manufactured for certain age group with safe bolts, screws and other parts.
Climbing Walls with ropes and foot rests.
Plastic swings with measured fall zones and coated chains.
Pre-marked four square and foursquare games on multipurpose court.
Wood chips or rubber under all equipment to cushion falls.
Handicapped accessible equipment.