Sweet and Savory Fall Recipes
Pumpkin Soup, Autumn Apple Salad, Apple Cider Vinaigrette, Popcorn Balls and Leftover Halloween Candy Cookie Bars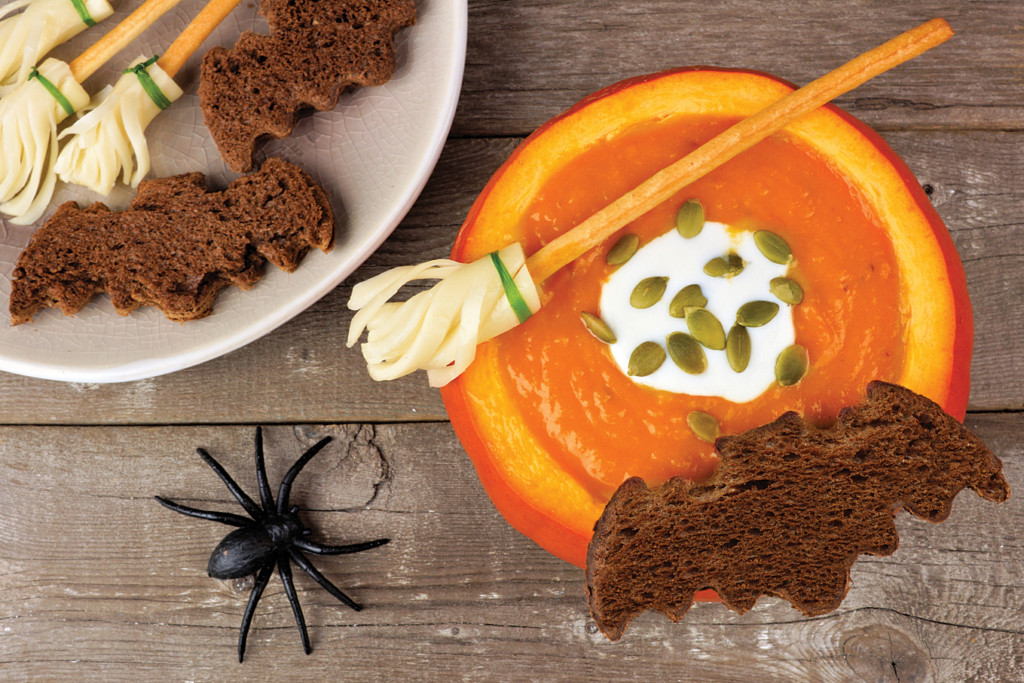 This is the month the sugar rush begins. Beginning in October, I have to keep us in check as the Halloween candy, popcorn balls and other treats come rolling in.
My kids eat more candy from October through December than they do the rest of the year. And honestly, I'm guilty, too. As soon as the first leaf dropped, I put a little bowl of candy corn mixed with peanuts on the kitchen table.
I don't have the willpower to put my foot down on sugar. But I do make sure they're not eating so much they end up with stomachaches and cavities.
One thing that helps curb the simple carbs is to make a big deal out of fall foods that aren't forbidden. For instance, I get really excited about finding small, local apples in the fall. The kids love eating them plain or in salads, as applesauce or in little muffins in their lunchboxes.
Sweet potatoes make more of a splash at our house in the fall, too. If they've eaten a healthy dinner of baked sweet potatoes, roasted chicken and salad with thin-sliced apples, their tummies are full and they're less likely to beg for sweets.
But dessert after dinner doesn't need to be forbidden. It's fine to end dinner with a small brownie and glass of milk or whatever is a favorite at your house.
That said, the recipes shared for this month are a mix of wholesome fall foods and splurges that make life extra sweet. Let's enjoy every day – teaching our kids that balance means taking care of our bodies by eating healthy foods, while savoring the sweets and fun foods of the season.
This pumpkin soup has a great, smoky flavor from bacon and chipotle in adobo. If your kids like milder flavors, you can leave out the pepper and fire-roasted tomatoes.
Pumpkin Soup
8 slices bacon
2 cups chopped yellow onion
4 cloves garlic
5 1/2 cups peeled and cubed fresh pumpkin (you can substitute 2 (15-ounce) cans of pumpkin
2 (15-ounce) cans cannellini beans, drained and rinsed
1 (14.5-ounce) can fire-roasted diced tomatoes
1 tablespoon minced chipotle in adobo sauce
1 teaspoon cumin
1/2 teaspoon kosher salt
2 tablespoons lime juice
In a large Dutch oven or soup pot, cook bacon until crisp. Remove bacon, crumble and set aside. Reserve 2 tablespoons drippings in pan.
Cook onion in hot drippings over medium heat. Stir often, cooking about 10 minutes, then add garlic, cooking until garlic becomes fragrant.
Add broth and remaining ingredients. Bring to a boil, reduce heat to a simmer and cook for 30 minutes.
Use an immersion blender to smooth the soup. Or, working in batches, add pumpkin mixture to a blender to smooth. Serve soup with crumbled bacon.
You don't need a recipe to make a salad. But sometimes I need inspiration for a new salad to make, so here goes. We often make a variation of this one, leaving off or adding ingredients to adjust to picky kids' tastes.
Autumn Apple Salad
10 ounces baby spinach
2 large apples, cored and thinly-sliced
1 cup cubed, roasted sweet potatoes (I add these if I have them leftover)
1 cup walnut or pecan halves, toasted
2/3 cup dried cranberries
5 ounces goat cheese, crumbled
Combine salad ingredients, adding goat cheese last. Serve with Apple Cider Vinaigrette.
Apple Cider Vinaigrette
1/4 cup apple cider vinegar
1/4 cup olive oil
1 tablespoon maple syrup
1 tablespoon Dijon mustard
Salt and pepper, to taste
Whisk together all ingredients. Store in refrigerator until ready to serve.
Popcorn balls at Halloween are a tradition at my house. I was happy to find this recipe for popcorn bars, with all the taste of a popcorn ball, but without the mess of forming the balls.
Popcorn Bars
1/4 cup butter
1/4 cup light corn syrup
1 (10-ounce) package large marshmallows
8 cups popped popcorn
1 1/4 miniature M&Ms
3/4 cup dry roasted peanuts, chopped (optional)
In a Dutch oven, melt the butter. Add corn syrup and marshmallows. Cook and stir over low heat for 3-4 minutes or until smooth. Add popcorn and stir until coated. Stir in M&Ms and peanuts. Spread in a 9-by-13-inch pan. Cool to room temperature before cutting into bars.
We love these cookie bars using leftover Halloween candy. Your premium leftovers are best for these bars. Think Butterfinger, Reese's cups, Snickers and M&Ms. This recipe comes from the Together as Family blog, where you can find lots of kid-approved recipes.
Leftover Halloween Candy Cookie Bars
1 1/2 cups all-purpose flour
3/4 teaspoon baking soda
1/4 teaspoon salt
1 cup whole-grain old fashioned oats (not quick oats)
1/2 cup butter, softened
1/3 cup creamy peanut butter
1/2 cup granulated sugar
1/2 cup packed light brown sugar
1 teaspoon vanilla extract
1 large egg
1 large egg yolk
2 cups chopped leftover candy bars
Preheat the oven to 350 degrees. Lightly grease a 9X13-inch baking pan and set aside.
In a medium bowl, whisk together the flour, baking soda, salt and oats.
In a large bowl, or in the bowl of a stand mixer fitted with the paddle attachment, cream together the butter, peanut butter, brown sugar and sugar until fluffy looking and light in color, 2-3 minutes. Add in the vanilla, egg and egg yolk. Mix together well. Add the dry ingredients into the wet and mix just until combined. Add the chopped candy bars and combine.
Press the batter into the prepared pan. Press a few additional chopped candy pieces on top of the dough for a pretty presentation. Bake for 15-18 minutes or until lightly browned on the edges. The bars will still look pale and slightly underdone in the middle. That's OK. Don't over bake or the bars will be dry!
Natalie Mikles is a mom of three. She writes about food, sharing recipes for busy families and picky eaters. She has been recognized for her food columns as well as features on families and issues affecting local children. She loves pizza and movie nights with her family.
---