Staying Healthy and Hydrated
Shape Your Future Provides Summer Resources for Oklahoma Families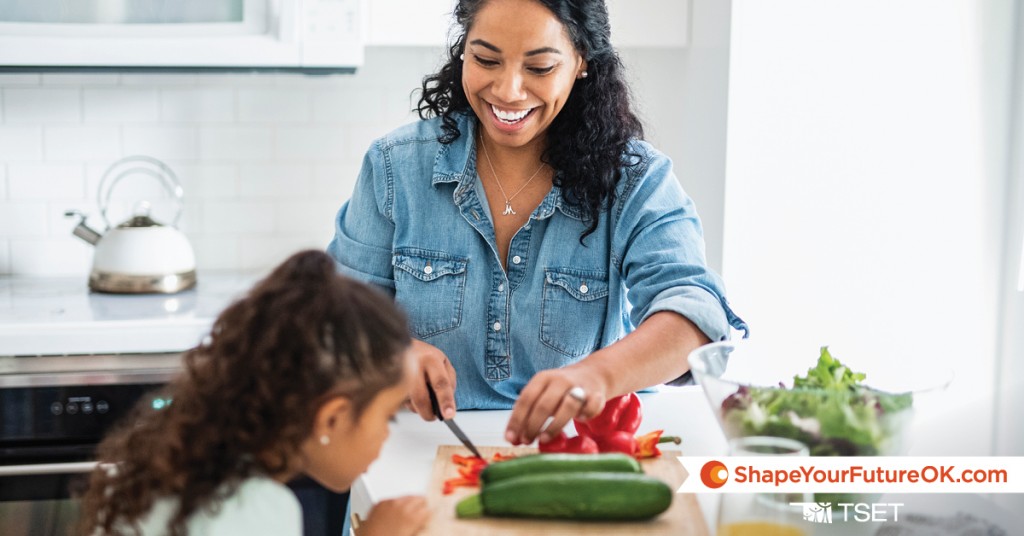 The titular song of Rogers and Hammerstein's "Oklahoma" proclaims, "You're doin' fine, Oklahoma!" Unfortunately, there are a few areas in which Oklahoma is doing less than "fine." Not only does Oklahoma rank 48th in the country in obesity, it also ranks number one in consumption of sugary drinks. These kinds of statistics are the impetus behind Shape Your Future, a program of the Oklahoma Tobacco Settlement Endowment Trust Fund (TSET).
"The program is about creating resources and supporting Oklahomans in those healthy choices that we all need to make," says Julie Bisbee, TSET Executive Director. "And it's really about making those healthy choices easy. When kids practice healthy habits young, and those are reinforced in their environment, those healthy habits last a lifetime."
Staying Hydrated
As we head into the heat of the summer, drinking plenty of water is of utmost importance. Reaching for a glass of water rather than a can of soda or even a box of juice is a healthy choice that can make a big difference. According to Shape Your Future, "kids who consume higher amounts of sugary drinks increase their risk of being at an unhealthy rate by more than 50 percent."
Furthermore, staying hydrated can be key to healthy brain function and emotional state. Common symptoms of dehydration include irritability and feeling foggy or lethargic throughout the day.
While hydration standards vary by age and weight, a good place to start is to have your kids fill up a reusable water bottle each morning. Make sure they have their water bottle if they are playing outside, and encourage them to drink from it throughout the day, especially at mealtimes.
For families struggling to get their kids to drink enough water, Bisbee recommends making fruit- or herb-infused water. Popular choices include cucumber and mint. You can even do a taste test with your children. What flavor combinations do they like best?
Another idea is to issue a family challenge to see how many bottles of water each family member can drink throughout the day. Also, certain foods, such as fruits and vegetables, have a high water content and can contribute to overall hydration.
Most importantly is for parents to take a leading role, says Bisbee who is a parent to two boys, aged 10 and 7. "As adults make [hydration] a priority, that's something that kids will make a priority."
"I think when it comes to water," she concludes, "it's important to highlight that because that's something we're falling behind on as a state. We consume sugary drinks at a higher rate than any other state. So while a lot of people really think that 'just drink water' is a message that everyone gets, that is clearly something that as a state we can really improve on."
Staying Active
Physical activity is another Shape Your Future priority. The program's website, shapeyourfutureok.com, provides many resources for families looking for healthy ideas that are easy to incorporate into their daily life.
"You're not going to run a marathon in a week, but you could commit to walking twenty minutes a day," says Bisbee. "We are looking at how to make these changes bite-sized and lasting."
Similarly to hydration, physical activity affects brain function, mood and emotional health—in addition to physical health.
"Children need about 60 minutes of physical activity throughout the day. You don't always get that through watching movies or TikTok videos. So you have to help your kids be mindful of that. You can say, 'We're going to take a family walk or ride a bike'—or even march during commercials," says Bisbee.
If sixty minutes is too big of a time chunk to commit to all at once, she recommends breaking it up, possibly into ten-minute increments.
This is more important than ever, says Bisbee, as incorporating healthy habits into your daily life reduces your risk of falling into the high-risk category for things like COVID-19. And because many typical summer options such as sports leagues and swimming pools may remain closed this summer, families will need to think out-of-the-box when it comes to staying active this summer.
"I know for my family, bike riding has been something we can all do together," says Bisbee. But, she explains, there are other ways to be physically active at home. Shapeyourfutureok.com provides a plethora of ideas, such as weekly workout plans and videos. Kid-friendly options include dance parties and family challenges like, "Who can do the most pushups?"
Summer Adventure Series
One resource Shape Your Future offers to help families stay active during the summer months is the Summer Adventure Series.
"Research shows that in the summer months, school-aged children are more likely to be sedentary, and more likely to have poorer quality meals," says Bisbee. This is because they do not have daily scheduled recess and because school meals are required to meet federal nutritional guidelines.
The Summer Adventure series is specifically designed to address and improve on those statistics. Each week, shapeyourfutureok.com will provide a new adventure, encouraging kids to engage their imagination as well as to engage in some physical activity. Another component is getting children involved in the kitchen so that they develop—especially when it comes to cooking healthy foods such as fresh fruits and vegetables.
For example, the Pirate Adventure provides a recipe for making healthy Gold Coin Banana Rollups as well as a fun scavenger hunt (aka Pirate Treasure Hunt) designed to help kids get their sixty minutes of movement.
Find the Pirate Adventure and more at shapeyourfutureok.com/shape-future-healthy-adventures.
Additional Resources
If you'd like Shape Your Future's healthy tips, tricks and other ideas delivered straight to your inbox, visit their website to sign up for a monthly email. They also offer a bi-monthly email specifically for teachers and school staff, designed to help them bring healthy choices into the classroom.
For individuals wanting support or accountability on their journey to making healthier choices, Shape Your Future has a closed Facebook group that will fit this need perfectly. Find it by going to facebook.com/shapefutureok.
If you're uncertain about where you fall on the "healthy choices" scale, Shape Your Future has a brand-new online assessment tool at shapeyourfutureok.com/health-quiz/. Not only will this help you understand in what areas you might need to make healthier choices, it will also provide personalized recommendations for choices you can implement into your daily routine.
Finally, Shape Your Future has a wealth of other resources available on its website, from coloring pages to healthy recipe to exercises you can do at home. Find all of this, and more, at shapeyourfutureok.com.
Note: This article was originally published in TulsaKids' 2020 Summer Family Fun Guide.
---