Skillz on Wheelz: Mobile Mental Health Unit Takes Treatment to the Community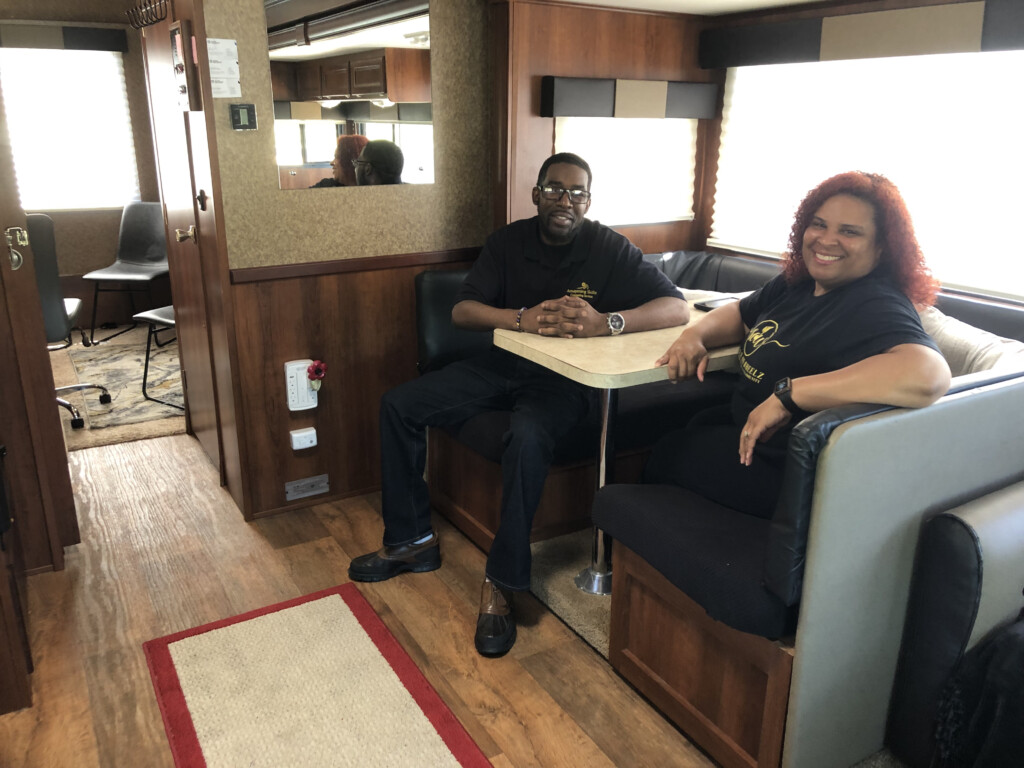 In April this year, shootings at Rudisill Library and a nearby QuikTrip in north Tulsa left employees, patrons and the wider community in shock. Horrific events such as this can have widespread traumatic effects. Often, however, people experiencing fear and trauma do not seek help or may not have access to help. To fill that gap, Skillz on Wheelz, a mobile mental health clinic serving north Tulsa, was able to provide services on site at Rudisill Library.
"I reached out to QuikTrip and Rudisill to have us on site to help people," Marnie Jackson, care coordinator for Skillz on Wheelz, said. Therapists were available to talk to library patrons, staff or any individual in the community who needed emotional support after the shooting. Jackson said that having a mobile clinic makes it easy for people to find services. They don't have to take time off work, seek out counselors or drive to other locations to talk to a therapist.
Skillz on Wheelz
Skillz on Wheelz is an outreach of Amayesing Skillz Counseling Services, owned by Ebony Skillens. Michael McCalister, LPC, a therapist with Amayesing Skillz, said that the idea came out of a staff meeting where Ikia Young, another therapist, lamented that they could only help people who came to them for services. She said, "I wish we had Skillz on Wheelz." That was the beginning of the vision for taking solutions to the community.
Ebony Skillens bought the large van, and the mobile mental health service was launched. The mobile unit goes to churches, schools, businesses and other locations in the community where access is limited or non-existent. Services are free. McCalister and Young are the two therapists who work on the mobile unit, which also provides case workers such as Jackson, who support the therapists by providing connections to other resources.
"We do wrap-around services to meet the needs of clients where they're at, and to support them the best way we can," Jackson said. "If they don't need therapy, if they just need to come in and sit, they can. Or if they need prayer or other resources, we're here. If there's something we don't know, then we'll find out."
Serving the Community
When Jackson learned that many of their clients qualified for Medicare, but were unaware that the state had expanded services, she helped guide them to enroll.
"We also educate people," McCalister said. "The community has a lot of stigma toward mental health. We use Christian-based principles of hope, love and faith. But you don't have to be a Christian for services." And, while McCalister says it's important that they "look like the community" they serve, they have clients of all demographics.
The therapists practice solutions-based therapy. While they may provide services to people after a crisis, they are not a crisis unit.
"We provide three to six free sessions, separate from insurance," McCalister said. "They don't even have to give us their real name. You can just book an appointment through our website or app to request an appointment."
The Need for Services
McCalister says that one of the biggest issues their clients have been dealing with is transitioning out of COVID. "We've been working with them to transition back to work, make connections with family, getting them back to being social and rebuilding relationships so they are functioning at their pre-COVID level," he said.
Jackson said that coming out of COVID has been difficult for people, but the violence in America also creates stress and fear.
"Gun violence has increased, and parents are more stressed," she said. "Now we have the option of virtual school, so many parents are keeping their kids at home because they fear violence in schools. There's a shooting somewhere every day. If you don't watch the news, you see it on social media. You can't avoid it. And all the active shooter drills and what we're teaching them is putting fear in kids."
"We don't take into account the emotional aspect of these drills," McCalister said. "Having a drill means that someone might come in to shoot me."
Teaching Practical Skills
The mobile unit provides a safe place for people to express their fears and anxieties, while also giving them practical steps to take to control their anxiety, such as developing a strong support system, and researching events before they go.
"I ask them what they do that makes them feel calm when they feel stressed," McCalister said. "Often, it's finding things a client is already doing and helping them do more of that. I point it out. If they say taking a walk makes them feel stress-free the rest of the day, but they only take a walk on Mondays, I suggest they might do it on Monday, Wednesday and Friday."
McCalister also says that faith-based therapy can provide the "next level beyond coping skills. Are you able to put your problems in higher hands? That aspect helps as well."
Skillz on Wheelz can provide therapy on site for those experiencing the after-effects of a traumatic event. They can provide practical solutions-based therapy for individuals experiencing stress or anxiety. They can help those who are grieving or may just need a listening ear. For people who need added services or more therapy beyond the six sessions offered by the mobile mental health unit, case managers can help them find resources. The mobile unit provides access to mental health care to those with limited access and works to educate the community about the healing that can happen with hope, faith and love.
To have Skillz on Wheels come to your church, business or school, or to make an appointment, call 918.764.8067 or visit counselingskillz.com. Services are at no cost.
---