Seven Ways to Teach Gratitude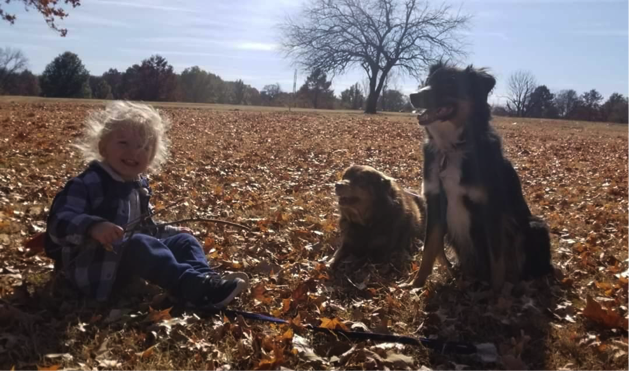 The important qualities of compassion, kindness, and gratitude sometimes get tangled up in my brain. Are they a package deal? Are these character traits innate or must they be taught? They are all admirable qualities I would love to play a part in teaching my grandchildren, but since it's November, I'm going to focus on gratitude. Of course, we should be grateful every day of every year, but as Thanksgiving looms closer, it's forefront in our minds. How can grandparents teach gratitude when we're the very ones who tend to spoil the grandkids? Here are some of my ideas. I'd be happy to hear your suggestions!
1. Be realistic
Children are naturally a bit self-centered, so don't expect a three-year-old to heap lavish praise on you when you buy him an ice cream cone, but they are old enough to say thank you. Teach them gently, baby steps as you sow the seeds of thankfulness.
"The roots of all goodness lie in the soil of appreciation for goodness." —Dalai Lama
2. Don't overdo material gifts
This statement may be a trigger for some of you but don't stop reading, hear me out. I'm aware that many grandparents take great joy in buying gifts for their grandchildren. That's natural and lovely to a certain point, but if a child is constantly indulged, gifts lose their importance. Your grandchild should be excited to see you, not be conditioned to expect a gift every single time you visit. It's hard to be grateful for a new stuffed animal when you already have dozens in the bedroom. If you're tempted to buy big material items for older grandkids, it will mean more to them if they earn part of it.
"Be thankful for what you have; you'll end up having more. If you concentrate on what you don't have, you will never, ever have enough." – Oprah Winfrey
3. Teach manners
You can teach manners, simple pleases and thank yous are important rituals of society everyone needs to learn. They may seem to be simply rote words, but they have an important role. The "magic words" make the giver feel thanked and reinforces thankfulness in the recipient. Sending thank you cards fits in this category. Call me old-fashioned, but I think sending snail mail thank you letters is a great exercise in gratitude. It does take more effort than sending a quick text or email, but that extra work is part of what creates mindfulness of what has been received.
"Gratitude is the most exquisite form of courtesy." – Jacques Maritain
I made Callister scrambled eggs for dinner Saturday night and he said, "Thank you, Grandmom!" I appreciate his parents teaching him manners!
4. Model gratitude
Express your thankfulness in front of them. Are you aware of how lucky you are to be able to go to the park on a beautiful day or do you take it for granted? Let them hear you say things like, "Aren't we so lucky to have a car so we can drive to the park on this beautiful day?" Make sure you are polite to people and say please and thank you to wait staff, cashiers, and to each other!
"As we express our gratitude, we must never forget that the highest appreciation is not to utter words, but to live by them." – John F. Kennedy
5. Discuss gratitude
When I was going through a particularly difficult time, I kept a gratitude journal. Some days were so tough all I could write at the end of the day was the fact I had healthy kids, shelter, and food on the table. During the process of writing it down, I realized those three things were not trivial, they were everything! Older kids might enjoy keeping a journal or maybe a gratitude jar. Talk about being grateful. No lectures about the "good old days" but merely simple conversations about the things in life for which you're grateful. Ask your grandkids about their viewpoints. I'm not sure how scientific this fact is, but some say writing three things every day for which you're grateful can begin rewiring the brain for happiness after only three weeks! It's worth a try!
"Feeling gratitude and not expressing it is like wrapping a present and not giving it." – William Arthur Ward
6. Do things for other people
You don't have to spend a week digging wells in a third-world country to set a good example. Help a neighbor with their lawn, have your grandkids help grocery shop and then take the items to the community food bank, foster an animal for a rescue group, visit someone who is lonely. Helping others takes us out of our self-centered, insulated world.
"You cannot do a kindness too soon because you never know how soon it will be too late." – Ralph Waldo Emerson
7. Express your feelings
Make sure your grandchildren know how grateful you are for them! Tell them how much they mean to you, let them do little chores for you and thank them. We have breakfast at the bagel shop with our two-year-old grandson every Sunday morning, and he clears the table of all the trash at the end of the meal. He feels important and responsible, and we get the chance to thank him and reinforce our gratitude for him.
"The way to develop the best that is in a person is by appreciation and encouragement." —Charles Schwab
Gratitude is a quality that is important for all of us to possess and openly express on a regular basis. The good news is it can be learned. Sometimes we all need reminders of how lucky we are and how much we have to be thankful for. Practicing gratitude is a good exercise for the entire family and an important quality to pass on to your grandchildren.
I'm grateful to have a close relationship with my grandchild!
---