School's out, and it's time to have some fun in the kitchen.
Fruit Pizza, Peanut Butter Apple Dip, Blueberry Sour Cream Pancakes, Easy Peach Cobbler and Frozen Yogurt Pops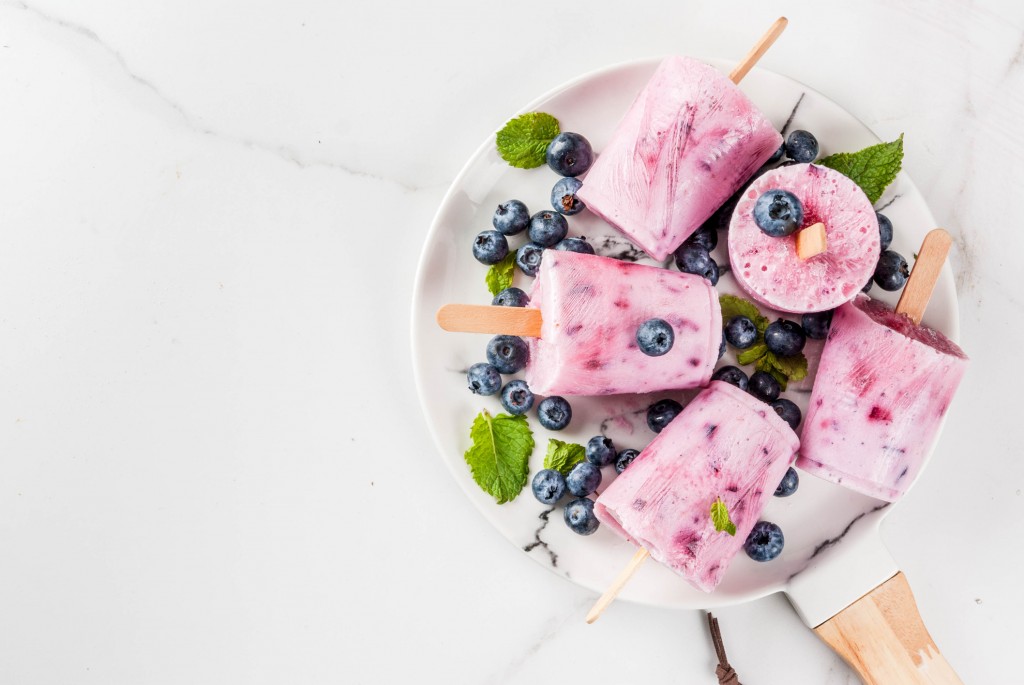 Let's take a break from packing turkey sandwiches and applesauce into lunchboxes. Summer is a great time to let the kids help you make something fun for lunch, dinner or snack. It's time to pull out the recipes that sounded good during the school year but were too time consuming for busy school days.
Summer also gives us a chance to let kids experiment in the kitchen. Giving them free reign may be a bit much, so make it fun and more manageable by putting several ingredients in a small box. Presenting it in a dramatic fashion, the unveiling of the mystery box, makes it great fun. Ask them to create something at snack time with those ingredients. Let them create their own recipe out of maple syrup, graham crackers, bananas and chocolate chips – or whatever ingredients you choose.
Kids also like making easy summertime desserts like ice cream pie, fruit juice popsicles and frozen yogurt pops. These only take a few ingredients and give kids a real sense of accomplishment when they get to eat their own finished product. An ice cream pie can be made as easily as combining crushed graham crackers with melted butter pressed into a pie plate. Then fill with softened vanilla ice cream mixed with chopped berries, a swirl of caramel sauce, chopped candy bars or whatever sounds good.
Another fun summer cooking idea is to let the kids help you pack for a picnic. For children, eating outdoors turns a meal into an adventure. And when they have ownership of preparing it, they will enjoy it even more.
Here are some of our favorite summer-worthy recipes. Give them a try, and get the kids involved, to create lasting memories and summer fun.
---
Use a variety of colors of fruit for a pretty pizza – strawberries, kiwi, blueberries, pineapple, raspberries, mandarin oranges.
Fruit Pizza
1 tube refrigerated sugar cookie dough
2 packages cream cheese, softened
1 cup powdered sugar
1 teaspoon vanilla
2 cups whipped cream (or you can use Cool Whip)
4 cups fresh fruit
Glaze:
1 cup sugar
3 tablespoons cornstarch
1 cup orange juice
Preheat the oven. Press the cookie dough into the bottom of a 10-by-15-inch standard jelly roll pan. Bake at 325 degrees until golden brown. Check at 10 minutes, but cooking times will vary depending on thickness and style of pan.
In a large mixing bowl, beat together the cream cheese, powdered sugar and vanilla on medium speed until smooth. Fold in the whipped cream. Spread mixture over the cooled crust. Arrange fruit on top.
To make the glaze, whisk together the sugar, cornstarch and orange juice in a saucepan until blended. Bring to a boil over medium heat, and cook 2 minutes or until thickened, stirring constantly. When cool, drizzle over the fruit. Chill or serve at room temperature.
---
---
This creamy dip is easy enough for kids to make themselves.
Peanut Butter Apple Dip
1 (8-ounce) package cream cheese, softened
1 cup peanut butter
1 cup packed brown sugar
¼ cup milk
3 to 4 apples, cut into wedges
In a mixing bowl, combine cream cheese, peanut butter, brown sugar and milk, mixing well. Serve with apples. Store in the refrigerator.
---
Kids will need some help making these. Use freshly picked blueberries for the best pancakes. Call them your "summertime pancakes," and kids will want to make them every summer.
Blueberry Sour Cream Pancakes
Blueberry Topping:
½ cup sugar
2 tablespoons cornstarch
1 cup water
4 cups fresh blueberries
Pancakes:
2 cups all-purpose flour
¼ cup sugar
4 teaspoons baking powder
½ teaspoon salt
2 eggs
1 ½ cups milk
1 cup sour cream
1/3 cup butter, melted
1 cup fresh blueberries
In a medium saucepan, combine sugar and cornstarch. Gradually stir in water. Add blueberries, bring to a boil over medium heat. Boil for 2 minutes, stirring constantly. Remove from heat, cover and keep warm.
To make pancakes, combine dry ingredients in a bowl. In another bowl, beat the eggs. Add milk, sour cream and butter, mixing well. Stir into the dry ingredients just until blended. Fold in the blueberries.
Pour batter by ¼ cupfuls onto a greased, hot griddle. Turn when bubbles form on top of pancakes. Cook until the second side is golden brown. Serve with blueberry topping.
---
You don't have to know how to make a pie crust to make this peach cobbler.
Easy Peach Cobbler
1 cup sugar
2 tablespoons all-purpose flour
¼ teaspoon ground nutmeg
4 cups sliced, peeled fresh peaches
Topping:
1 cup sugar
1 cup all-purpose flour
1 teaspoon baking powder
1 teaspoon salt
1/3 cup cold butter, sliced
1 egg, beaten
In a bowl, combine sugar, flour and nutmeg. Add peaches, and stir to coat. Pour into an 11-by-7-inch baking dish.
For topping, combine sugar, flour, baking powder and salt. Cut in the butter with two forks until the mixture resembles fine crumbs. Stir in egg. Spoon over peaches.
Bake at 375 degrees for 35 to 40 minutes or until filling is bubbly and topping is golden. Serve warm with ice cream.
---
This small-batch yogurt popsicle recipe is super easy and fun to make.
Frozen Yogurt Pops
2 (6-ounce) containers vanilla yogurt
2 cups cut-up fresh fruit such as blueberries, bananas, cherries, grapes, peaches or raspberries
1 tablespoon honey
In blender, place all ingredients. Cover; blend until smooth.
Divide mixture among 6 (5-ounce) paper cups. Cover cups with foil; insert craft stick into center of each pop. Freeze about 6 hours or until frozen.
Natalie Mikles is a mom of three. She writes about food, sharing recipes for busy families and picky eaters. She has been recognized for her food columns as well as features on families and issues affecting local children. She loves pizza and movie nights with her family.
---