Say 'I Love You' With A Valentine's Day Breakfast
Red Velvet Pancakes, Strawberry Banana French Toast Casserole, Skinny Strawberry Chocolate Chip Muffins, Strawberry Almond Knots and Strawberry smoothie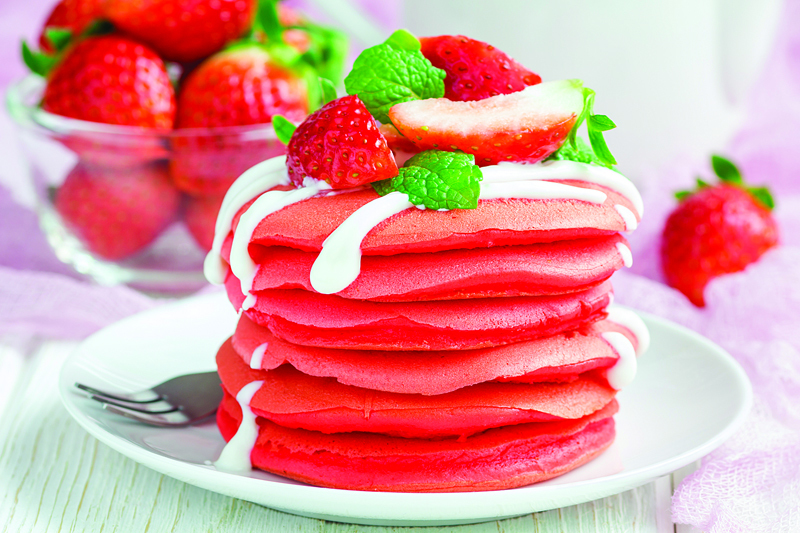 For most of us, Valentine's Day looks a lot different before parenthood. Once kids enter the picture, Valentine's Day can become more about finagling a babysitter or getting the kids to bed on time than heart-shaped boxes of chocolates, roses and reservations. Whether you've managed to snag a babysitter or not, Valentine's Day can still be a lot of fun. Celebrate early – really early – with a family Valentine's Day breakfast.
A Valentine's Day breakfast is something I've done with my kids ever since they were in high chairs. There have been years when I woke up a little early to cook something special. Other years, I've waited until the weekend before or after Valentine's Day to make heart-shaped pancakes.
Starting a kid's day with a love note and a delicious breakfast is a fun and memorable way to say "I love you." And if you don't have time for that, there's always a run to the doughnut shop.
Here are some recipes that will put a smile on kids' faces and send them out the door knowing they are loved.
---
Kids will love eating these on Valentine's Day morning. For extra fun, serve with toppings of diced strawberries, whipped cream or shaved chocolate. Add more food coloring for a more intense red pancake.
Red Velvet Pancakes
2 cups pancake mix
2 tablespoons unsweetened cocoa powder
2 tablespoons granulated sugar
1 cup buttermilk
2 eggs, lightly beaten
1 tablespoon vanilla extract
1 1/2 teaspoons red food coloring
Cream Cheese Topping:
4 ounces (1/2 package) cream cheese, softened
1/2 cup powdered sugar
1 tablespoon milk
1 teaspoon vanilla extract
Mix pancake mix, cocoa powder and granulated sugar in large bowl until well blended. Stir in buttermilk, eggs, vanilla and food color just until blended.
Pour 1/4 cup of batter per pancake onto preheated lightly greased griddle or skillet. Cook 1 to 2 minutes per side or until golden brown, turning when pancakes begin to bubble.
For the Cream Cheese Topping, mix cream cheese and powdered sugar in small bowl until well blended. Stir in milk, a little at a time, until smooth. Stir in vanilla. Drizzle or spoon over pancakes. Serve with maple syrup or strawberry syrup.
---
This recipe, adapted from Success Together, is both dairy-free and gluten-free. If gluten isn't an issue, you can use a thick-cut sandwich bread or soft French bread.
Strawberry Banana French Toast Casserole
Makes 2 to 3 servings
4 slices gluten-free bread, cut into cubes
1 mashed banana
6 diced strawberries
1/2 cup almond milk
3 eggs
1/4 teaspoon cinnamon
1 1/2 teaspoons vanilla extract
Maple syrup for serving
Preheat oven to 375 degrees. Lightly butter or spray with nonstick cooking spray a small baking dish or individual ramekins. Place cubed bread in baking dish or dishes. Mix mashed banana, strawberries, milk, eggs, cinnamon and vanilla together in a medium bowl. Pour milk mixture over bread cubes and toss gently until bread is evenly coated.
Bake for 20 to 25 minutes or until cooked through.
Serve with maple syrup.
---
Saturated fat is eliminated in these muffins, from Sally's Baking Addiction. If you want an even tastier muffin, use a stick of butter instead of the applesauce. Kids will love these for breakfast or packed into their lunchboxes.
Skinny Strawberry Chocolate Chip Muffins
Makes 10 muffins
1 1/4 cups all-purpose flour
1/2 teaspoon baking soda
1/2 teaspoon ground cinnamon
1/4 cup granulated sugar
1/4 cup light brown sugar, packed
1/2 cup plus 2 tablespoons unsweetened applesauce
1 egg white, beaten
2/3 cup diced strawberries
1/3 cup mini chocolate chips
Preheat oven to 350 degrees. Spray a muffin pan with nonstick cooking spray. Set aside.
Whisk the flour, baking soda and cinnamon together in a large bowl. Set aside. In a separate bowl, whisk the brown sugar, granulated sugar and applesauce together until no brown sugar lumps remain. Whisk in the beaten egg white until fully incorporated. Pour the wet ingredients into the dry ingredients and stir with a rubber spatula or large wooden spoon until just combined – do not overmix. Fold in the strawberries and chocolate chips.
Divide the batter evenly between 10 muffin cups. Bake for 15 to 20 minutes. Muffins will be lightly golden in color and a toothpick inserted in the middle should come out clean. Remove from the oven and place pan on a wire rack.
---
A package of crescent rolls is the short-cut to these sweet treats.
Strawberry Almond Knots
3 ounces cream cheese, softened
1/4 cup frozen strawberries in syrup, thawed
1 teaspoon almond extract
2 (8-count) packages crescent dinner rolls
1/2 cup powdered sugar
2 tablespoons slivered almonds
Combine the cream cheese, half the strawberries and almond extract in a small bowl and mix well. Fold the slivered almonds gently into the cream cheese mixture.
Separate the crescent dough into eight rectangles. Press perforations firmly to seal. Spread about 2 teaspoons of the cream cheese mixture evenly over each rectangle. Roll from the short side, jelly-roll style. Stretch each dough roll slightly, and tie into a loose knot.
Arrange on a cookie sheet. Bake at 375 degrees for 15 to 20 minutes or until golden. Remove to a serving plate.
Combine the powdered sugar and the remaining strawberries. Drizzle over the knots. Sprinkle with slivered almonds.
---
These smoothies are delicious. You can easily turn it dairy-free using soy milk and soy yogurt.
Strawberry Smoothie
Makes 2 large smoothies
1 cup vanilla soy milk (whole milk works well too)
1/2 cup strawberry yogurt or soy yogurt
1 small ripe banana
1 1/4 cups mixed frozen berries
1/2 cup ice cubes
2 tablespoons agave or maple syrup
4 large fresh strawberries
Place milk, yogurt, banana, frozen fruit, ice and sweetener to your blender. Blend until smooth. Thickness tastes vary. Add more milk if the blend is too stiff. Add more ice/fruit if it is too thin.
Lastly, pulse in the fresh strawberries, leaving some texture to the smoothie.