Sand Springs Draws Families to Live, Play and Shop in Historic Surroundings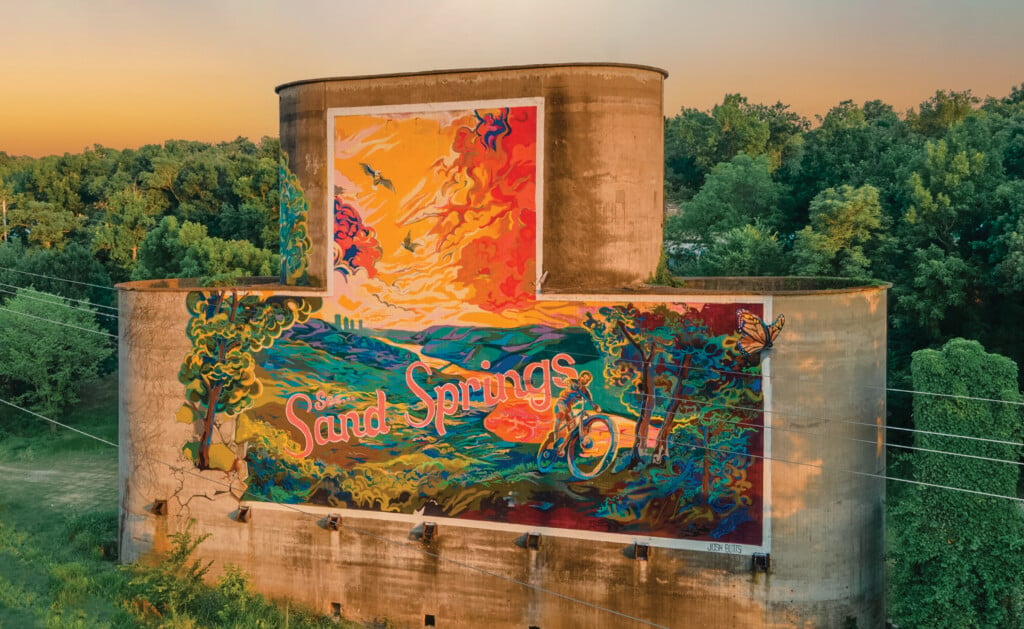 Around 20,000 people call Sand Springs home. Its proximity to downtown Tulsa, retro downtown charm, schools and parks are draws for many families.
History
Sand Springs has a truly unique history. In 1908, philanthropist Charles Page set out to create a community for orphans and widows in the land that is now Sand Springs. The first 27 orphaned children, whom Page became the guardian of, lived in a tent on his land until a proper home was built. By 1918, a large estate home was built where children lived in a dorm-style setting, with fireplaces, a kitchen, library and bowling alley. Page never referred to the house as an orphanage, but "The Home," so that children would feel they had a home to which they belonged.
Page's legacy remains today. "The Home" is now made up of individual family houses, and the Charles Page Family Village provides housing, with no cost for rent or utilities, for more than 100 single mothers and their children.
Why Sand Springs?
Amy and Rex Duncan didn't grow up in Sand Springs, but when it came to finding a place to raise their family, they chose Sand Springs. Their four daughters, Ava, Elise, Grace and Elliott, attend Sand Springs Public Schools.
"We choose to live in Sand Springs for its small-town charm and friendly people. We love the parks, libraries and community theater for the kids," Amy said. "Our schools are large enough to offer a wide variety of courses and extracurricular activities to meet the needs of all students but small enough to still have a personal connection with students and families."
Herbal Affair
Every April, thousands make their way to the Sand Springs Herbal Affair. From 8 a.m. to 4 p.m. on April 15, downtown Sand Springs will be transformed into a gardeners' paradise, with booths of plant growers, food and craft vendors lining the street.
Many come to the event for specialty plants, heirloom vegetables and herbs galore. Mid-April tends to be the perfect time to start putting herbs and perennials in the ground. It's also a great place to get advice from knowledgeable growers.
Listen to live music (with hay bales for chairs) at the Basil Street Theater in the center of town, and take the kids by the Kids Zone where you'll find hands-on projects, games and activities.
The Herbal Affair began as a small, downtown street sale in 1989 and has since grown to become the state's premier herb festival.
Fun and Yum!
Downtown Sand Springs has several spots for families to enjoy shopping and eating. Big Dipper Creamery makes small-batch ice creams that kids and their parents will like. Try Honeycomb Lavender, Ooey Gooey Butter Cake or A Walk at the Fair, a cotton candy-flavored kids' favorite. A bright pink neon sign with the words Ice Cream tops the door to the Big Dipper. You can't miss it!
For a casual family night out, there's Napoli's Italian, located in a historic brick building. It's a place where kids can enjoy spaghetti and meatballs while the grownups have a glass of wine and lasagna. For upscale Italian, there's Little Venice, which has quickly become a Tulsa-area favorite. Many diners drive in from Tulsa and beyond for the old-school elegance of tableside Caesar salads and flambéed bananas foster and the knowledge and kindness of Walter Munaretto, known by many as the former and longtime general manager of the Summit Club. He and his wife, Candi, have put Little Venice, and Sand Springs, on the culinary map.
Saturdays are often a busy time downtown, with shopping at Okie Spice, a fun food and kitchen store. Okie Spice has many gourmet products, but also down-home favorites like chili seasoning and cookie mixes. True to its name, Okie Spice has an entire wall of spices. It's also a great place to find candy, gifts and even homemade cheese and sausages.
For cute clothes, shoes and gifts, there's YellowHouse Market. There's a little bit of everything in this shop, from home décor to jewelry.
Antique shoppers will enjoy Dog and Duck Antiques, a curated shop of nostalgia, antiques and even some Oklahoma and Sand Springs centric history. The shop is sometimes the site of community events, like a mini concert by the Highway 97 Bluegrass Band.
Cycling & More
Sand Springs is a staple for those in the Tulsa-area bicycling community. The hills of Sand Springs' north side and cyclers' favorite Avery Drive on the south side make Sand Springs a mainstay for road bikes. The Wednesday Night Ride, where groups of Tulsa cyclists ride together, typically includes a ride through Sand Springs – and sometimes a stop at the Big Dipper for an ice cream cone.
Those strenuous rides are too intense for kids, but Sand Springs still offers great riding paths for kids. The Sand Springs Lake Park offers a paved riding trail with a little elevation and a small bridge that kids enjoy crossing over. It also has picnic shelters and shade for families who want to take a break. If you like to fish, bring your fishing poles. The Sand Springs Lake Park (1401 E. Park Road) is also a popular fishing spot. It's the former site of an amusement park and zoo where, in the 1920s to 1950s, people would ride the trolley from Tulsa to Sand Springs to swim and play at the park.
Another great place for cycling is Case Community Park. Here, you'll find both a paved trail and the Sand Springs BMX track. Actually, it's a great place for kicking a soccer ball, walking a dog, skateboarding at the skate park, playing in the splashpad or hitting a homerun. This large park offers space to roam for family fun.
Keystone Ancient Forest
About a 20-minute drive from downtown Tulsa is the Keystone Ancient Forest, a tucked-away, wooded hiking trail park near Keystone Lake in Sand Springs. A few things make it a great spot for family hiking. One, the first trail, is a smooth-surface asphalt, making it great for families with babies in strollers or for anyone in a wheelchair. This .6-mile trail is easy to walk with gentle inclines, but it still allows you to feel that you're entering into nature. It's also a great beginner's hiking trail for toddlers and young children.
Walk deeper into the Ancient Forest and you'll find longer trails in this cross timbers forest that take you through ancient cedar and 300-year-old post oak trees up to a great view of the Arkansas River, where a marker shows hikers the spot where Washington Irving trekked through in 1832.
Volunteer trail guides are helpful and patient with families and are good to talk to children about the trails, plants and wildlife in the area.
The trails are usually open 7 a.m. to 2 p.m. Thursdays and 7 a.m. to 6 p.m. Fridays through Sundays. Check social media for most current hours.
Why Sand Springs?
Whitney and Neal French moved to Sand Springs a year ago. They were looking to build a home with acreage for their three children, 5-year-old Haisley and 2-year-old twins Ashton and Avery-Rose, to play. Whitney said her family has taken advantage of Sand Springs' parks and other outdoor opportunities for fun.
"What we loved about moving to Sand Springs is the country feel, yet it's close to Tulsa, so we can live both the city life and slow, small-town living life," Whitney said. "The friendly people, quiet backroads and beautiful scenery that encompasses many natural hiking trails makes me excited to raise my kids in a place where we can appreciate what God's sweet nature has to offer."
Sand Springs Museum
Fans of architecture will enjoy a walk through the Sand Springs Cultural and Historical Museum. Built in 1930 to honor Charles Page's wife, Lucile, the building served as the Page Memorial Library for many years until a new Tulsa City-County Library was constructed in 2001.
The art deco design includes many interesting interior and exterior features. It is listed on the National Register of Historic Places. The museum has a permanent exhibit of the history of Sand Springs as well as temporary and traveling exhibits. Admission is free.
TulsaKids Readers' Favorites
We asked TulsaKids readers on Facebook to share their Sand Springs must-dos. Here's what some of them had to say!
"Go to the Big Dipper! Go to Little Venice! Do the herb festival in the spring." – Amy J.
"Splash pad at Case Community (bonus that it's wheelchair-accessible) and Keystone Ancient Forest – again, bonus that it has a paved trail, but friends in wheelchairs may still need an occasional slingshot." – Kelly R. [Editor's Note: Keystone Ancient Forest responded, saying they have all-terrain mobility chairs that can be reserved for free through the city's website.]
"BMX at Sand Springs BMX, softball, playing at Case Community Park, hiking Keystone Ancient Forest, visiting the library, fishing at Keystone, boating at Keystone and grabbing ice cream at Big Dipper!" – Ashley B.
"I love going to Riddle Plant Farm. It is right next to grandma's house." – Kara Joy M.
"Herbal Affair, walking at the Case Community Park and hiking at Keystone Ancient Forest, Charles Page Public Library, Okie Spice, Little Venice Restaurant, Dean's Coney Island." – Gayle L.
"Painting classes at ZegART Studios!" – Lori V.
"Taking art workshops at ZegART Studios!!" – Sheila B.
"Sand Springs BMX is the best for family fun." – Annette N.
"Watch my grandkids race on Sand Springs BMX racetrack." – Judy N.
"We love to dance with Miss Tirita's Dance and Performing Arts Studio." – Sarah T.
"Love the libraries, the Charles Page Museum, the flea market by 81st Street" – Debbie G.
"Big Dipper Creamery for sure!" – Mandy H.
"Big Dipper Creamery, Keystone Ancient Forest, Case Community Park, Herbal Affair, local shopping on Main Street, Boulder Coffee." – Becky G.
Natalie Mikles is a mom of three – 12-year-old twin girls and an 11-year-old boy. She writes about food, sharing recipes for busy families and picky eaters. She has been recognized for her food columns as well as features on families and issues affecting local children. She loves pizza and movie nights with her family.
---