Recognizing Developmental Delays…and What Parents Can Do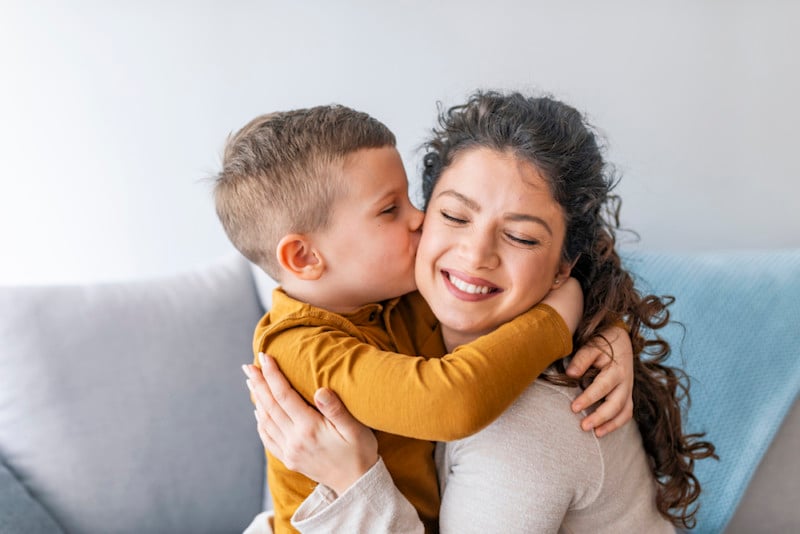 He's fine!" "He'll grow out of it!" "Uncle so-and-so didn't talk until he was 5" are some of the comments Kim Grayson heard when she expressed concern about her son Asher's speech delays and unusual behavior to her family members. Even her pediatrician reassured her that boys were slower to develop than girls. But Kim, a bubbly, high energy, public relations manager with a radiant smile, remained uneasy about her baby boy who, despite her best efforts, avoided eye contact. "He had this bright, colorful ball that lights up," she said. "He would smile at the ball, but not at us."
Good Baby
Asher was Kim and husband Keenan's first child, so the couple wasn't sure what to look for in terms of development. "We thought we just had a really good baby," Kim said, when Asher seemed content watching Baby Einstein DVDs for long periods of time. "And when he flapped his arms, I just thought he was excited."
At one point, during a routine screening, Asher's pediatrician asked if Asher was pointing to objects. "I said yes," Kim recalled. "Well he was pointing, but not like other kids. I didn't realize the differences until my daughter, Sophie, was born. I kept chalking up his behaviors to personality traits."
By the time Asher was 18 months old and not talking, Kim knew something was wrong. "He wasn't talking like my friends' kids were," she said.
Finally, one of the workers at Asher's daycare approached her. "She was taking classes in child development and said that Asher was showing symptoms of autism," Kim explained. Alarmed, Kim headed back to her pediatrician who recommended a hearing test.
"Asher did have clogged ears," she said, "so we had tubes put in his ears." But addressing the fluid in his ears did not increase his interest in interacting with others. "Nothing changed."
The Diagnosis
Asher was then referred to a developmental pediatrician, where, after a thorough evaluation, he was diagnosed with Pervasive Developmental Disorder (PDD), an umbrella diagnosis that includes autism disorder, Asperger syndrome and other related disorders.
"I felt as if I'd had the breath knocked out of me," Kim recalled. "I'd had a textbook pregnancy—done everything right. My son cried and ate and slept normally. How could this be happening?" But during the next six months Grayson and her husband transitioned from disbelief to acceptance. Their one concern became, "What do we do now?"
SoonerStart A Good Place To Start
One place parents can turn if they suspect a developmental delay of any kind in their baby or toddler is SoonerStart, Oklahoma's Early Intervention program for families of infants and toddlers (birth to 36 months). SoonerStart, a federally and state funded program, provides a host of services, information and support at no charge. Once a child is referred to SoonerStart, whether by parents, a pediatrician, or a hospital, a SoonerStart specialist will evaluate the child in the home using a developmental questionnaire.
"The questionnaire is normed on typically developing kids," Kim Macy, M.S., Speech Language pathologist with SoonerStart, explained. "It includes a checklist for every four months of development."
Further testing is done if a problem is indicated and can include evaluations of vision, hearing, nutrition, gross motor and fine motor skills and more.
Once a child is evaluated, SoonerStart draws up a treatment plan that addresses all areas of concern, and parents are given guidance in how to work with their child. As a child nears age 3, SoonerStart works with the family on transitioning the child into school.
"With autism, the biggest thing we see at an early age is lack of eye contact and pointing," Macy said. "Kids with autism just don't do that. There is a lack of wanting to bring the parent into what they are doing and what they are interested in. Another big thing we see is that the receptive language [words they understand] in these kids is very low. They are often functioning at the 9-month level at age 2 ½. They just don't associate words with objects. Parents often think that their child is deaf."
In the case of autism, early intervention is essential. "If we can get these kids at about the 1-year to 18-month age and break up some of the behaviors, it can really help," Macy said. "The older these kids get, the more the patterns are established and ingrained."
In addition to SoonerStart intervention, Macy recommends a good preschool program for children with delays. "It can really help get the child going in a different direction." Autistic children especially benefit from being around other kids. "Constantly keeping these kids involved and engaged is hard for parents to do alone," Macy said.
Common Therapy for Developmental Delays
Therapy is often recommended for children with delays. If a child is delayed in large motor skills such as sitting up, crawling or walking, he may be referred to a physical therapist. If he is having trouble understanding language, using language, or swallowing, he may be seen by a speech/language therapist. If the child is having trouble with fine motor skills, visual motor skills or independent living skills, such as feeding himself, picking up small objects or buttoning his clothes, he may be referred to an occupational therapist. Occupational therapists also work with children on play skills and sensory integration—both common problems to children with autism.
Making Sense of Sensory Input
"A lot of children with autism don't process sensory information the same way we do," Christina Newendorp, development director of the Autism Center of Tulsa, said. She is also the mother of two children with autism. "They might have trouble with particular textures, want to avoid bright lights or cover their ears when they hear loud noises or certain sounds."
Kim said that because of his sensory integration issues, Asher will only eat certain foods and his sense of smell is heightened. "If a food doesn't smell familiar, he won't eat it," she said. "For a long time he wouldn't eat red foods." Asher also balks at passing through doorways and is very sensitive to changes in his routine.
Sorting Through Therapy Options for PDD
In addition to the commonly prescribed speech therapy and occupational therapy for autism-related issues, parents can find numerous therapies touted on television, in books and on the Internet. It can become confusing and overwhelming to parents desperate for help.
Newendorp encourages parents to educate themselves about all the different therapies, putting special emphasis on ones that are "evidence based practices—therapies that have been well researched," pointing out that Applied Behavioral Analysis or ABA is a well-researched and proven treatment for autism. "The changes can be dramatic if ABA is started young."
"Our developmental pediatrician made suggestions as to what therapies Asher needed," Kim said. "He recommended speech therapy in the beginning and occupational therapy later on."
Kim said the family has tried several different kinds of therapies through the years. "Some worked, while others didn't seem to help at all," she said. "Every child is different. What works for one, may not work for another."
"With autism it's trial and error to figure out what will work," Macy said.
Paying for Therapy
Because on-going and intense therapy is expensive, the cost can be prohibitive for families with autistic children. Most private insurance companies won't pay for services for children with autism.
"Medical doctors have known for years that autism is a medical disorder, not an educational problem," Newendorp said. "But private insurance treats it as though it is an educational issue. There is a big push right now to get private insurance off the fence [to pay for services for children with autism]. We need insurance reform bills [that will require insurers to pay for treatment]."
In the meantime, the Autism Center of Tulsa helps educate families about ways to pay for therapy. "We help parents think creatively about how they might afford therapy and for how long. It is extremely important to get treatment for children when they are young."
Support
Because parents can get overwhelmed with the constant needs of the developmentally delayed child, support is important.
Kim Grayson is a new board member of the Autism Center of Tulsa and recommends the center to other parents of autistic children for information and support.
"They are a great resources," she said. Kim is also grateful for the help she gets from her extended family and friends. "I think there was a little denial in the beginning, but now everyone is on board for what is best for Asher."
Moving Forward
Currently Asher, now 6 years old, is receiving speech therapy, equine therapy and has a private tutor. "What you want to see is progress," Kim said. "He learns differently, but he is always progressing."
In addition to working with Asher, the Graysons are keeping a close eye on 2-year-old Sophie's development. So far Sophie has been developing normally, but if a problem develops, Kim plans on addressing it immediately. "Early detection is key," she said. "The earlier you get intervention, the better the outlook.
Early Warning Signs of Autism:
Autism is a spectrum disorder. The symptoms and characteristics can present themselves in a wide variety of combinations, from mild to severe. Although there are many signs, by one year of age, any child who:
does not point
does not engage with others
has little or no eye contact
does not babble or begin to use words
should be referred to a developmental specialist.
People with autism may also exhibit the following traits:
Insistence on sameness; resistance to change
Difficulty in expressing needs; uses gestures or pointing instead of words
Repeating words or phrases in place of normal responsive language
Laughing, crying, showing distress for reasons not apparent to others
Prefers to be alone; aloof manner
Tantrums
Difficulty mixing with others
May not want to be cuddled or cuddle
Little or no eye contact
Unresponsive to normal teaching methods
Sustained odd play
Spins objects
Inappropriate attachments to objects
Apparent over-sensitivity or under-sensitivity to pain
No real fears of danger
Noticeable physical over-activity or extreme under-activity
Uneven gross/fine motor skills
Not responsive to verbal cues; acts as if deaf although hearing tests are in normal range
Developmental Milestones Quick Guide
Here are some of the things you should be looking for as your child grows. Every child develops at his or her own pace. Your child may reach these milestones slightly before or after other children the same age. Use this as a guide and if you have any concerns, talk to your child's doctor.
By the end of 7 months, many children are able to:
Turn head when name is called
Smile back at another person
Respond to sound with sounds
Enjoy social play (such as peek-a-boo)
By the end of 1 year, many children are able to:
Use simple gestures (waving "bye-bye")
Make sounds such as "ma" and "da"
Imitate actions in their play (clap when you clap)
Respond when told "no"
By end of 1 ½ years (18 months), many children are able to:
Do simple pretend play ("talk" on toy phone)
Point to interesting objects
Look at object when you point at it and tell them to "look"
Use several single words unprompted
By end of 2 years, many children are able to:
Use 2- to 4-word phrases
Follow simple instructions
Become more interested in other children
Point to object of picture when named
By end of 3 years, many children are able to:
Show affection for playmates
Use 4- to 5-word sentences
Imitate adults and playmates (run when other children run)
Play make-believe with dolls, animals, and people ("feed" a teddy bear)
From the U.S. Department of Health and Human Services
Resources
SoonerStart call 918.835.8691
The Autism Center of Tulsa is a complete local resource, providing parents free autism screenings (by appt.) parent groups, lists of resources and health providers, resources for families and educators, calendar of events, support for parents and more. Call 918.502.4823, or visit www.autismtulsa.org
Mary K. Chapman Center for Communication Disorders , 2820 E. 5th St., on TU Campus. Free. By appointment on Fridays. Call 631-2504.
OSU-Tulsa Speech-Language-Hearing Clinic , North Hall 391, 700 North Greenwood Ave. Free. By appointment, afternoons (mornings upon request). Call 918-594-8573 or slpservices@okstate.edu.
Tulsa Health Department Child Guidance, 315 S. Utica. By appointment. Nominal Fee. Sliding Scale. Call 594-4720.