Recipes for a Happy Thanksgiving with Friends and Family
Salted Caramel-Chocolate Pecan Pie, Honey Pecan Pumpkin Pie, Sausage Cornbread Stuffing and Cheesy Potatoes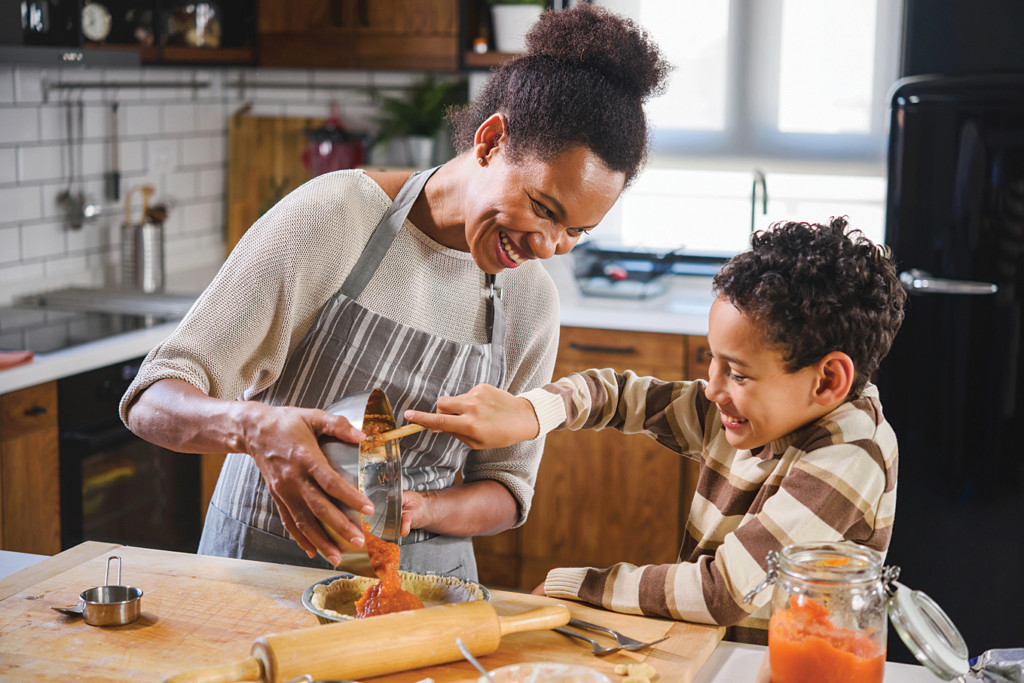 Looking through recipes for Thanksgiving, one magazine headline jumped out. "How to Have the Happiest Thanksgiving Ever."
That's what we all want, isn't it? I would take the "happiest" Thanksgiving over the "easiest," "most delicious," or "show stopping" every time.
I've been reading a lot of Jane Watson Hopping, who wrote prolifically about her family life on an Oregon farm in the 1940s to 1960s. She writes of Thanksgiving days with her big, extended family. "…the feeling of belonging, of the warmth of kith and kin that spread throughout the house, leaving a silence in its wake."
A happy Thanksgiving is hugs and laughter, talking about old times, passing around babies and sharing what we're thankful for. The food provides a beautiful focal point – but it really doesn't matter if it's a golden, roasted turkey, turducken or tofurky.
Familiar foods that become tradition help to make a holiday special. Even very young children will be quick to realize it's a special day when they see the adults taking special care to roll out pie dough and roast the sweet potatoes.
Going to extra trouble in the kitchen for Thanksgiving helps children to see this is a day set apart. And bringing them into the kitchen to help will further plant memories for them.
My kids can count on a few traditions at the Thanksgiving table. They know their nana will make her fluffy yeast rolls, I will make their favorite salted caramel-chocolate pecan pie and their uncle will make our family's favorite fried turkey. But even more than that, they know they will laugh and play with cousins in the back yard, they will be given more hugs than they can count and they will be tucked in that night with a feeling of belonging, the warmth of family and the peaceful silence it leaves in its wake.
---
I will forever be required to bring this pie to Thanksgiving. I usually make a couple so that we have enough for pie for breakfast the next day. The recipe comes from Southern Living magazine.
Salted Caramel-Chocolate Pecan Pie
Chocolate Filling:
1 1/2 cups sugar
3/4 cup butter, melted
1/3 cup all-purpose flour
1/3 cup unsweetened cocoa
1 tablespoon light corn syrup
1 teaspoon vanilla extract
3 large eggs
1 cup toasted chopped pecans
1 (9-inch) unbaked deep-dish piecrust
Salted Caramel Topping:
3/4 cup sugar
1 tablespoon fresh lemon juice
1/4 cup water
1/3 cup heavy cream
4 tablespoons butter
1/4 teaspoon table salt
2 cups toasted pecan halves
1/2 teaspoon sea salt
Preheat oven to 350 degrees. Stir together first 6 ingredients in a large bowl. Add eggs, stirring until well blended. Fold in chopped pecans. Pour mixture into pie shell.
Bake at 350 degrees for 35 minutes. (Filling will be loose but will set as it cools.) Remove from oven to a wire rack.
Prepare Topping: Bring sugar, lemon juice and water to a boil in a medium saucepan over high heat. (Do not stir.) Boil, swirling occasionally after sugar begins to change color, 8 minutes or until dark amber. (Do not walk away from the pan, as the sugar could burn quickly once it begins to change color.) Remove from heat; add cream and butter. Stir constantly until bubbling stops and butter is incorporated (about 1 minute). Stir in table salt.
Arrange pecan halves on pie. Top with warm caramel. Cool 15 minutes; sprinkle with sea salt.
---
This pumpkin pie is a new recipe to me, but will be on our family's Thanksgiving table this year. It is from "The Many Blessings Cookbook."
Honey Pecan Pumpkin Pie
9-inch unbaked pie shell
1 1/2 cups canned or cooked pumpkin puree
2/3 cup brown sugar
1 teaspoon cinnamon
1/2 teaspoon freshly grated nutmeg
1/2 teaspoon ground ginger
1/2 teaspoon salt
1/4 teaspoon ground cloves
2 eggs, beaten until frothy
1 1/2 cups milk
1/2 cup heavy cream
1 cup pecans, chopped
1/4 cup honey
Preheat oven to 425 degrees. Line a 9-inch pie pan with pastry dough.
In a large bowl, combine pumpkin, brown sugar, cinnamon, nutmeg, ginger, salt and cloves. Stir until sugar is dissolved. When thoroughly blended, pour eggs, milk and heavy cream into the pumpkin mixture. Stir until smooth.
Bake pie shell in 425 degree oven for 25 minutes to set the crust. Remove from oven and fill with pumpkin mixture. Reduce oven temperature to 350 degrees and bake until a knife blade comes out clean when inserted, 40 to 50 minutes.
When pie is done, turn off oven and transfer pie to a wire rack to cool. When thoroughly cool, sprinkle chopped pecans over the entire surface and pour warmed honey over pecans.
---
If you don't already have a favorite dressing recipe, give this one a try. This is a true stuffing recipe, meant to be stuffed in the turkey. We are a dressing family, baking it in a dish and serving alongside the turkey. But if it's just not Thanksgiving without stuffing inside the bird, go for it. This recipe is adapted from the Food Network.
Simple Sausage Cornbread Stuffing
Extra-virgin olive oil
1 large onion, small dice
3 ribs celery, small dice
Kosher salt
1 pound spicy sausage, casing removed, broken into bite-size chunks
3 cloves garlic, smashed and finely diced
3/4 cup coarsely chopped walnuts
10 fresh sage leaves, finely chopped
3 sprigs rosemary, leaves finely chopped
10 cups stale cornbread, cut into 1-inch cubes
2 cups dried cranberries
3 to 4 cups chicken stock
Preheat the oven to 350 degrees.
Coat a large sauté pan with olive oil, add the onions and celery and sauté over medium heat. Continue cooking until vegetables are soft and aromatic. Add sausage and cook until browned. Stir in garlic and cook for a minute or two. Add walnuts, sage and rosemary, cooking another minute. Remove from heat.
In a large bowl, mix together the cornbread, cranberries and sausage mixture. Add chicken stock and mix with a wooden spoon or your hands until bread is very moist. Taste for seasoning and add salt, if needed.
Stuff into turkey and immediately place in oven. Or, place dressing in large casserole dish and bake 30 to 35 minutes.
---
If canned soup offends you, avert your eyes. But if you're looking for something super simple the kids will eat, add this to your menu. This one cooks in a slow cooker, so it will save your oven space.
Thanksgiving Cheesy Potatoes
1 can condensed cream of chicken soup, undiluted
1 cup sour cream
1 small onion, finely chopped (optional)
1/4 cup butter, melted
3/4 teaspoon salt
1/4 teaspoon ground pepper
1 package (32 ounces) frozen cubed hash brown potatoes, thawed
2 cups shredded cheddar cheese, divided
In a 4-quart slow cooker, combine the first six ingredients. Stir in hash browns and 1 1/2 cups cheese. Cook, covered, on low until potatoes are tender, 4-5 hours, sprinkling with remaining cheese during the last 5 minutes.
Natalie Mikles is a mom of three. She writes about food, sharing recipes for busy families and picky eaters. She has been recognized for her food columns as well as features on families and issues affecting local children. She loves pizza and movie nights with her family.
---