Pumpkin-Inspired Recipes for Fall
Pumpkin Muffins, Pumpkin Cheesecake Tarts, Pumpkin Chili and Pumpkin Hummus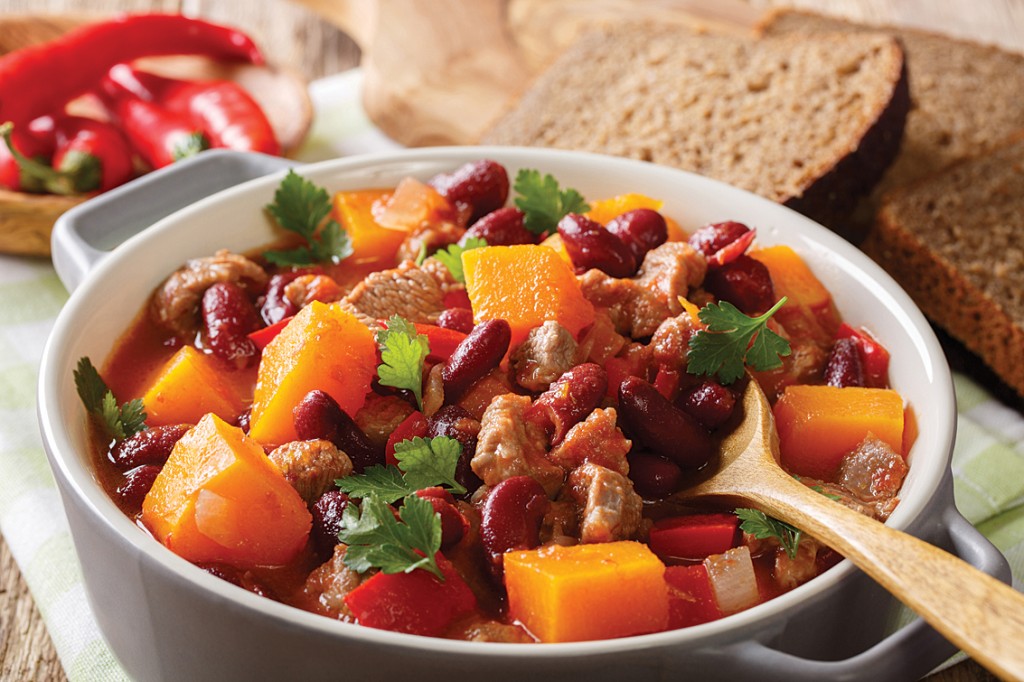 Pumpkins are as much a part of fall as apples and falling leaves.
But the idea of pumpkin-spice everything is a relatively new phenomenon. As soon as fall hits, you see it in everything from brownies and bagels to candles and soaps. And of course, it's in the ever-popular pumpkin spice latte.
It's likely the PSL, which Starbucks put on its menu in 2003, that pushed the pumpkin spice flavor into ubiquity.
Marketers have even included children in the trend, flavoring kids' snacks, like yogurts and cookies, with pumpkin spice in the fall months.
The spices that make up the pumpkin spice blend are as old as time, so there's nothing trendy about them. And even if you feel an annoyance with pumpkin spice infiltrating your fall, consider pulling back to basics, stripping some of the sweetness of pumpkin spice, and embracing the pumpkin itself.
Pumpkin provides great nutrition and can be used in both sweet and savory recipes. Add it to a baked French toast for weekend brunch. Or, roast chunks of fresh pumpkin with Brussels sprouts and other root vegetables. This mixture is great on its own or when tossed with warm pasta drizzled with a balsamic reduction and a sprinkle of grated Parmesan cheese.
Here are some pumpkin-inspired recipes to try this month.
---
Pumpkin Muffins
Makes about 18 muffins
3 cups flour
1 teaspoon salt
2 1/2 teaspoons baking powder
1 teaspoon ground cinnamon
1/2 cup granulated sugar
1/4 cup brown sugar
1 stick butter, melted
2 eggs, beaten
1 cup mashed pumpkin (fresh or canned is fine)
Combine all dry ingredients in a large bowl.
Combine butter and eggs in a small bowl. Fold into dry ingredients, then add pumpkin.
Scoop mixture into lined muffin tins, filling about 2/3 full. Bake at 400 degrees for 15 to 18 minutes or until golden brown.
---
These little tarts are easy to make and pretty to serve. The crust is a snap to make – a gingersnap cookie in the base of each tart.
Pumpkin Cheesecake Tarts
Makes 12
12 gingersnap cookies
1 (8-ounce) package cream cheese, softened
1 cup mashed pumpkin
1/2 cup sugar
1 teaspoon pumpkin pie spice
1 teaspoon vanilla extract
2 eggs
Preheat oven to 325 degrees. Place muffin cup liners in a muffin tin. Place a gingersnap cookie in the bottom of each liner.
Beat cream cheese, pumpkin, sugar, pumpkin pie spice and vanilla until well blended. Add the eggs and beat well.
Divide the batter equally among the 12 muffin cups. Bake for 20 to 25 minutes or until set. Cool in the pan on a wire rack. Remove from the pan, and chill before serving.
---
Pumpkin and a little pumpkin pie spice add a bit of sweetness to this chili. If you like it spicy, add more chili powder.
Pumpkin Chili
Makes 6 to 8 servings
1 pound ground beef
2 celery stalks, finely chopped
1 medium onion, finely chopped
1 red bell pepper, finely chopped
2 garlic cloves, minced
1 (29-ounce) can tomato sauce
1 (15-ounce) can crushed tomatoes
1 (15-ounce) can solid-pack pumpkin
1 teaspoon sugar
1 1/2 tablespoons chili powder
1 teaspoon pumpkin pie spice
1/2 teaspoon salt
1/2 teaspoon pepper
1 (15-ounce) can black beans, rinsed and drained
In a Dutch oven, cook the ground beef, onion, bell pepper and garlic over medium heat 8-10 minutes or until beef is no longer pink and vegetables are tender, breaking up beef into crumbles; drain.
Stir in tomato sauce, tomatoes, pumpkin, sugar, chili powder, pumpkin pie spice, 1/2 teaspoon salt and pepper; bring to a boil. Reduce heat, then simmer (uncovered) for 45 minutes. Stir occasionally.
Stir beans into chili and warm through before serving.
---
Kids will love the slight sweetness of pumpkin in this hummus. It's great with sliced vegetables, pita or crackers.
Pumpkin Hummus
1 (15-ounce) can pumpkin
2 (15-ounce) cans chickpeas, drained and rinsed
1/4 cup tahini
1/4 cup extra virgin olive oil
2 tablespoons minced garlic
4 teaspoons maple syrup (if you want to add sweetness, if not then leave it out)
1 1/2 teaspoons coarse salt
2 teaspoons ground cumin
Roasted, salted pepitas (for garnish)
Combine all ingredients (except pumpkin seeds) in a food processor. Blend until smooth. Check consistency, and add olive oil if you want a thinner hummus. Garnish with toasted pumpkin seeds.
---
Pumpkin Picture Books
If you're learning from home this fall, kids will enjoy a simple pumpkin unit study: Read a pumpkin book, make a fun recipe and then visit a pumpkin patch.
Too Many Pumpkins by Linda White
Pumpkin Moonshine by Tasha Tudor
Strega Nona's Harvest by Tomie dePaola
Pumpkin Soup by Helen Cooper
The Pumpkin Book by Gail Gibbons
The Roll-Away Pumpkin by Junia Wonders
From Seed to Pumpkin by Wendy Pfeffer
The Great Pumpkin Contest by Angie Rozeleaar
Pumpkin Circle by George Levenson
How Many Seeds in a Pumpkin? by Margaret McNamara
Natalie Mikles is a mom of three. She writes about food, sharing recipes for busy families and picky eaters. She has been recognized for her food columns as well as features on families and issues affecting local children. She loves pizza and movie nights with her family.
---