Pinkeasy Sips & Sweets: Joss's New Favorite Place for Treats!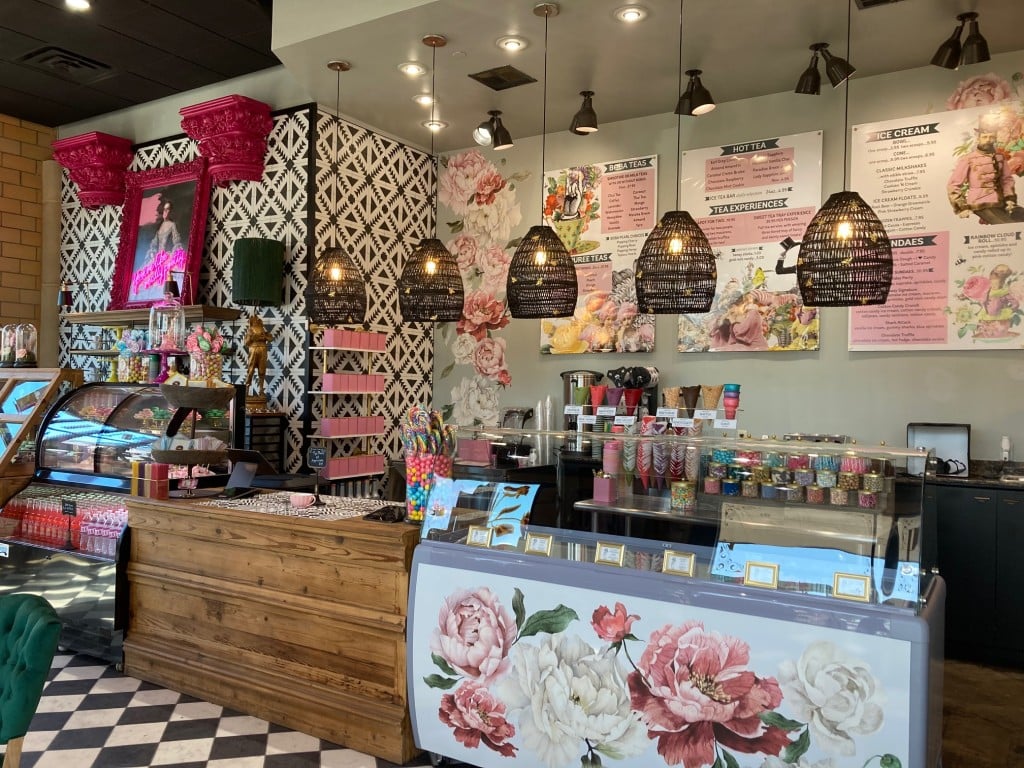 Earlier this week, Lynn Hernandez recently wrote about the Princess Tea at Harwelden Mansion. And yesterday, Joss and I tried a new tea time option in town: Pinkeasy Sips & Sweets! Located on Cherry Street around the corner from Mi Cocina, Joss and I have been driving past Pinkeasy every day, just waiting for the opening! Window decorations promised boba, ice cream and a tea parlor. We couldn't wait to visit!
Finally, the "Now Open" sign was out front, and we went opening day. Pinkeasy is "a member of the Pinkitzel family," and it's easy to see the family resemblance. The interior is decorated to the hilt with Marie Antoinette portraits, complete with modern touches like bubble gum and butterflies. There are feathers, pastels, and so much to look at!
Menu
And it's not just the decor that's colorful. The ice cream cones are, too! Green is matcha, and…I don't remember the rest, but there are purple and yellow cones, plus colorful sugar cones. Joss chose a blue cone with cotton candy ice cream. I'm not usually excited about cotton candy ice cream, but it was really good!
Of course, we had to try their boba, too. There were at least 12 flavors to choose from, and we went with watermelon. You can get this as either a smoothie or regular boba milk tea. The cup was covered with a smiling plastic lid, and it was so cute! Joss was very possessive of both the boba and his ice cream, which was definitely a sugar overload. I did make him share some though.
In addition to ice cream and boba, they have sweets like truffles and other candy and pastries. And tea! Pinkeasy has an iced tea bar with rotating flavors and a list of hot teas that includes Earl Grey Lavender, Chocolate Mint Cookie, a couple decaf options and more.
Tea Time
If you want to go all out, book a tea party in advance. The Teapot for Two includes tea for two people, two macarons and two chocolate truffles. And the Sweet Tea Tray Experience includes a three-tiered tray of "fancy and dainty sweet treats," as part of a full tea service. Learn more about pricing and booking at pinkeasy.com/home/tea
Shopping
Looking for a gift for a tea lover? Pinkeasy has some really lovely tea brands that I'd never heard of before. But I want to give them all a try now, the packaging is so appealing! I also saw boba tea kits, fancy socks, sweet cups and saucers, innovative chocolate bars and more.
Pinkeasy Hours and Location
Address: 1340 E. 15th St.
Hours:
Monday – Friday: 10 a.m.-9 p.m.
Saturday: 10 a.m.-10 p.m.
Sunday: 12-9 p.m.
Social Media:
Website: pinkeasytulsa.com
Let me know in the comments if you go to Pinkeasy, and what we should try next!
---