Patriotism Begins at Home:
Small ways to teach your child to be a good citizen.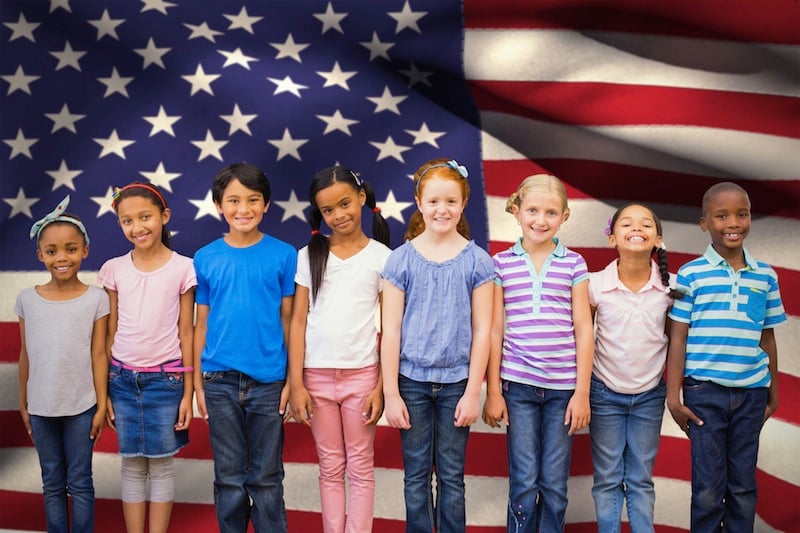 The Fourth of July celebration is about more than fireworks. This is an excellent time to introduce the topic of citizenship to your children. Citizenship is about being a part of something larger. We need to teach our children how they are already able to contribute to family, school, and community. These skills will later be transferable to becoming good Americans and citizens of our world. Patriotism is also an important part of citizenship. Before or after enjoying the fireworks together, explain to your children why we are actually celebrating. Tell them about some of the freedoms we have which are not enjoyed elsewhere in the world.
Patriotism
As a teacher, I see many ways that good citizenship is being taught and encouraged in our schools. We stand for The Pledge of Allegiance each morning. This promotes patriotism, while also developing the notion of being part of the larger American community.
Our students gave an outstanding performance of patriotic music this year near Veteran's Day. This was an excellent opportunity to teach children about the sacrifices our veterans make for us. Our second-grade students often perform a production in which students represent famous Americans whom they have studied. Elementary students regularly learn about our nation's symbols, such as the flag, The Statue of Liberty, and The Liberty Bell. Teachers frequently involve students when establishing classroom rules and procedures, which gives them an opportunity to discuss how our laws are created, and why it's important to follow them.
Parents may choose to promote patriotism by sharing books about famous Americans. I visited with a local elementary school librarian who recommends George Washington's Teeth by Deborah Chandra and the Lightbox series of books about American symbols. Ask a librarian to help you find age-appropriate books for your child.
Citizenship
Good citizens give back to their communities, so children need to be given ways to do this. Our student council recently held a toy drive. Families donated several hundred toys that were contributed to Tulsa Day Center for the Homeless and The Parent Child Center of Tulsa. Our school also sent monthly care packages to our troops overseas. Summer is an ideal time to involve your children in community service projects like this at home.
Teaching children to contribute to the family by doing chores is an early step toward creating responsible citizens. Honestly, sometimes it's easier to do the chores yourself. However, this does not allow the child to experience the value of being a contributing member of the family. As soon as children are able, have them pick up their toys, clean their rooms, and make their beds. They can also help with some kitchen chores and yardwork. Children can also learn to be good citizens by being taught to conserve our natural resources. Teach them to conserve water by not letting it run while brushing their teeth. They can also learn to turn off lights when not needed.
Children should be taught that they have rights and freedoms as described in The Bill of Rights.  It is also important for them to learn that they have related obligations. Good citizens learn to follow our laws. Good training for this includes following the rules at home and school. Parents can assist children in this effort by enforcing rules at home and supporting school rules.
Rights & Responsibilities
Voting is one of the rights and responsibilities of citizenship. Parents can model this by taking children with them to vote, or to help with the campaign of a particular candidate. It is vital that children learn that, along with the right to vote, goes the responsibility to remain informed on current events. Discuss current events with your children. Feel free to share your opinions, and the reasoning behind them.
However, this is also a perfect opportunity to teach the value of tolerance. Teach children to respect the opinions of others. Sometimes, parents don't even realize that they are teaching intolerance. Several years ago, during the presidential election, one of my students said he hoped that Donald Trump would win. Another student was absolutely mortified. She loudly exclaimed, "You're for Donald Trump?" We took classroom time to discuss how all opinions would be respected in my classroom. We would have had the same conversation regardless of the candidate mentioned.
Parents can teach these same values at home. Parents should be aware that they are modeling for their children, even when they don't realize children are listening. Both of my sons now vote. While we don't always agree, we do respect and value the other's opinion. I am quite proud that both of them can articulate their political positions knowledgeably.
This Fourth of July, try making the holiday about more that the fireworks. Explain to your children what makes America special and unique. Begin teaching them how to become responsible and contributing members of a family, community, nation and the world.