'Pathways of Hope:'
Touring The Parent Child Center of Tulsa.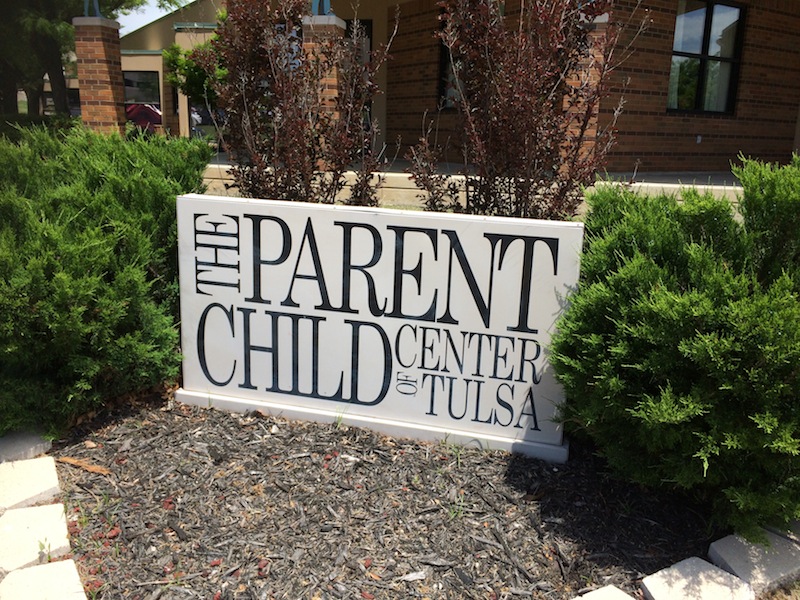 When I learned that The Parent Child Center of Tulsa offers monthly tours, I immediately signed up for the upcoming tour. I'd recently spoken with a representative from the Center for an article I'd been working on and had been impressed–and surprised–by everything the Center does.
The mission of The Parent Child Center is "To prevent child abuse and neglect through education, treatment, and advocacy," and it does this on three levels. The primary level represents the Center's work in the community–doing educational presentations at schools, talking with new mothers still in the hospital about the Period of Purple Crying, etc.
The secondary level is home visits. One of the Center's newest programs is Tulsa Family Connects. The Parent Child Center can set up a home visit to anyone who has given birth at Hillcrest–usually when the child is about three weeks of age–and can do two follow-up visits as well, until the child is about three months. (And yes, this is a free service). Another home visitation program The Parent Child Center offers is Parents as Teachers(R), a voluntary, free program in which the Center sends a representative to a client's home when that client feels as though they need some extra parenting support. According to their website, "Parents as Teachers® is designed to provide parents with information and assistance to enhance the intellectual, language, social, and physical development of children. Families are able to turn their child's everyday experiences into fun-filled learning opportunities and create eager learners who are ready for school. Every other week, our home based parent educators share child development and parenting information with families."
The tertiary level includes all the counseling options offered at the Center itself, which are often the result of a DHS referral. On the tour, we heard from one of the Center's five infant mental health therapists as well as the manager of the Therapy Services Program, who spoke about the Center's adult counseling services.
I only took five(!) pages of notes during the tour, so I want to share some of the things I learned that particularly stood out:
1. People don't talk enough about the fact that babies cry.
When Mildred Ramsey, Community Nurse Educator, spoke to us about the Center's Bright Beginnings program, she asked, "What do babies have in common?" and went on to say that most people will respond, "They eat, sleep and poop," while neglecting to mention that another thing all babies do is cry! When people fail to incorporate crying into their perspective of what's "normal" for a baby, this can lead to an increased risk of Shaken Baby Syndrome.
She explained the Period of Purple Crying (Purple being an acronym for Peak and Period (a baby's crying tends to increase around two weeks and decrease around two months), Unexpected, Resist normal soothing, Pained face (the baby looks as though it's in pain), Long-lasting/loud, Evening (the baby is more likely to fuss in the evening, which may be just when the parent most desires rest).
Ramsey mentioned the Talk, Read, Sing program as being not just a way to decrease the word gap between low- and high-income babies but also that it can be used as a soothing technique, which was interesting.
Finally, she showed us a poster of a man holding a baby that read, "Are you tough enough to be gentle?" and told us that something she's started doing more recently in the community is to hold educational events at barbershops, designed specifically to speak with fathers about the Period of Purple Crying.
2. It's a myth that babies don't remember traumatic events.
They do, and, as the infant mental health therapist said, "trauma impacts all levels of development." If you ever hear anyone say, "At least they won't remember [the traumatic event], since they're just a baby"–they're wrong.
3. It's important for caregivers to explore their own caregiving history.
Something that impressed me throughout the entire tour was how compassionate The Parent Child Center staff members are and how much they want the best for the entire family, children and parents. When we toured the adult counseling room, the presenter told us, "It's a myth that everybody who hurts or neglects their child is a monster. The truth is that most often they just don't know how to be parents." Much of this lack of knowledge may come from the fact that they learned destructive patterns of behavior from their own families as children.
As someone who studied communications, I was particularly struck when the adult therapist said, "People's views about the parents we work with are fueled by headlines." For example, all the public may see and hear about a child abuse case is a mugshot of the perpetrators and the fact that they were arrested for abuse. She said that she wishes news stories of that sort would be more thorough, explaining the caregiver's own traumatic history, and maybe be accompanied by a quote from the child, who most often longs for their parent to become safer/more stable. (In my communications classes, we talked about the different ways criminals are represented, mostly along racial lines; I'd love to see a study about how news stories about child abuse affect the viewer's perspective on whether the caretaker should be imprisoned, counseled, etc.).
The goal of the adult counseling programs, she said, is to help parents realize that it's not about what's wrong with them but about what's happened to them. Again, ideally the parent will become safe and stable through the Center's intervention so that the family can be reunited. That is a priority.
If you wish to support The Parent Child Center of Tulsa, here are some items on the Wish List:
Hardback copies of "Goodnight Moon" by Margaret Wise Brown
Shredder: Fellowes Powershed 525Ci or equivalent
QuikTrip gas cards for clients
Developmental Toys (Fisher Price, Playskool, Little Tykes, etc.)
Books for children (ages birth to 12 years)
Baby and Children's items (diapers, formula, clothing, art supplies, etc.)
Paper and help with printing (for adult counseling services)
Funds (the state funding for their Parents as Teachers(R) program was slashed in November)