Pat Cawiezell: Combining Fatherhood with a Little Magic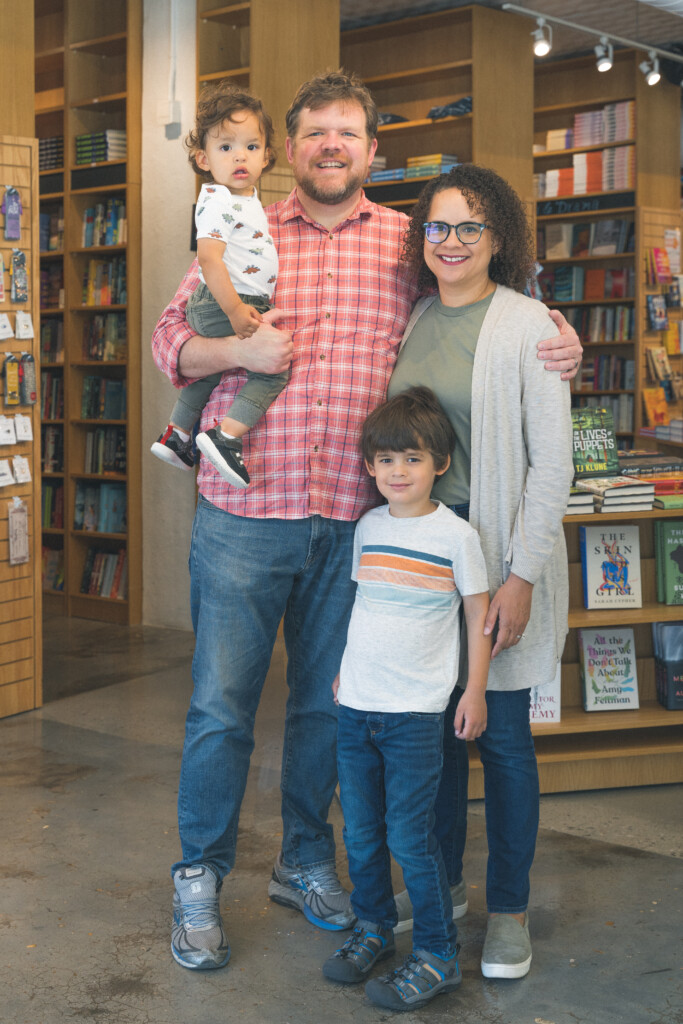 Fathers play a pivotal role in the lives of their children. So, in honor of Father's Day, we want to recognize a father who is spreading a little magic in the lives of his children and around the Tulsa area. Pat Cawiezell is the Buyer and Author Events Coordinator for Magic City Books. He and his wife, Jillian, have two young boys.
TK: Were you a reader as a child?
Pat: My parents always encouraged me to read; both of my parents spent time reading to me. My three living grandparents were all readers and encouraged reading and, like so many readers, the best encouragement was that the adults in my life were reading, too.
I was a voracious reader throughout elementary school. There was a program every February called "Read A Million Minutes" where students counted the minutes they read outside of school. I recall that if every child that participated read 15 minutes a day, collectively we would have all read one million minutes. Well, my brother and I were pretty competitive, and we liked to read, so each year the two of us would always be the top readers in our class/grade/school.
TK: Was there a series that you specifically enjoyed?
Pat: I remember being in second grade and really liking the Little House on the Prairie books, specifically Farmer Boy. My second-grade teacher, Mrs. Briggs, read them to our class, and I know I read Farmer Boy at least four times on my own.
I always liked funny books; every morning I read the sports page and the comics in the paper, and so I often would get the comic strip collections from the library when they would come out: Garfield, Hagar the Horrible, some of those '80s classics.
I also read a lot of Matt Christopher books. Those were always the ones I would ask for on birthdays or holidays.
TK: After graduating from The University of Tulsa, you decided to stay in Tulsa. What do you enjoy about living here?
Pat: When I first graduated, I set a limit. I was going to be in Tulsa no more than 10 years total and then was going to move on. I worked in undergraduate admissions at TU for five years, hitting that 10-year total, and then left for graduate school with no plan to return.
However, after completing graduate school at the University of Pennsylvania in Higher Education, I faced a challenging job market and wound up returning to Tulsa because my brother was living here. It was a place to land and refocus my job search. I left again to work at a university in Kansas before returning for good in the spring of 2013.
I like Tulsa for a lot of the reasons that I liked TU, which is what brought me here in the first place. This is a city with all of the city benefits, great arts organizations, restaurants, a rich history and is also accessible. It is possible for a person to get to know all of those organizations and the people that lead them. The people who are doing really cool things in Tulsa are members of the community as a whole, and not in some way above or not a part of the complete fabric of the city.
TK: Now you're married and have two kids. How do you incorporate reading into your kids' routine? What are you currently reading to them?
Pat: We read every day, usually more than one session a day but ALWAYS as part of the nighttime routine. Our 4-year-old, Eddie, loves books and is especially interested in learning about big cats, so those books with facts about lions and tigers and cheetahs are the current favorites.
Our 1-year-old, Alfie, wants to do the things his brother is doing, and so while his attention span for reading the books is quite a bit less, he loves to turn the pages of his board books and loves to hear mom or dad do the silly voices.
TK: Can you share a little about Magic City Books?
Pat: Magic City Books is an independent, non-profit bookstore that has been open now for more than five years at the corner of Archer and Detroit downtown. We got our start as an author program series, Booksmart Tulsa, founded by Jeff Martin, who remains the president of the Tulsa Literary Coalition. We host more than 100 author programs every year with books for readers of all ages.
TK: What do you enjoy most about working at Magic City Books?
Pat: I love to be able to connect with customers about what they are reading, sharing what I have read and introducing new books to readers. Every day is a little different, every event is unique, so there is no such thing as a regular day.
TK: How do you decide what authors to feature and what books to order?
Pat: We work very closely with representatives from publishers, both major and minor, to learn about the new books that are coming out each season. Most every week there are hundreds of new books that are published, and while there are certainly some that are too specific within their topic for us to need on our shelves, we want to have a wide array of books for all kinds of readers.
Now that we are five years into the store, we know our customers pretty well and know to some degree how many copies of a book we will need for that first week or two after publication. Then we respond to the popularity of the book within our customer base to determine whether we continue to carry the book or make room for new or different books.
TK: What's on your nightstand right now?
Pat: I am currently reading the new book by Victor Luckerson, Built from the Fire, about Greenwood, the race massacre, rebuilding and current day. This year, I have also loved Stealing by Margaret Verble, a book about a Native American girl that is sent to a boarding school set in the 1950s in a fictional, unnamed Oklahoma small town, and Above Ground, a poetry collection by Clint Smith that has beautiful poems that any parent will be able to relate to. Pick it up.
TK: What books do you suggest for kids?
Pat: The Bad Guys series is a lot of fun for emerging and/or reluctant readers. There is also a book for early readers called Frank and Bean that never fails to make us laugh. For slightly older readers, I really like Skunk and Badger by Amy Timberlake. There are phenomenal picture books that get published every year, and having kids helps make sure that you can have them in your life. But I am a believer that picture books are for everyone. Local author Traci Sorell is a favorite of mine, especially her newest book Contenders.
TK: When you're not at work, what do you and your family enjoy doing around Tulsa together?
Pat: We like to visit parks and playgrounds. I usually take the boys to the library on Saturdays. My wife's family all lives in Tulsa, and my brother and his family live here, too, so we spend a lot of time with our families.
Check out Magic City Books in person and online: 221 E. Archer Street, 918.602.4452; MagicCityBooks.com
Nancy A. Moore is a Public Relations Coordinator at Montreau, Adjunct Professor at Tulsa Community College, and has been writing for TulsaKids for almost 20 years.
---