Opposite Day, Every Day! + Why We Love Ms. Kena
Books that explore high-level concepts engage and educate young minds!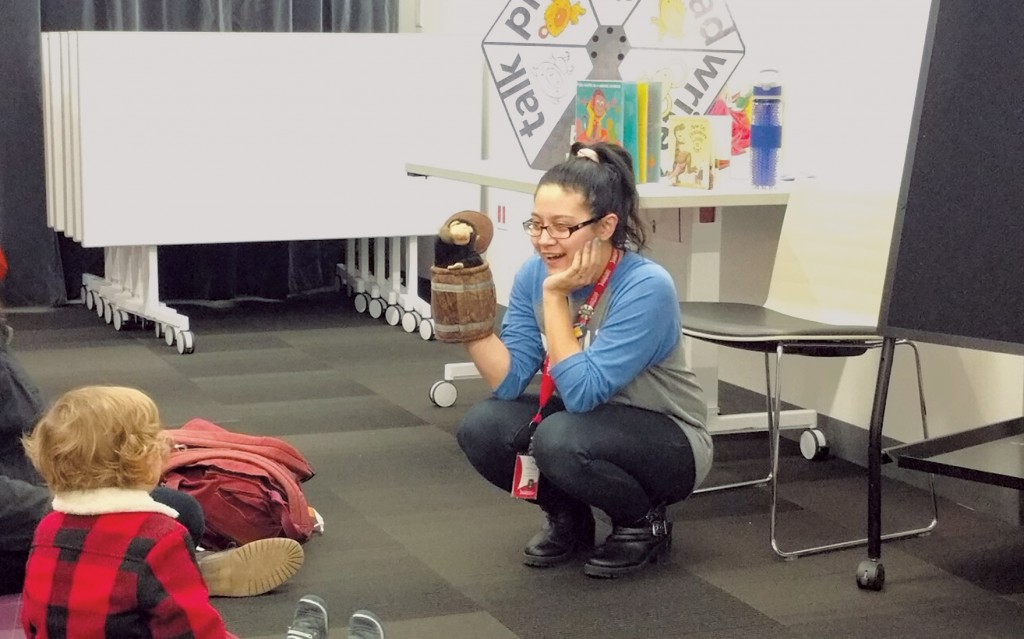 Ah, Opposite Day! The sky is green and the grass is blue! Socks are on hands and mittens on feet! Dinner for breakfast and breakfast for dinner!
It's these kinds of fun mind-benders that makes me think EVERY day should be Opposite Day – but for very good educational reasons, I promise!
Teaching high-level concepts like "opposites" to early readers helps them start to process and understand the world in both apparent and deeper ways.
Even better, it's not difficult to do so when there are plenty of great picture books and activities that help relay the information at the level babies and toddlers can comprehend. Talking with young children about opposites not only improves their background knowledge of everyday opposites in their life (shirt goes over your head, or a toy rolled under the crib), but also encourages thinking skills.
Below are a few titles that I have enjoyed reading with my little one at home and have used during library storytimes:
A Hop Is Up
A HOP IS UP by Kristy Dempsey shows readers the opposites that a boy and his dog come across as they walk around his neighborhood. Encourage your child to point out opposites they notice during a walk around your own neighborhood or at a park. If you have an infant at home, talking to them about opposites that you notice helps build their vocabulary, even if they cannot respond yet. Young readers can begin to understand what differences are with the simple sentences and illustrations that A Hop is Up offers.
Yes and No
YES AND NO by Elisha Cooper invites readers to follow a cat and a dog for a day and notice the opposites in their interests and routines. While the dog wants to play and go outside during the day, the cat prefers to enjoy the outdoors at night. However, children will notice that even if the dog and cat enjoy doing things during opposite times of the day, the activities they both enjoy are similar. Sometimes the best things can happen when done together.
Hello
HELLO by Fiona Woodcock is an entertaining read from beginning to end! Although this book does not have as many opposites as other books mentioned, it is a delightful book about siblings spending the day at a beachside amusement park. You can use this book to talk with your child about differences that are not explicitly described. For example, one page depicts the ocean as chilly, but you could encourage your child to think about what is warm in this story. I bet the sand or the boardwalk would be warm on their feet!
Rookie Toddler
Finally, books that contain photographs of real-life objects and children, like the ROOKIE TODDLER book on opposites, is always a wise choice when reading to babies and toddlers. They love looking at other children, and it could make for a great bonding experience by pointing out similar objects you may have in your home while teaching them opposites.
Meet the Librarian: Why We Love Ms. Kena!
By Laura Raphael, MLIS, Children's Services Coordinator, Tulsa City-County Library
As you can tell from this column about "Opposite Day" books, Ms. Kena clearly has a passion for helping parents find materials that will both delight and educate their young readers and readers-to-be.
Is it because she's a mom herself and knows what it takes to raise a curious child? Or is it because she has both a master's degree in Library Science, with an emphasis on children's literature, and has been a Children's Associate in the Children's Department at the Central Library downtown for four years?
Yes!
We love Ms. Kena for many reasons, but as a frequent observer of her storytimes, both in person and online, I can tell you it's this combination of a gentle and parental spirit and her intelligent use of literacy theory that sets her apart.
For example, in one memorable virtual storytime during the summer of 2021 (which unfortunately is no longer available online because of copyright rules reestablished after the pandemic), Ms. Kena used her puppet Timmy the Turtle to combine counting, songs and books. As she explained to parents, number sense is just as important as word sense as babies and young children develop and grow.
About the authors
Kena Hardin is a Children's Associate in the Children's Department at the Central Library. A mom herself, Kena loves sharing books and activities with parents and kids alike.
Laura Raphael is the Children's Services Coordinator for the Tulsa City-County Library. It is always a joy to see children's librarians and staff members like Ms. Kena help children become super readers.
---