Oklahoma End of Instruction Tests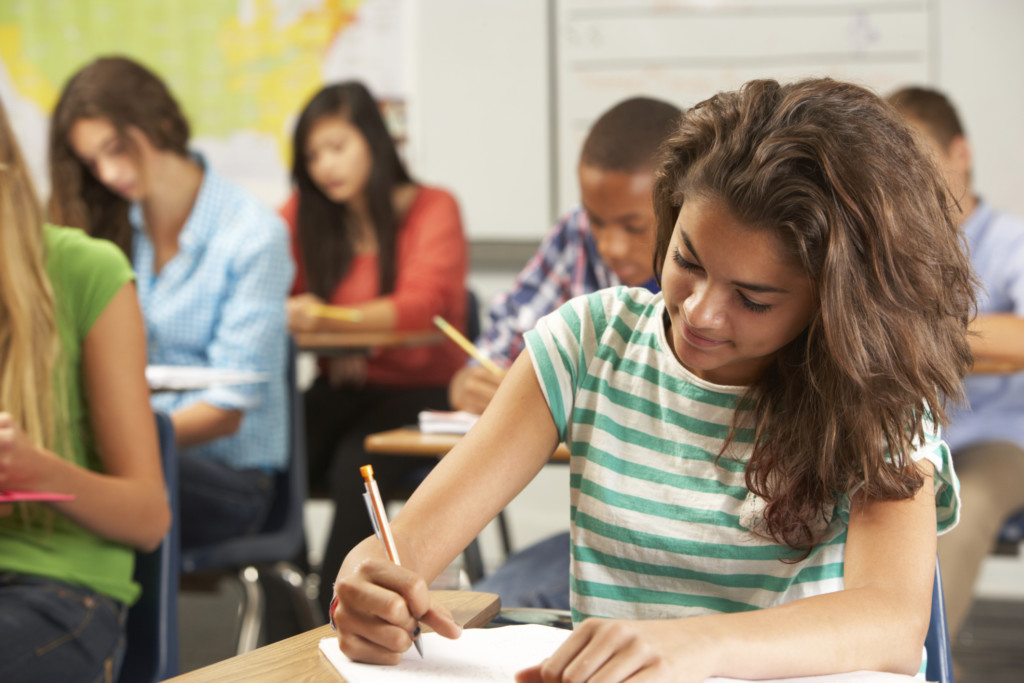 Sand Spring's Lake Academy Alternative School senior Angel Silkey goes over the Algebra II End of Instruction (EOI) test study guide every night. Angel hopes her extra studying will pay off with a satisfactory or proficient score on the Algebra II EOI test she will take in April.
"I need to pass two more tests. My teachers had me pick two subjects I think I can pass and I chose Algebra II and English III," said Angel, who transferred to Lake in August from Sand Spring's Charles Page High School. Angel and many of her senior classmates at Lake are spending their waning days in high school studying to pass all the required four out of seven EOI tests.
"I get nervous when I take big tests," she said. "We take the EOI tests on the computer. I am not a big fan of computers and I have to sit there for an hour or two and read a lot and my mind cannot focus on that one thing."
If Angel does not pass the two remaining EOI tests, she will not receive her high school diploma although she has gone to school for 13 years and passed the required classes for graduation.
"Without a diploma it is harder to get into college or get a better job," Angel said. "I have enrolled in Paul Mitchell Cosmetology School, and you do not need a high school diploma to do that program. But I know it is better to have a diploma than to not."
Sand Springs School District Superintendent Lloyd Snow said he is worried about the students, like Angel, who will not receive a diploma. "Many have gone to school every day and will not graduate," he said. "We want kids to be ready to go to college or pursue some form of work or technical career after high school. But the testing now has led to unintended consequences. We are punishing the kids. It's like a 'gotcha'. We need to put common sense into this conversation. "
High Stakes Testing
Oklahoma's first attempt at high stakes graduation testing has school districts throughout the state scrambling to remediate seniors who have yet to pass all the required EOI tests so they can graduate with the class of 2012. In the past, seniors had to pass required credits and meet state requirements in order to graduate. The class of 2012 has an added addendum to their graduation requirements, pass four out of seven EOI tests.
The term "high stakes testing" refers to a test that is directly tied to a significant consequence, such as determining if a student will receive a high school diploma. The Oklahoma graduating class of 2012 is the first group of students to tackle the high stakes graduation tests created by Oklahoma Legislators in 2005 as part of the Achieving Classroom Excellence Act (ACE).
Oklahoma State Superintendent Janet Barresi said in March 2011, "The basic goal of ACE is to raise expectations for students, knowing that students will rise to the challenge. For too many years a high school diploma simply didn't require enough work and we have seen the results; too many students requiring remediation for basic subjects when they arrive at college and too many students who were not prepared for the workforce if they chose not to attend college. Now as we face a global competition for excellence, we can't afford to dumb down our standards."
All Oklahoma public school seniors must pass, or earn, a score of "satisfactory, proficient or advanced" on EOI exams in Algebra I and English II. They must also pass at least two of the following five EOI exams: English III, Algebra II, Biology, Geometry and U.S. History in order to graduate. EOI tests consist of multiple -choice questions and English II and III have a writing portion.
Students may retake the exams up to three times a year or earn a specified score on alternate tests such as the SAT, ACT, AP, IB, CLEP, WorkKeys or a subject specific project.
Students in most districts take the EOI tests online in computer labs or in classrooms equipped with mobile laptops. Some school districts have resorted to setting up mobile laptops in their gymnasiums in order to accommodate all of the students taking the tests at once.
In October 2011 Assistant Oklahoma State Superintendent Office of Student Support Kerri White stated in a report that approximately 30,800 students aim to graduate from high school in the spring or summer of 2012. Out of that number 28,000 had passed four of the seven EOI tests. Six thousand students had not passed the number of required tests.
Students who do not meet EOI requirements and thus do not graduate will be reported by a school district as a "dropout." Students can enroll as a 5th year senior in 2012-13 to take ACE remediation classes and retake the EOI tests in order to earn a diploma. Without a high school diploma a student can attend a two-year community college such as Tulsa Community College or a technical school. But, without a high school diploma a student cannot attend a four – year college or university, receive a college scholarship or serve in the military.
Oklahoma is not alone in requiring high school seniors to take a high stakes test in order to receive a diploma. According to a 2009 study by the Center on Education Policy (CEP) on exit exams, 26 states had mandatory exit exams or were phasing in exit exams policies by 2012.
EOI Testing in Districts
Hanging on the wall in the Union Public School District Board Room is an enormous white poster with 890 yellow Post-its lined in rows from top to bottom. In the upper right hand corner of the poster is a row of purple, pink and turquoise Post-its. The yellow Post –its represent every Union senior who has passed the EOI tests and will be handed a high school diploma during May's graduation exercises. The other colors, 19 Post-its in all, are seniors who have yet to pass the required four of seven EOI tests.
"It's exciting to see all those yellow Post-it notes, the students that have passed, in row after row. If you stand back and realize each one of those stickers represents a real student who has met the ACE requirement, you begin to understand the significance," said Gart Morris, Union Senior Class principal and creator of the Post-It EOI display.
Union Superintendent Dr. Cathy Burden emphasized that she and Morris will not be satisfied until all Union seniors have passed all the required EOI tests.
"Every single one of these kids, whether they have passed the test or not, count. We have not done our job if not every senior gets a high school diploma in May," said Burden, now in her 17th year as Union Superintendent.
"My issue is that we are doing this because we want to raise our standards, but now there are some victims of the process who are going to pay the price for something they do not deserve," she said. "I don't want a decision to be made on whether a child graduates [to be based] on one test score. And what do colleges look at when they are admitting students to their school?  Not these tests scores. Dr. Burns Hargis, president of OSU said the best indicator of a child's ability to handle college level work is the high school transcript."
Seniors across all Oklahoma districts who have not passed all of the EOI tests appear to fit into several consistent categories: Students who have moved in to the school district from out of state during the latter part of their high school career; students on an Individualized Education Program (IEP); students who are English Language Learners; students in Special Education Programs, and students who are economically disadvantaged and work part-time or full-time jobs, or students who have come back to school after dropping out.
"There are unintended consequences that go along with the high stakes testing," Burden said. "Some students are on IEP's and just cannot pass a multiple choice test. Special Education students take just four tests and they must pass them all. We have a senior who just moved here from another state, and she comes here as a very good student with AP courses under her belt, but she will not graduate because of the time frame of the tests.  She will need to take all the tests in April and we will not receive her scores in time for graduation."
When ACE legislation was enacted in 2005 Union immediately responded with an educational assembly on the EOI tests for both parents and students. "Our now seniors were in 8th grade," Burden explained. "We had a meeting of parents and students to let them know about the tests. We handed out pamphlets and encouraged parents to come in for conferences if they had more questions or concerns. We made sure every parent knew these tests would start during their kids' freshmen year."
Students usually take the EOI test upon the completion of the corresponding class. The majority of this year's seniors took their first EOI test their freshmen year after completing Algebra I. By the end of their sophomore year or midway through their junior year most students have taken all EOI tests.
To help students conquer the EOI tests, Union has added academic "safety nets" in to their curriculum such as Redskin Academic Overtime, a free period of time infused into every student's schedule for subject specific tutoring. During the summer, Union holds a "Boot Camp" for students who did not pass an EOI test. Students review the academic subject and take the corresponding EOI test at the end of the camp.
"It is an all-out team effort. From at-lunch tutoring, to remediation classes in the school day, to helping students with alternative tests, even hiring support specifically for our 'at-promise' students, it is an all-hands-on-deck mentality," Morris said. "My goal is to never have to look at a student who has earned all their credits and tell them they will not graduate because of a test."
Sharolyn Sorrels, Tulsa Public Schools director of educational indicators said when she and her teachers learned about ACE in 2005, they accepted it as a reality and immediately set out to create ways to help students pass the tests.
"I held professional development workshops to prepare teachers for ACE state standards and Common Core. We held benchmark testing to see what the kids know before they actually took the real tests," Sorrels said. "Many kids qualified for tutoring while others who were falling behind in classes were remediated to easier classes to help them along.  We are looking at each individual student and determining what the issue is and we are making a concerted effort to make sure that each student has a plan. We anticipate these students graduating in May."
While many districts are hiring more teachers to assist with the EOI oversight and remediation classes, according to Burden, districts are not receiving nearly enough financial assistance from the state to put a high stakes testing program together and achieve positive results. "When ACE was enacted, the state said there was $77 million to help school districts work with students to pass EOI. In actuality, they have invested maybe $40 million. The money we have received is not nearly enough to handle the remediation and tutoring we are doing to get these kids past the tests."
And, EOI testing is cutting into classroom time. Some districts now have up to 30 days worth of state-mandated testing time taken out of their school days and the tests have forced teachers to narrow the scope of their curriculum in order to highlight what will be on the tests.
Union parent and former teacher Judy Bastemeyer said EOI testing is well-intentioned, but unfortunately it adds more testing to student's academic experience that doesn't produce a benefit. "Our children already take too many tests to meet other mandates that take away from the time spent in class learning new material. As a past teacher, I know that it then causes the teacher to teach to the test instead of focusing on curriculum."
The EOI tests are given three times a year: fall, spring and summer. The next test date is in April but the results will not be available until late May to June. The state has an outside firm, Pearson Assessment and Information Company, handle the EOI online testing and scoring.
"We are way past deadline in receiving the fall EOI scores. Those scores are not due out until the end of February and the kids took the tests in December. So, if that happens with the spring tests, seniors will not know their scores until mid summer and they cannot graduate with their class," Sorrels said. "Statistically they are counted as dropouts by the state."
Union parent Jenny Hudspeth said Oklahoma will see an increase in the number of high school dropouts this year, and the cause is "man-made."
"This is a self-inflicted wound," she said. "The effect on the state will be economic. The likely effect on the students will be more dramatic. They will not return for a fifth year, and a GED will not have the same value as a high school diploma."
Hudspeth is a member of the Parent Legislative Action Committee (PLAC) that was established five years ago by a small group of parents whose children attended Jenks Public Schools. Since that time, the nonpartisan group has grown to include parents from several Tulsa area school districts including Sapulpa, Sand Springs, Union, Owasso, Tulsa and Broken Arrow. PLAC is a nonpartisan committee with the goal of increasing parents' and the community's awareness on legislative issues impacting public education in Oklahoma.
PLAC is actively lobbying for changes to the ACE legislation and asking parents to contact their senators, state representative, and state board of education representatives to express their concerns about high stakes tests.
PLAC Parent Coordinator Melissa Abdo said PLAC is not opposed to testing. "However, we do not support EOIs or any high-stakes test as the sole measurement of student proficiency and predictor of college success," she said.  "PLAC supports our legislature finding an alternative for students who have passed the state mandated courses to receive what they have earned, a diploma."
For more information on EOI testing visit the Oklahoma State Department of Education website: sde.state.ok.us.