Not-quite-non-traditional Thanksgiving Side Dishes
Fried Confetti Corn, Butternut Squash Mac and Cheese, Sweet Potato and Carrot Casserole and Sugar and Spice Sauteed Apples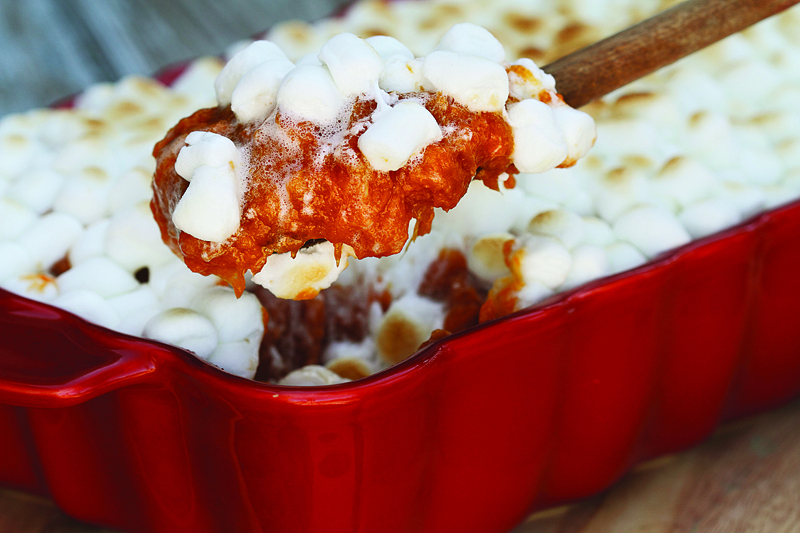 When it comes to Thanksgiving, I crave tradition over deliciousness. I'll be creative with my food any other day of the year, but for Thanksgiving I want turkey, dressing, cranberry sauce and pecan pie. But my creative side is happy for one caveat: side dishes. Thanksgiving side dishes are a perfect place to try a new recipe, swap out ingredients and have fun.
Side dishes are in high demand on Thanksgiving, whether you're making them for your own feast or taking them to a host's dinner. In case you have more company than expected or people are piling on more food than usual, side dishes can fill in the gaps when the turkey is running low.
A friend taught me several years ago to always make more mashed potatoes than you think you need. They're inexpensive and simple to make, and no one will begrudge you for having too many mashed potatoes. The same goes for many other side dishes, including a few we are featuring like fried corn and sautéed apples.
These Thanksgiving side dishes are nontraditional but don't go too far outside the box. They will be loved by both adults expecting traditional Thanksgiving food and kids who tend toward picky eating.
Kids will appreciate the sweetness of the carrots in the Sweet Potato and Carrot Casserole. (The topping of toasted marshmallows doesn't hurt, either.) And since most kids love macaroni and cheese, you may want to try this great recipe for mac and cheese with roasted butternut squash. It may become a new tradition for your Thanksgiving table.
---
This recipe, adapted from Southern Living, is a great new take on creamed corn. Kids who like bacon will love the bacon topping on this creamy corn.
Fried Confetti Corn
Serves 6
8 bacon slices
6 cups fresh or frozen corn kernels (if fresh, from about 8 ears of corn)
1 cup diced yellow onion
1/2 cup chopped red bell pepper
1/2 cup chopped green bell pepper
1 (8-ounce) package cream cheese, cubed
1/2 cup half and half
1 teaspoon sugar
1 teaspoon kosher salt
1 teaspoon pepper
Cook bacon in a large skillet over medium-high heat until crisp, about 6 to 8 minutes. Remove bacon, and drain on paper towels. Reserve 2 tablespoons bacon drippings in skillet. Coarsely crumble bacon.
Saute corn and next three ingredients in hot drippings over medium-high heat 6 minutes or until tender. Add cream cheese and half and half, stirring until cream cheese melts. Stir in sugar and next two ingredients. Transfer to a serving dish, and top with bacon.
---
It's the best of both worlds – cheesy mac and cheese and nutty butternut squash.
Butternut Squash Mac and Cheese
Serves 6
8 ounces uncooked whole wheat elbow macaroni
1 butternut squash (about 3 pounds), seeded and cubed
1/4 cup plain Greek yogurt
1 cup milk (skim or 2 percent)
1 teaspoon kosher salt
1/4 teaspoon pepper
Dash ground nutmeg
1 1/2 cups shredded sharp cheddar cheese
1/2 cup shredded Parmesan cheese
1/2 cup soft whole wheat bread crumbs
Preheat oven to 400 degrees. Cook pasta according to package directions.
Place squash in a saucepan, and add water to cover. Bring to a boil. Cook, covered, until tender, about 8 to 10 minutes.
Place yogurt, milk, salt, pepper and nutmeg in a blender. Drain squash and transfer to blender; cover and process until pureed. Return mixture to saucepan, and heat until warm. Stir in cheeses until melted.
Drain pasta, then add to squash mixture. Toss to coat. Transfer to a greased 8-inch square baking dish. Sprinkle mixture with bread crumbs.
Bake, uncovered, until golden brown, 15 to 20 minutes.
---
My kids like the sweetness of the carrots and mini marshmallows in this casserole.
Sweet Potato and Carrot Casserole
Serves 8 to 10
6 large sweet potatoes (about 5 pounds)
1 1/2 pounds carrots, sliced
1/2 stick butter
1 cup sour cream
2 tablespoons sugar
1 teaspoon lemon zest
1/2 teaspoon ground nutmeg
1/2 teaspoon salt
1/2 teaspoon pepper
1 1/2 cups mini marshmallows
1 cup glazed or sugared pecans
Preheat oven to 400 degrees. Bake sweet potatoes on a foil-lined large baking pan for 1 hour or until tender. Reduce oven temperature to 350 degrees. Cool potatoes 30 minutes.
Meanwhile, cook carrots in boiling water to cover 20 to 25 minutes or until very tender, then drain.
Process carrots and butter in a food processor until smooth, stopping to scrape down sides as needed. Transfer carrot mixture to a large bowl.
Peel and cube sweet potatoes. Process, in batches, in food processor until smooth. Add sweet potatoes to carrot mixture. Stir in sour cream and next five ingredients, stirring until blended. Spoon mixture into a lightly greased 9-by-13-inch baking dish.
Bake at 350 degrees for 30 minutes or until thoroughly heated. Remove from oven. Sprinkle with marshmallows. Bake 10 more minutes or until marshmallows are golden brown. Remove from oven, and sprinkle with sugared pecans.
---
This is one of my daughter's favorite side dishes. We eat them as a side dish with turkey or ham. We also like them topped on waffles or pancakes.
Sugar and Spice Sauteed Apples
Serves 4
3 tablespoons unsalted butter
5 large apples, peeled and sliced into ¼" thick pieces
1/4 cup orange juice
1/2 cup brown sugar
1/2 teaspoon ground cinnamon
1/4 teaspoon apple pie spice
teaspoon salt
1 teaspoon vanilla extract
2 teaspoons cornstarch
1/4 cup cold water
Melt butter in a large nonstick skillet over medium heat. When the butter has melted, add the apples and cook for 5-8 minutes or until tender.
Add the orange juice, brown sugar, cinnamon, apple pie spice, salt and vanilla extract, and stir to combine.
In a small bowl, whisk together the cornstarch and cold water. Pour into the apples, and whisk to combine. Bring apples to a boil, and simmer until the mixture thickens, about 2 minutes. Serve immediately. Or, cool, refrigerate and then reheat before Thanksgiving dinner.
---