No Child Left Inside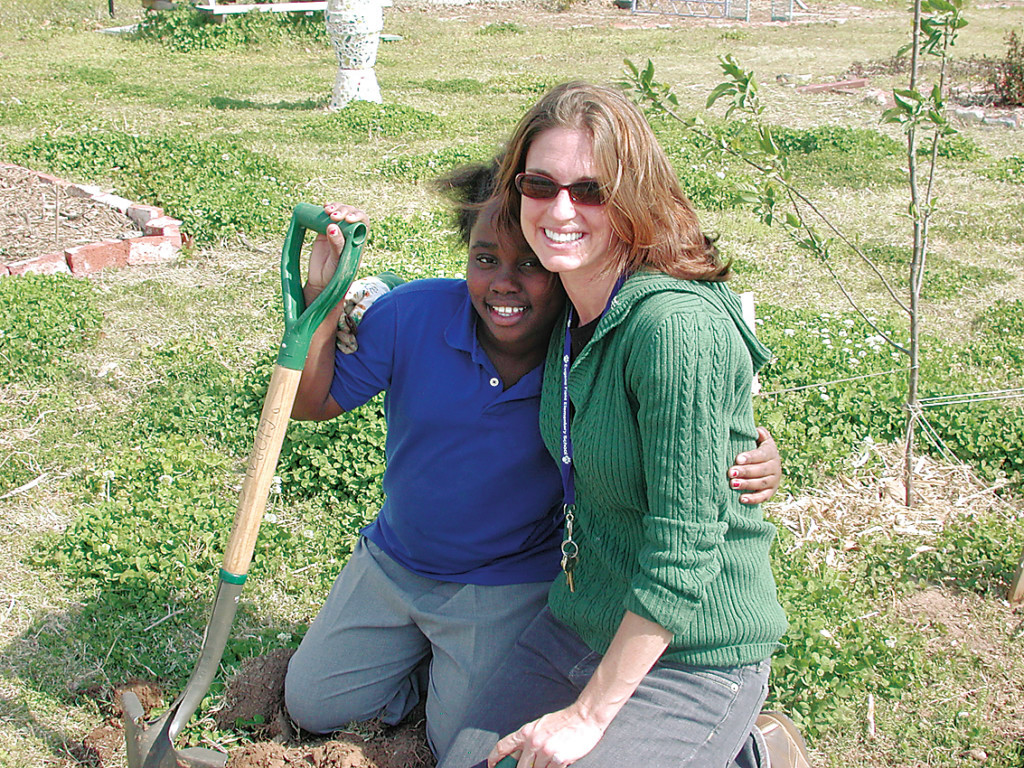 Four years of teaching science in Harlem taught Tulsa native Heather Oakley that hands-on science teaches more than any textbook or classroom instruction.
After instructing students in the complexities of the rainforest and the life cycle of polar bears, her students showed no greater interest in the environment than they had before.
Oakley saw a spark of interest and understanding in her students' faces when she got them outside in Harlem, digging and planting in their own neighborhood.
Now, two Tulsa elementary schools are benefiting from Oakley's experience. She is founder and director of Global Gardens – a non-profit group committed to the values of inquiry-based and peace education. The program is offered at Eugene Field and Rosa Parks Elementary Schools.
With both a classroom and after school program, Global Gardens teaches elementary- aged children about science and the environment through the planning, planting and care of gardens on the schools' properties.

Lindsey Smith is the dedicated "garden teacher" at Eugene Field. Besides guiding each grade to create a garden, Smith has a daily after school Global Gardens program, allowing individual students to plant and manage their own garden.
In a recent visit to the after school program, a dozen fourth and fifth graders discussed stages of composting, the life cycle of daffodils and the dilemma of the bird's nest found in the garden. The bird's nest appeared to be abandoned to the children and yet they found eggs in it.
They decided to try to keep the eggs alive. But the eggs didn't make it, and they had an empty nest. Did they scare the mother away? Does human scent affect whether the birds will return and care for their eggs or babies? If, they wondered, they use human hair and pieces of clothing to build their nests, why would human scents drive them away?
Oakley asked them, "What would your hypothesis be about this nest and the birds?" Without batting an eye, these 10- and 11-year-olds debated their individual hypotheses, using that word with confidence.
"What I wonder," asked Bryce, a fourth grader, "is how many times a year birds lay eggs. And I bet those were robin's eggs because they were blue, so, do robins lay eggs just once a year or are we going to have to watch this until next spring?"

Crystal, another fourth grader, said, "Well, I wonder if this nest will work again because we've been touching it. I mean, maybe nature would be better if we left it alone."
"How could we find these things out?" teacher Lindsey Smith asked.
The children called out, "observation," "the internet," "books." Then, as the sun streaked through the window, their attention shifted.
"I know you all want to get outside," Oakley said to murmurs of agreement. "It's April 16th so what do we know about what we can do outside?"
"Dig and plant!"
"Why now?" encouraged Oakley. "What do we know about the weather after April 15th?"


Various kids rolled their eyes with remembering and called out, "It probably won't freeze again so we can plant more fragile plants!"
Maranda, a fifth grader, is anxious to plant some of her seeds that have been germinating. "I am going to have to leave this garden when I leave the school. But, I love my garden."
She paused and then added, "I think I might come with my family and some pots and after school is out for the summer, or maybe at the end of summer, I'll dig up my plants and put them in the pots and bring them home and find some place for them there.
It takes a long time to get things to grow and I want to keep my plants."
Don Ré and her younger sister inherited a garden from a student who'd gone to sixth grade. They are excited to see what is growing from last year so they can decide what to plant. "I know that you have to pull up the weeds and grasses gently so the whole plant, roots and all, come out. But I'm watching for what else is growing."
"Right now I have mostly daffodils and tulips blooming in my garden," offers Junior, a fifth grader. "I've got to let the energy from the daffodils go back to the bulb and not go to seeds 'cause that way they'll be more daffodils next spring coming from the bulbs." He and some other classmates would spend part of their time trimming the daffodil plants so they wouldn't go to seed.
Oakley is proving locally what is being shown in numerous studies from around the world: time outside in nature is good for children in countless ways. Studies from Finland to California and from Switzerland to Chicago show that unstructured time outdoors – in natural rather than "built," or human-made, environments – cultivates a sense of wonder, compassion, curiosity and flexibility.

The Fear Factor
To environmental educator and author, David Sobel, author of Beyond Ecophobia, and Richard Louv, author of Last Child in the Woods, we have taken too much of environmental education indoors and presented it in a negative, narrow way. Our fears have displaced our relationship with our surroundings.
We've forgotten that bug bites and sunburns can not only be prevented, but healed, and that we survived all these things when we were young adventurers in the wilds or semi-wilds of our youth. As Louv says in his book, children have become "fearful of nature unconsciously by the lack of land in their lives and in curricula."
We have left it to our schools or programmed activities to teach our children about the outdoors. Unfortunately, for years, environmental educators believed that the best way to motivate people of all ages to care about the earth was to present the worst-case scenario.
As Oakley discovered in Harlem, teaching environmental doom and gloom is ineffective. The Global Gardens approach puts kids into the environment and focuses on developmentally appropriate activities in a local setting in a meaningful way.
In a phone interview, David Sobel explained that when he wrote his book in 1996, the predominant environmental threat talked about in the media was the destruction of the Rainforest. In classrooms, zoos, aquariums and museums across America, the Rainforest was the featured ecosystem. Posters on walls explained the complex layers of life from the rich soil to the canopy of the Rainforest. Students of all ages could tell you the names of Rainforest animals and birds and plants.
But, Sobel wondered, did they know the name of the bird on the branch outside their window every morning? Or why that tree's leaves turned brilliant colors in the fall?
Today, Sobel says global warming is the environmental issue used to teach children about the earth and motivate them to act on its behalf. Children are shown images of polar bears stranded on shrinking icebergs and the damaging effects of severe weather all over the world.

What Happened to Outdoors
Somewhere in between our childhood wanderings and today's busy life of family, work, church, organized sports, music lessons and community service time, the family structure shifted.
The time children are actually home, without homework, organized activities, practicing or chores, is limited. Add to that, parents often have little time at home themselves, making it difficult to get to know neighbors and depend on them for help while children are out in the neighborhood. Because of lack of time, and safety concerns, it's unlikely children will just go outside and play.
Adonya Wong, Tulsa parent of a 7-year-old and founding member of the Tulsa chapter of the Holistic Mothers Network, says, "These are different times. When I was little my mother would push us out the door and we'd be gone for hours playing in the creeks and collecting tadpoles. She had no idea where we were. As much as I wish I could do that, I know the second my son is not in my eyesight, I'm anxious, looking for him, being sure he's safe. We are living in an untrusting world."
But again, do the children of Tulsa know that every spring and fall those birds flying in a circular pattern along the Arkansas River are migrating Brown Pelicans? Have they ever followed that stream in their backyard on its path to the Arkansas River? Sobel believes that "contemporary school science curriculum doesn't connect the dots to the natural world."
There is, suggests Sobel, "a tendency to inform children of the problems concerning the human-nature relationship while failing to share with them its beautiful possibilities. In rushing to teach them about global issues and responsible activism, we neglect the fact that young children have a fascination with the immediate and an undying curiosity that requires sensory experience rather than conceptual generalizations."
Oakley found this to be true in working with her students in Harlem. The environmental science curriculum in the school required that she talk about the high incidence of asthma in Harlem as a result of the environment. "It wasn't working," she said. "The kids wanted to know if I hated their neighborhood. It [curriculum] was totally ineffective."
However, time spent exploring the backyard or a patch of land at the local park or creating a small garden is time where children develop an understanding and empathy for the natural world that classroom instruction cannot provide in the same way. By putting so much of the education about the earth inside, parents and teachers are missing an opportunity for learning that is the direct result of children's natural curiosity with what's outside.

What Works
What makes the most sense, suggested Sobel, is to help children know what is going on in the natural world right in front of them. His suggestions are exactly in line with Oakley's Global Gardens methods. "Kindergartners could care for a class pet; first-graders plant a small flower garden; second-graders a small vegetable garden; third-graders take responsibility for playground care," he said. "These incremental steps by schools modeling care of the earth and developmentally appropriate activities is at the crux of nurturing kids' natural fascination with their surroundings."
Adonya Wong has witnessed this first hand with her son, Nicholas. "We started small. We got a sunflower seed and a cup of dirt. We planted it and put it on the windowsill. We watered it and watched it and after seven to 10 days, there was the start of a sunflower. Now we'll plant it in the garden. Parents can start small, in their own backyard and see their child's fascination. Find a way to be together and be imaginative. Any energy parents put in, they will definitely get back just sharing time outdoors with their child."
Sobel did a map-making study with school-aged children that reinforces these points. When 4- to 7-year-olds drew maps of their world, the maps were dominated by homes and yards — the child's immediate surroundings. "Curriculum for this age," says Sobel, "should cultivate connections with the child's known surroundings and nurture their natural empathy with the natural world and animals."
Eight to 11-year-olds drew their houses much smaller than the younger children and the rest of their world extended off the page. This is the age of exploration, according to Sobel. "So many activities nurture these middle years: building forts, creating worlds within the child's surroundings, searching for treasures, following streams, gardening."
With the 12- to 15-year-old population, the maps expanded in scope. Their social development has a large influence so social gathering spots, such as parks and even malls, become a part of their maps.
Curricula should take advantage of this age group's desire to feel connected to the larger society. This, combined with a typical interest in activism, suggests that starting a recycling program would, for example, be a great way to engage this age in learning about and caring for their surroundings.

"Curriculum that focuses on environmental problems will be most successful when started in the fifth or sixth grade and focuses on local problems where children can make a real difference," says Sobel. "But," Sobel urges, "no tragedies should be built into the curriculum before fourth grade. Big complex problems beyond the geographical and conceptual scope of young children can do more harm than good."
In the end, Louv writes, "the most effective way to connect our children with the natural world is to connect ourselves with nature."
In keeping with that notion, Adonya Wong and the Holistic Mothers Network will be holding their May meeting at Woodward Park, "an exquisite park," says Wong who moved here within the last year. "We want to rediscover the lost art of picnicking," she added, "and just enjoy being and playing with our children outdoors…strengthen that connection with our kids and nature."
Whether you join the Holistic Mothers Network at Woodward Park or choose to grow a garden with your child, turn on the outside light after dark and watch the insects dance in its glow, or maybe build a fort in the backyard, plan a trip to a National Park or perhaps walk to or from school, the benefits for your child and you will be remarkable. Nature has a calming influence on all of us, helping with stress reduction and general health as well as hopefully generating some of those same childhood memories for our children.
David Sobel writes, "If we want children to flourish, to become truly empowered, then let us allow them to love the earth before we ask them to save it."
A sampling of the results of scientific studies found that school-age children who spend unstructured time outdoors in a natural setting:
have increased levels of concentration;
seek time alone in nature for its calming effect, especially following an upsetting event;
have fewer ADD symptoms for children diagnosed with ADD;
show higher motor skills, such as balance and agility, at the elementary school levels;
have better school attendance;
show more responsible behavior in both the schools they attend and the community in which they live;
have higher scores on standardized tests in reading, writing, math, science and social studies;
improve their overall GPAs;
stay in school longer;
are motivated to be stewards of their surroundings, therefore, becoming more civically engaged as adults.