Mr. Holland's Opus Foundation – brings music to students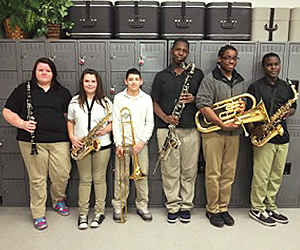 East Central Junior High School eighth grader Kenadee Jones fell in love with playing the clarinet in fifth grade. After several years of devoted practice, she earned the position of first chair clarinet in her school band.
Like many East Central Junior High band members, Kenadee does not own her own instrument. Most band students must practice during the school hours using the school's instruments. And, there are more band students to instruments, so students must share.
"Typically we have at least 180 students each year sign up for band. We don't have enough instruments for all students to have their own, so they double up or sometimes we even turn some students away," explained East Central Junior High Band Instructor Lois Ahrend.
"The instruments at the school are a bit older and we have to wait for a bond package to pass to receive new ones from the school district," she said. But a recent gift of 16 new and refurbished instruments to the school from the Mr. Holland's Opus Foundation had band students smiling when they opened the instrument cases for the first time. Trumpets, trombones, saxophones and baritones polished and ready to be played.
Kenadee was one of those students. "It was like Christmas. We got to open each case and check out the instruments. They are all very nice," she said. Kenadee was chosen by Ahrend to play one of the new instruments, a Bundy Clarinet.
"They are all anxious to learn and over several years, they become quite accomplished at their instruments. I just try to open doors for them."
"It is a really nice clarinet. It is brand new. At first I had to really work with it to get used to it, but now I really enjoy playing it while at school and during concerts," said Kenadee, who plans to join the East Central High School Band next fall.
The Mr. Holland's Opus Foundation was inspired by the 1995 motion picture "Mr. Holland's Opus," the story of the positive effect a dedicated music teacher, Glen Holland, had on his students. The film's composer, Michael Kamen, started the foundation in 1996. The foundation donates both new and refurbished instruments to school music programs that lack the resources to purchase equipment. The grant is given to established Title I school music programs that have strong student participation and present a compelling case for how the grant will benefit the students.
Ahrend completed the grant application last fall. A Foundation representative visited the school, interviewed Ahrend and watched a band class. "The process was pretty extensive," Ahrend said. "Besides talking to me and our principal, they met with Mr. Ballard (Superintendent of Tulsa Public Schools). They want to make sure the district is supportive of the school's band and music programs."
The donation of 16 instruments, valued at $20,000, means more students can participate in band.
Band students are fun to work with, said Ahrend, now in her 20th year as band instructor at the school. "They are all anxious to learn and over several years, they become quite accomplished at their instruments. I just try to open doors for them."
Currently, 40 of Ahrend's eighth-grade band graduates plan to continue playing in high school.
Band is important, she said. "Like team sports, it helps build life skills. Kids have to work together, practice and show discipline. It helps their self esteem to be involved."