Mom's Journal: Life in the Drop-Off Lane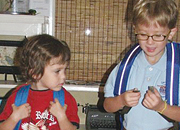 Oh, you rascally transition, how you sneak up on me. EVERY. SINGLE. TIME. My oldest started kindergarten this fall and, quite frankly, I have gone right back to feeling like a new mother. I expected him to experience feelings of transition, but my husband and I never expected to be knocked on our bottoms with it ourselves. So, in keeping with the spirit of this column, I am going to give several tips I've learned in the past few weeks. If you haven't tamed the elementary school monster yet, feel free to clip this column for future reference.
Back to the Cafeteria.
The first day we walked Ad into the cafeteria and, immediately, I was a kid again. It seemed like everyone else knew each other and knew what to do and there I was, lost and confused. It was loud. It was chaotic. However, since I was at least 30 years older than most of the people in there and it really wasn't about me, I pulled it together and did my best to sound excited and cheerful.
A few minutes later the teacher in charge told the kindergarteners to line up, and I watched my first-born walk away from me, his head held high with only the slightest whisper of nerves playing across his face. We were proud of him and, yes, my eyes did fill with tears. The kiddo has been in daycare since he was three months old, but this milestone is big, no matter what.
I am proud that he is so sure of himself. I am proud that he bravely steps forward into new situations. I am MOST proud that he ran back for a quick hug and one last "I Love You."
The Drop-Off Lane.
I've been driving since Reagan was president but, for the life of me, I did not get the drop-off line the first few days. I sat there while the more seasoned parents whizzed (at a respectful school drop-off speed) past me. While I won't call their looks hostile, there was a bit of "you silly Kinder mom" showing in their eyes.
The questions pinging through my head were endless. How far do you pull up? Why is no one out here to meet him? Does anyone tell him where to go once he gets inside? Is he all alone? SCARED and ALONE!?!?! Oh, yes, all my own demons were showing their ugly heads.
In fact, after the one day of dropping him off via the drop-off lane, I followed the lead of the other Kinder parents, parked the car and walked him to the door. OK, OK. For the first week I walked him inside and sat with him until it was time to go to class. Second week I loosened the apron strings a bit more and only walked him into the school. By the time you read this, I'll probably be slowing down just enough for him to jump out of the car! Baby steps, Mama, baby steps.
Homework.
Homework, in kindergarten? Oh yes, grasshopper, but not for your child, for you! At the school's open house, I filled out a quarter-inch stack of papers. First week when he brought home his folder there were several more forms. Back-to-school night equaled more things for me to fill out.
Whew. Get a library book. Take it back. Fill out the permission slip. Sign up for activities. Purchase spirit wear. Classroom fund. PTA. Doctor appointment. Get a note. Sign them in. Tardy slip. Weekly folder. Lunch money. Book bag. Whew.

Which brings me to my last point of the day:
Tired.
Everyone will tell you how tired your child will be, but they don't mention how bone-weary you will be. Almost like having a newborn, minus the middle of the night feedings. Of course if your kids are like mine, any change impacts their sleep and they start waking at night again. Or if you are really like me, any change impacts YOUR sleep and you wake up in the middle of the night with your head racing while everyone else sleeps and you can't. By Friday of the first week we were all falling over tired. By the end of the second week, we were hazy-headed and ready for a three-day weekend. I'm sure, just like a baby sleeping longer and longer at night, this, too, shall one day be a memory.
I know that by the time this is published, all these feelings of newness will be gone and the October me will be laughing at the late August me (I'm supportive of myself like that). Just this morning Ad was telling me about some of the fun things he was doing, and talking about some of his new friends. He's starting to remember their names and bring more stories home. Me? I've met a few people and have started to say hello to them, too. Mama, I'm so proud of you!