Mental Health Help for Green Country Kids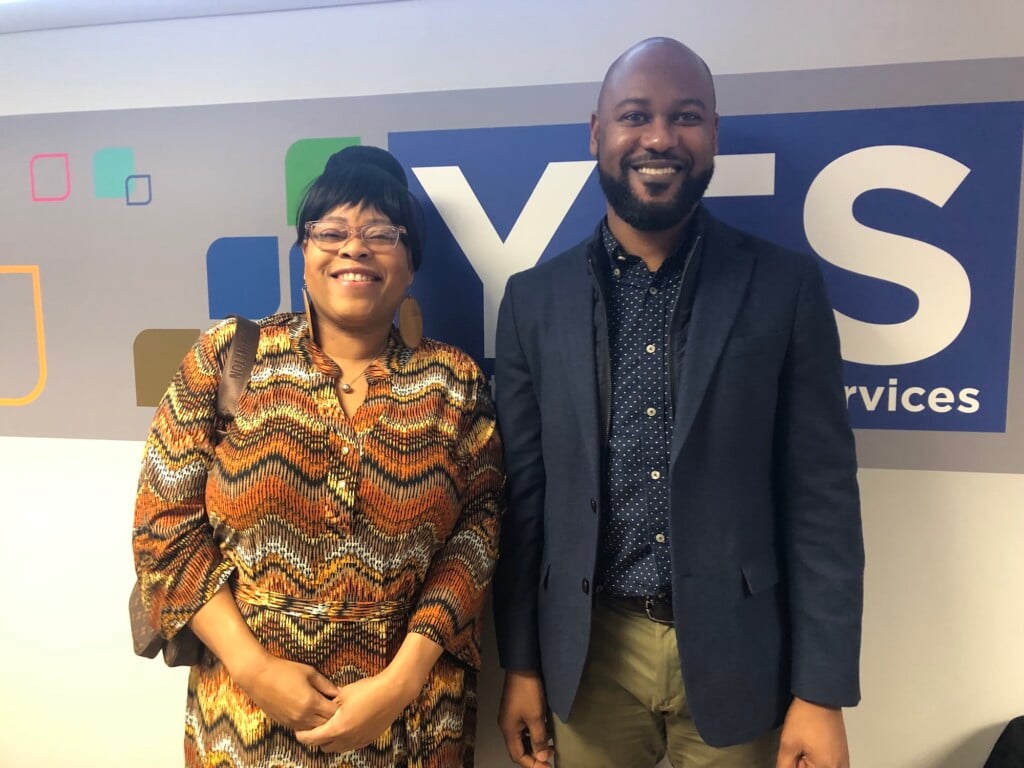 Today, I visited the opening of YES (Youth Evaluation Services) Tulsa. Under the umbrella of Counseling and Recovery Services of Oklahoma (CRSOK), YES is Tulsa's only 24/7 youth urgent crisis response unit. YES serves children and adolescents ages 5-17 who are experiencing a mental health crisis. It offers immediate crisis response, evaluation and stabilization and, if necessary, an overnight stay.
I wrote an article about YES Tulsa in November when they were housed at their temporary location at Saint Francis's Laureate psychiatric hospital. The new location is also temporary as CRSOK has purchased a building near their CALM center. The permanent location should be ready in the next 18 months or so.
This is personal for me. If you read my blog, many of you know that my brother, Dan, died by suicide almost five years ago in Los Angeles. I can only speak for myself, but I have gone through many "what ifs." What if Dan had been able to have easier access to good mental health care? What if he had gotten help earlier in his illness? What if he hadn't had to wait six weeks after a suicide attempt to see a therapist?
CRSOK Board Chair Deneisha Johnson expressed similar "what ifs" about her own situation growing up in Fort Worth, Texas. Her dad was bi-polar, creating a chaotic lifestyle for her as a child, and she struggled with the same mental health condition, eventually ending up homeless in Chicago. A relative reached out to her, helping her find some stability and safety so that she could get well.
"What if there had been a CALM center in Fort Worth? How would my adult years have been transformed? I have been to a similar facility to YES," Johnson said. "And it was so much scarier than this."
In contrast, she feels that YES is calming for patients. It's the type of place that she didn't have access to as a child or as an adult. "That's why I'm here. How do we meet the needs of our community? How do we make it happen? This is our front line."
And it's so important to have a front line such as YES. It's a stable embrace for families in the midst of crisis who don't know where to turn, what to do or how to find resources for their child or teen. It is terrifying for a parent to see a child who is severely depressed or anxious, who may be threatening to harm themselves or others, or thinking about suicide. If that child had a broken leg, parents would know where to turn. But where do families turn when a child is experiencing a broken brain?
I'm not naïve. I know that access to health care for many people in the United States is sorely lacking. Accessing mental health care is especially difficult. I watched for years as my brother sought help. I tried to help. I can't express how difficult it was to access mental health services. There is a huge need for more therapists as well as more education about mental wellness for children and adults. Access and information is more important today than ever as suicide, especially for young people, is rising. According to YES, suicide is the 2nd leading cause of death for youth and young adults in Oklahoma.
But there is hope. YES offers help for families in crisis who might instead go to an emergency room, or call the police. In my brother's case, the Los Angeles Police Department was called, and he was taken first to the police station and then to a mental health facility when a "bed" opened up. The "bed" was a recliner that didn't recline in a room full of people in recliners with 24/7 fluorescent lights and a TV playing the movie Goodfellas, apparently on an endless loop. Dan's anxiety went through the roof. After 24 hours, he talked himself out of the place, was presented with a bus ticket and told to call Hollywood Mental Health to make an appointment – which was six weeks out. There was no follow-up, nothing. I made him promise to call me when he got back to his apartment, but there was little I could do from almost 1,500 miles away.
What if my brother had had a CALM center? Or access to services at a younger age? What if he hadn't had to wait so long for an appointment with a therapist?
"We're demonstrating the things we can do," said Andre Campbell, clinical director of CRSOK. "This is an opportunity for those who don't know where to turn, to help evaluate and to let them know what is the next best step."
Outpatient Coordinator Mathew Burnett says most of YES's young clients are seeking help for depression, anxiety or suicidal ideation. After seeing a therapist, who may help them create a safety plan, most patients don't need an overnight stay. In fact, Burnett says a typical stay is only two to two-and-a-half hours. He follows up within two weeks with a phone call.
After the child is evaluated, Burnett helps the families connect with outpatient services, usually with CRSOK. If they need a longer in-patient stay, they may be connected with CRSOK's CALM Center, a 7-day, in-patient facility.
The YES center is open 24 hours a day, 7 days a week. According to information provided by YES, "If a child or adolescent is having suicidal thoughts, thoughts of self-harm or harming others, experiencing a severe depressive episode, or overwhelming anxiety/panic attacks, they and their caregivers can call or walk-in to YES Tulsa for help."
YES Tulsa and The CALM Center are state-funded by the Oklahoma Department of Mental Health and Substance Abuse Services. Services are inclusive and accessible to all, at little or no cost to clients and their families.
Contact YES Tulsa at 981.779.HELP (4357)
If you're thinking about suicide, are worried about a friend or loved one, or would like emotional support, call 988 National Suicide Prevention Lifeline.
---