Match Your Child to the Perfect Camp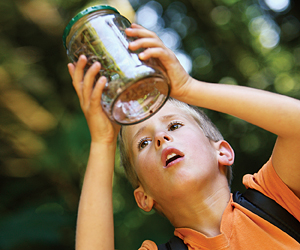 Camps are as unique as kids, so finding the right one for your child can feel a bit like matchmaking. Here are some key considerations to creating the perfect pairing:
Learning or leisure?
Some camps have a clear academic focus while others are just about having fun, so make sure the camp's emphasis matches your child's needs. If the school year was easy for your child, use summer as a time to stretch your child's brain. If school was more of a challenge, you can make sure your child retains hard-won lessons from the school year by reinforcing them through camp. If the school year tends to be exhausting from lots of activities, choose a camp that helps them get much needed R&R.
Broaden horizons or deepen a skill?
Summer camps are a great way to expose kids to new activities that they wouldn't otherwise get to try in school such as photography, cooking or archery. One or two week-long camps are also perfect for immersion-style dives into an interest your child already has such as music, sports or foreign language.
Indoors or outdoors?
Some kids thrive on being outdoors, while others whither in the heat. Look for what suits your child and the activity, but also make sure the camp has some way or place to cool down when necessary.
Old friends or new buddies?
Week-long camps are even more fun when you can coordinate with another friend to go at the same time. Camps that run longer give kids more time to meet new people and expand their friendships outside their usual circles.
Youthful energy or professional approach?
Staffing is frequently overlooked as a criterion for selecting a camp, but the one that has the greatest impact on your child's experience. Does the camp hire college students as counselors, or professional teachers and educators? Depending on the activity, you might feel more comfortable with one type of staffing than another. For example, a camp that emphasizes a lot of outdoor games and activities can be great when led by responsible young adults, while a robotics camp should really be taught be professionals who can teach to the age group. Regardless, one sign of a good camp is low turnover. Look for camps where young people, or more seasoned adults, come back to teach year after year.
Local or Out-of-Town?
If you are using summer camp as childcare while you work, local camps are a no-brainer. But if you have the flexibility to go to another location, camps can be a good way to stay there longer and explore without the kids getting bored. A quick Internet search can reveal good camp programs in the area where you are staying. Some popular vacation spots have camps run by hotel or resort staff to let you enjoy your vacation, too.
The great thing about camps is that since most of them do not run all summer, you can mix and match camps to meet many of your child's needs and interests. Consider each camp in the context of the whole summer, and even from the perspective of the whole year, to find your child's perfect balance of summer activities.