Make-Ahead Lunches: One Recipe, Three Ways
Buffalo Chicken, Slow Cooker Rice and Beans, Carrot Hummus and Lime Taco Chicken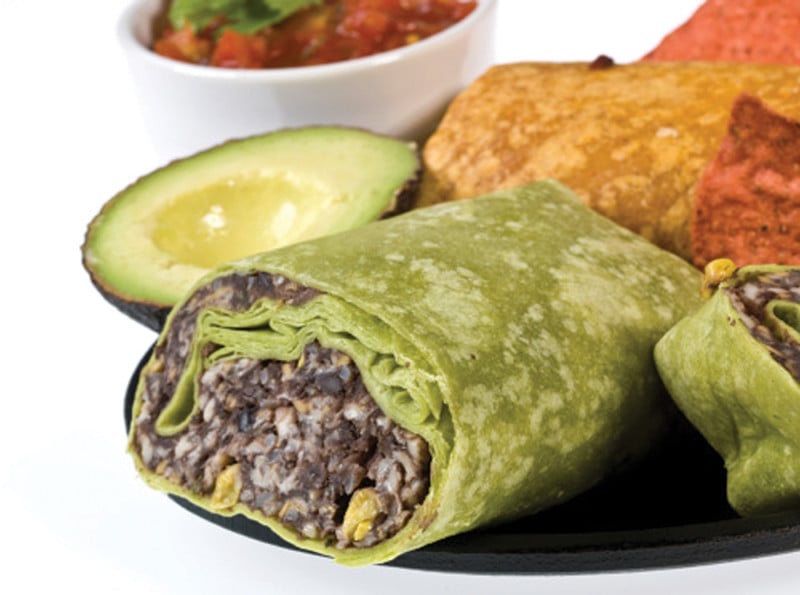 Even with the countless articles, tips and pins I've read about school lunchbox ideas, I still find myself staring in the pantry, wondering what to pack for the kids.
My kids are at a nut-free school, so peanut butter sandwiches or Nutella with apples are out of the question. That still leaves plenty of options for wraps, sandwiches, salads and soups. Even so, I love having new ideas to start the school year fresh.
I've always liked the idea of making one thing on a Sunday to turn it into two or three meals during the week. If we do it for dinner, why not try it for lunch? Here are several ideas for taking one recipe that can be used at least three different ways throughout the week. If you have a houseful of kids, one recipe won't last long, so you'll want to keep that in consideration.
A thermos is a great investment for keeping hot foods hot and cold foods cold, and you'll especially want one for some of these warm lunches.
Some of these ideas are also great for toddlers at day care. The hummus, packed with a little more nutrition with the addition of carrots, is slightly sweet and has a pretty color that toddlers will love. Let them use it as a dip for bell peppers or crackers, or try it one of our ideas below.
Buffalo Chicken
1 envelope ranch salad dressing mix
1 cup Buffalo wing sauce
4 boneless, skinless chicken breast halves
In a slow cooker, combine 2 tablespoons ranch dressing mix with ½ cup wing sauce. Add chicken. Cover and cook on low until meat is tender, 3 to 4 hours. Remove from slow cooker.
When cool, shred meat with two forks. Mix remaining wing sauce (1/2 cup) and remaining ranch dressing mix. Keep on the side or blend in for a spicier chicken.
How to eat it…
Spread cold chicken mixture on celery sticks to make Buffalo sticks.
Place hot chicken mixture in a thermos to keep warm. Serve in lunchbox packed with a slider bun for a Buffalo chicken sandwich.
Combine cold chicken with softened cream cheese. Spread on a tortilla, roll and slice into pinwheels.
Slow Cooker Rice and Beans
2 (14-ounce) cans black beans, rinsed and drained
1 cup basmati rice
1 1/4 cups water
1 cup mild salsa
1 teaspoon cumin
1 teaspoon taco seasoning
1 teaspoon garlic powder
1/4 teaspoon salt
1/4 teaspoon ground black pepper
1 teaspoon lime zest
1 tablespoon lime juice
Add beans, rice, water, salsa, cumin, taco seasoning, garlic powder, salt and pepper to the slow cooker. Cover and cook on low for 3 to 5 hours.
Check after 3 hours, stir and if needed add 1/4 cup of water more.
Once ready, stir in lime zest and lime juice.
How to eat it…
Thoroughly warm, place in thermos, top with grated cheddar cheese, then keep warm for lunch in a thermos.
Wrap in a flour tortilla, and serve warm or cold as a black bean and rice burrito.
Stuff black beans and rice in a pita pocket, and add crumbled feta or cotija cheese if your kids like salty or savory foods.
Carrot Hummus
1 cup grated carrot
1 (14.5 ounce) can chickpeas, drained and rinsed
3 tablespoons tahini (or plain Greek yogurt if there's a nut-allergy)
Juice of 1/2 lemon
1 teaspoon cumin
1/4 teaspoon salt
1/4 to 1/3 cup water
Add carrot to a bowl. Bring a pot or kettle of water to a boil, pour over carrot to cover, and let sit for about 5 minutes to soften. Drain well, reserving about 1/4 cup of the liquid.
Add all ingredients except the water to the bowl of a food processor. Process, adding a little at a time, until you have a smooth consistency. This can be kept in a refrigerator for five days.
How to eat it…
Serve in a bento box with pita chips or pita bread wedges.
Make a roll-up by spreading carrot hummus on a tortilla and topping with thin-sliced ham and a cheddar cheese stick. Roll and keep whole or slice.
Instead of mayo or mustard, spread carrot hummus on bread, then top with thin-sliced turkey and thin-sliced apples.
Lime Taco Chicken
4 boneless, skinless chicken breast halves
3 tablespoons lime juice
1 tablespoon chili powder
1 cup frozen corn
1 cup salsa
Place chicken in a slow cooker. Combine lime juice and chili powder, then pour over chicken. Cover and cook on low until meat is tender, 5 to 6 hours.
Remove chicken, then cool slightly. Shred with two forks, then return to slow cooker. Stir in corn and salsa. Cover and cook on low until heated through, about 30 minutes.
How to eat it…
Place chicken in a piece of Bibb or romaine lettuce for a chicken lettuce wrap.
Place hot chicken in a thermos. Pack in a lunchbox with a bag of tortilla chips for a lime taco chicken crunch bowl.
Boil rotini pasta, rinse with cold water and drain. Combine chicken and pasta, top with grated cheddar cheese for a lime taco chicken pasta salad.
Natalie Mikles is a mom of three. She writes about food, sharing recipes for busy families and picky eaters. She has been recognized for her food columns as well as features on families and issues affecting local children. She loves pizza and movie nights with her family.
---