Magic and Mice at Disney on Ice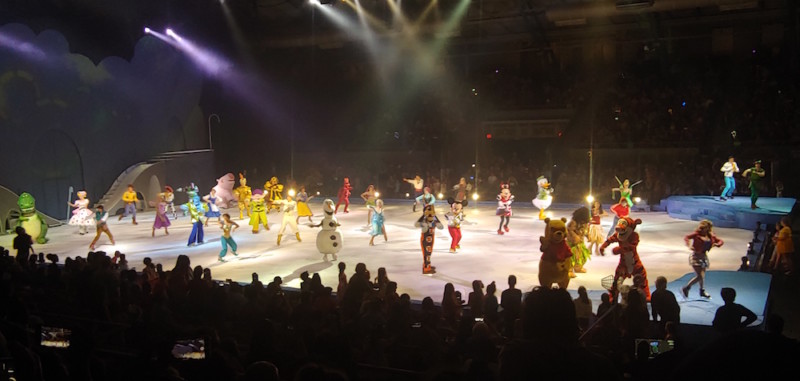 This past weekend, we got to check out Disney on Ice, and it was everything it's cracked up to be and more. This was our first time to see a Disney on Ice show, but I've wanted to since I was a little girl and they first started coming to Tulsa the first week of the fair, so taking my kids to see it was as much of a thrill for me as it was for them.
This year, the show playing Tulsa was "Mickey's Search Party." The show was basically a series of favorite scenes from beloved Disney tales framed by a story about Mickey and friends searching for clues to find Tinkerbell's wand. My tweens are old enough that the narrative device was at best an unnecessary but cute formality; for their part, they just wanted to get to the gooey center in the middle. And the gooey center of this sweet treat was completely worth it.
Between ice-dance numbers based on Disney's most anthemic, sing-along-in-your-car songs, Mickey and his pals would interact with the audience, usually asking a question of either a child volunteer or the entire audience. For example, Aladdin's cast was conjured by a little girl demonstrating the proper way to use a golden lamp lying on a treasure chest left by Captain Hook, and the calaveras of Coco summoned by a gentleman strumming a guitar.
If I'm being completely transparent, I think everyone except Lucy was expecting to see a cute show that would be mainly for younger kids. That's why we were completely stunned—perhaps blown away is a better phrase—by the sheer spectacle of the show.
If I had taken the time to think about it beforehand, I would have probably imagined the show would mainly consist of basically Disney characters skating around while performing some standard ice skate moves with each set essentially the same thing, just with different music and characters.
I would have been seriously mistaken.
Each number was spectacular in its own unique way, and the performances had us gasping in delight. These are a few of the highlights:
Coco

– Under a blanket of blacklights, neon florals and skeletons danced away in a dazzling parade with floating, dancing

mujeres muertas

(lady skeletons) swinging about wildly overhead.

The Little Mermaid

– I tried desperately to find the gorgeous version of "Kiss the Girl" used for this set but to no avail, so if any of my readers can help me out, I would be extremely grateful. Prince Eric and Ariel's dreamy dance was beautiful and deeply moving as they acrobatically spun in the air, locked in each other's romantic gaze. That's why it only made sense when I learned that the couple performing this piece is

married in real life

.

Frozen –

Everyone loves Elsa and Anna, but the best part about the

Frozen

set was Kristoff and his crew of ice workers performing jumps and flips over a series of ramps to

"The Frozen Heart: The Ice Workers' Song."

The audience scarcely had a moment to applaud one spectacular stunt before the next and then the next would come, piling up excitement that had the crowd reeling from the energy of it. Kristoff's climactic flip over a tall stack of "ice" was a gasp-worthy feat of skill and yet the performer made it look effortless.
Of course, the most exciting part of the whole show for me was watching Lucy sing every word of her favorite songs from Moana and Frozen, squealing intermittently, "Oh my gosh, I LOVE THIS!!!!"
At one point, I was concerned that she might be singing a bit too loudly for the rather young couple at her left, who were there without kids on a date, leaning into each other sweetly throughout the show. I glanced over at them to scope out the vibe, half-ready to trade places with Lucy if need be, only to notice they were also singing their hearts out.
But what about my boys, who are quickly approaching the age where absolutely nothing impresses them and everything is cringey?
They were gasping and grinning as well, clapping wildly with excitement over the acrobatics of the skaters. Even Justin, who appreciates Disney but not remotely like the rest of us do, was eagerly trying to capture some of it on his phone.
"What did you guys think?" I asked when it was over as we shuffled out to the fair. Their on-the-fly reviews contained words like "amazing!" and "incredible."
If you missed taking your tweens to Disney on Ice but they like Disney at all, I highly recommend making it a priority next year. Or hey, get a sitter and go with your honey.
I won't tell the kids if you won't.
Did you make it out to Disney on Ice this year, friends? What was your favorite number? Tell me about it in the comments, and as always, thanks for reading, and have a beautiful week!
---