Living Through Words:
A Visit to the Rural Oklahoma Museum of Poetry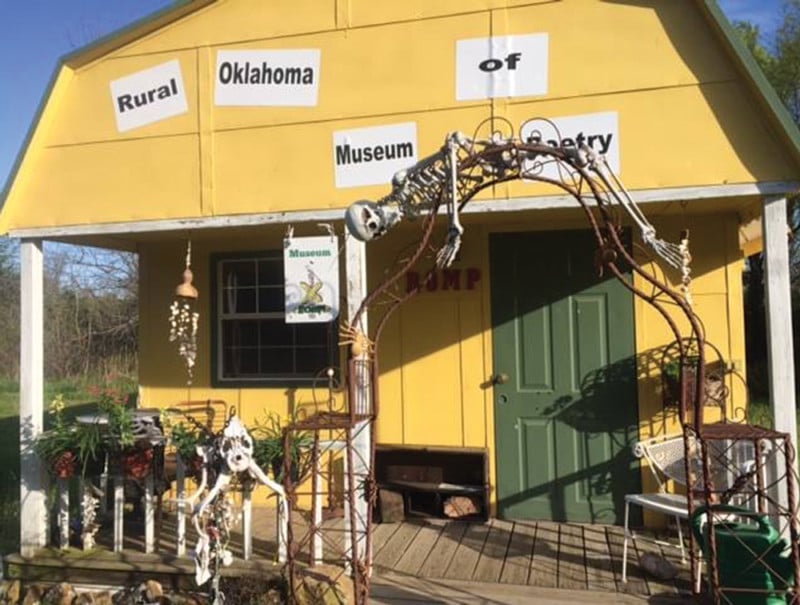 Looking for ways to enhance your children's creativity and love of words? Consider reading poetry to them and inviting them to write poems of their own. That's the advice of local author and poet Shaun Perkins, who curates Locust Grove's modest yet vibrantly interactive Rural Oklahoma Museum of Poetry (aka ROMP). If you've never been, it's worth a visit with your children this summer.
A former teacher, Perkins has a clear love for word play and creativity. Her own writing features detective stories written in verse. "I like to challenge myself," she says. She's working on her fourth book of novelistic poetry right now. She also shows up from time to time at the Woody Guthrie Center during downtown Tulsa's First Friday Art Crawl, writing poetry on the fly for anyone who stops by and asks.
Perkins strongly believes poetry adds to a child's experience of the world. "I think poetry validates their experience and their way of seeing things," she explains. "Children, especially, are still creative. They haven't had it drummed out of them. If you let them be, they will be. It is much harder to get adults to be creative than it is children."
For parents looking to bring out their children's creativity, Perkins suggests starting with making your home friendly to creative activities. This can include having art stations available for your child to play, hanging up their work for everyone to see, displaying interesting photos, having books around and reading poetry with your child.
"Kids instinctively love poetry — rhyme, the riddles, the rhythm, repetition, and all those things," Perkins says.
Dr. Seuss and Shel Silverstein are obvious places to start, but Perkins points out that poets such as Langston Hughes and Robert Frost also wrote pieces for children. Even Emily Dickinson can be accessible to young ones. "Her poems are so dense and the syntax is so strange sometimes, but kids get her too," she says.
Of course, a visit to ROMP is another fun way to invite poetry into everyday life. The museum, explains Perkins, is about "inviting you to have an experience with poetry. Not slamming you over the head with it, not telling you you've got to stop, stand and stare at this exhibit, but just inviting you in and you have the experience."
To visit the museum, take a trip over to Locust Grove. If you have time to make a day of it, do so. Stop in at Wonder City Coffee, owned by Perkins' sister, and enjoy the games and books in the back room. A few doors down is the ROMP Rummage Store, with proceeds going to support the museum. The rummage store also features two exhibits —"Mona's Closet," which highlights a local woman's journaling, as well as one in honor of Perkins' novels.
ROMP itself is just a short drive from the center of town into the countryside. The museum is located in a small machine shop that Perkins' father once used for work. Outside the one-room building, there are decorations and remnants of current and past exhibits, such as a camouflaged mannequin in a washing machine — a piece of last year's poetry explosion exhibit. You can also walk down a beaten path, pulling out poems that are favorites of Perkins' and reading them in the midst of nature.
After exploring outdoors, head inside to see this year's exhibit, "In the Bones," inspired by Yeats poem "The Circus Animals' Desertion," which features a line about the "rag and bone shop of the heart."
Why bones? Perkins says, "There's just something about bones and how elemental they are to us, any creature, our foundation, where it all starts, what holds us up, what keeps us going. Of course, there is a lot of poetry about that, about bones, a lot you can do with it."
The exhibit is a full-room experience that has to be seen in person to be fully appreciated. There are mixed media artworks to examine, drawers to open and explore, paper and pens for writing poetry from one of the creative writing prompts displayed around the museum's interior. Visitors are invited to create something and then hang their work for others to see. In fact, of all the works on display, only one is a poem that Perkins herself has written. Everything else is a mix of the work of well-known poets, combined with the works of visitors.
"That's what makes it so neat," she says. "I can come down here when I feel like it and see what people have written and left here."
---