Lake Hills Montessori
New Space Allows Larger Enrollment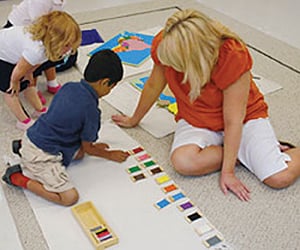 Lake Hills Montessori Director Jodie Whitman watched her nephews thrive in a Montessori school in Austin, Texas. In fact, the school, Lake Hills Montessori Austin, was started by her sister Sandra Karnstadt in 1999. So when Whitman and Karnstadt's father, Charlie Pennington, a Tulsa resident, had an idea of starting a Lake Hills Montessori in Tulsa in 2006, it was not hard to convince Whitman to be a part of that vision.
"I was teaching elementary music education in public school and I was starting to consider what type of education I would want for my own children someday. I felt some educational methods did not honor the natural curiosity of children. A systematic approach does not work for all children," Whitman said.
Encouraged by her sister and father, Whitman became a certified Montessori teacher and took over as the director of Lake Hills Montessori Tulsa in 2007.  Today Whitman's 4-year-old twins head to school with her every day. "They love school, and I know the Montessori method is working for them."
Eight months ago Lake Hills moved into a building at the former location of Town and Country School at 5130 E. 101st Street. The building offered Whitman more classrooms and outdoor space. Lake Hills currently has 78 students ages two to six enrolled. With 14 teachers on staff, Whitman hopes to increase her student body to 120.
Dr. Maria Montessori, who worked in the fields of psychiatry, education and anthropology, originated the Montessori method of teaching during the early 1900s.  Dr. Montessori's educational method included preparing the most natural learning environment for a child and continually adapting that environment so the child could fulfill his greatest potential mentally, emotionally and spiritually.
Walk in the front door at Lake Hills and you are greeted by Cosmo, a friendly, tail-wagging Shih Tzu. "He is our mascot. He greets the kids in the morning and sees them off in the afternoon," laughed Whitman.
"Montessori is a holistic approach," she said. "Everything is about the spirit of the child. We have a lot of fun here. The children are taught with respect and, in turn, they show grace and courtesy toward their classmates and teachers."
All classrooms have a one-way observation mirror in which teachers, parents and visitors can watch the children at work and play during the school day. There are no customary rows of desks in the classrooms. Instead, students work at child- size tables or on the floor to allow room for them to spread out strands of beads for counting or multi-colored building blocks.
Learning materials are displayed on low, accessible, open shelves. The shelves allow students to be independent and freely choose between a variety of developmentally appropriate activities. "They take materials from the shelf and work for a while, and then return it to the shelf. Cleaning up after your work is very important in the classroom," Whitman said.
There are spaces in the classroom for group activity as well as areas where a student can work alone.
"In the Montessori classroom, learning happens when a child is developmentally and psychologically ready to take on a new task. A child's natural interest and curiosity drives their learning. Exploration and discovery is the key to Montessori," she said. "Our teachers are there to guide the child. They help them with current lessons and encourage them to take on a new challenge or learning area."
Children at Lake Hills also experience music, art, Spanish and even yoga and dance throughout the week. A fenced, large, grass lawn with a shady oak tree will someday be transformed into a playscape that will entice children to use their imagination when outdoors.
"I walk out here and think of all the possibilities for play areas for the students such as sandboxes, swings and nature," Whitman said. "We look forward to creating this."