Know Your Neighborhood: A Day on Greenwood
Information on businesses provided by Jackie Evans, program director, Greenwood Chamber of Commerce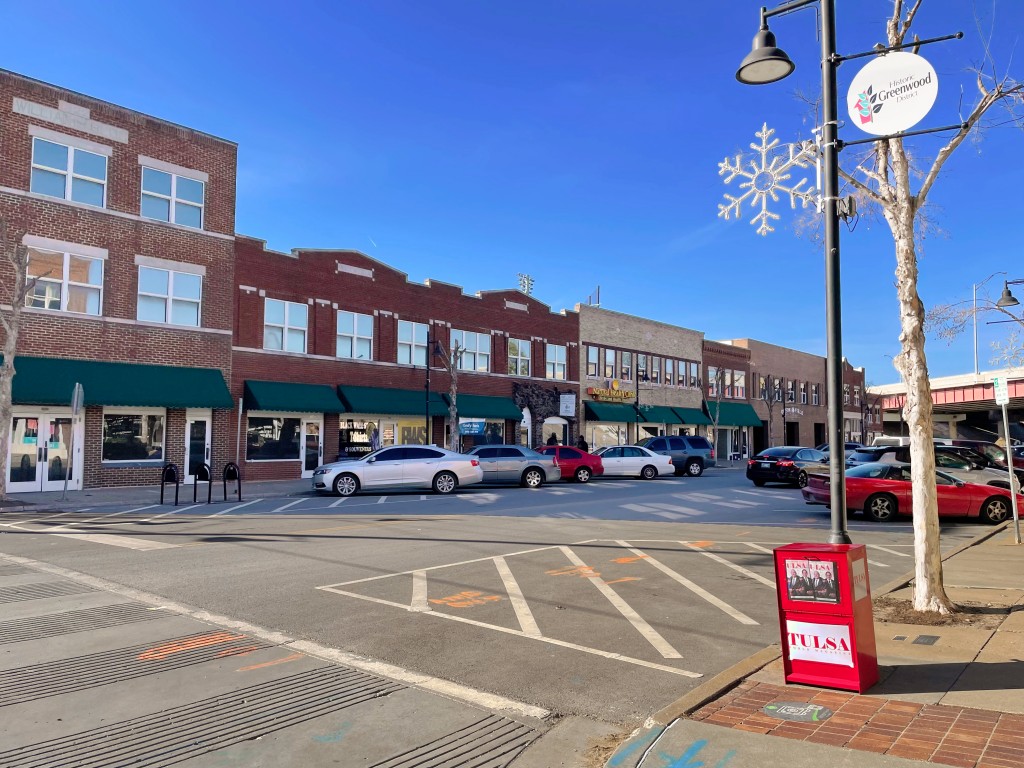 "We all know of the tragedy that took place on Greenwood and surrounding blocks on May 31, 1921, and we forever remember and respect that past," says Jackie Evans, program director for Greenwood Chamber of Commerce. "We also need to remember that through the grit and resiliency of the people of Greenwood, we came back and began to rebuild the business district and to resettle the neighborhoods."
Evans says that, while last year focused on the destruction caused by the Tulsa Race Massacre, 2022 will focus on "the entrepreneurial spirit that lives on" in the area. She specifically touts that the Greenwood Chamber, under the leadership of Chamber President Freeman Culver, is taking on tasks such as raising funds and getting federal grants to repair and maintain the older structures in Greenwood, allowing businesses to safely occupy those spaces.
The Chamber is also working to establish a computer programming school, offering students free instruction.
"Eighty percent of our businesses are run by women," Evans said. "The Small Business Administration is opening an office here to target women-owned businesses."
Evans welcomes visitors to experience a day on Greenwood by visiting the sites and restaurants in the area.
Start the day with a brisk cup of coffee and a pastry at Black Wall Street Liquid Lounge or a hot cup of Greenwood Latte with a nice splash of turmeric for your health.
Next, take a physical workout with trainer Reggie at The MuscleSquad Gym, and then check in at the Welcome Center to learn about the history of Black Wall Street and receive a free book about Blacks in Oklahoma history. You can book a tour with a tour guide or take a picture of the tour QR code for a virtual tour of historic landmarks.
Time for a snack? Head over to the Black Wall Street Corner Store for some chips, soda and gifts. For more shopping stop in at Black Wall Street T-Shirts and Souvenirs, then Tierre's Jewelry Shop, and Stacey's Scrubs Store.
Don't forget to jog across the street to Silhouette Sneakers & Art, and then go next door to the Greenwood Gallery for original art, clothing and more.
For lunch, head over to Wanda J's Next Generation for some awesome soul food (you worked out, so forget about the calories).
Walk off your lunch by viewing the four amazing murals in the district. Be sure to take some selfies against these unique, artistic backgrounds!
As you walk, take note of the brass plaques on the sidewalks that commemorate the businesses that once covered over 35 blocks of the Greenwood District.
Have a sweet tooth? The Cobbler Mom has some tasty cobbler choices.
Spend the afternoon at the two museums on Greenwood: The Faces of Greenwood located in the historic Greenwood West building, and the new Greenwood Rising Museum located at the corner of Greenwood and Archer.
The day is winding down and before you head home be sure to pick up a family pack of BBQ at Lee Peoples BBQ food truck.
"Greenwood has a lot to offer," Evans says, "so I hope this list will get you started as you plan a visit to Greenwood. We invite you to come learn about the area as you enjoy art, museums, restaurants and retail in this historic section of Tulsa."
---