Kid Spaces: Rooms Designed with Kids in Mind
Whether you're contemplating a major re-do or merely wanting to spruce up your child's room, this article will give you some tips from a professional designer, a play therapist and a couple of local moms.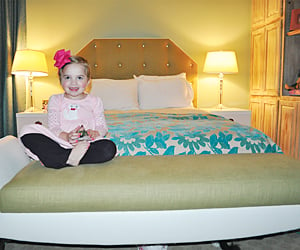 Most of us have had the experience of entering a room and immediately feeling at ease in our surroundings. Or perhaps the room invites a jangly unexplained anxiety. What is it about the arrangement of furniture in a space, the lighting and the colors that impact our emotions so deeply? Children perhaps have the most emotional reactions to their environment, so it follows that children's rooms can be places of play and quiet retreat or decorating disasters – mere afterthoughts to an otherwise well-planned home.
Interior Designer Rebecca Gillego, who is also the head of the Interior Design Department at Clary Sage College in Tulsa, said that designing a child's room starts with the child.
"I observe the child," Gillego said. "The age, likes, personality, whether the child is very active or quiet…I watch how they play, and I interview the parents. I take in to account what will make the child feel safe and happy."
Gillego said that each space should be unique to the child and should focus on "lasting design," rather than what she calls "design in a box."
"I don't like theme or character rooms," Gillego said, "because they limit your child's creativity, and they'll grow out of it. Limiting the design limits the child," she added. "Exploration is such an important part of childhood."
Furniture
Whatever your budget for the child's room, Gillego recommends using the bulk of it on quality furniture that will grow with your child. Once the child is beyond bedwetting stage, invest in a good mattress.
"I don't like bunkbeds," Gillego said. "Get at least a full size bed. You can make custom headboards to change the look. [Plywood] panels that you wrap in fabric yourself are super-affordable. I like to make upholstered headboards. Or you can get creative and paint one on the wall."
Besides a good bed, Gillego says that you can invest in a great piece of storage, then paint the back behind the shelving with color, or use baskets for texture and color in the storage unit.
"Affordable design is not just the initial cost," Gillego said, "but the longevity of the piece."
Color and Accessories
Accessories should take up the least amount in the decorating budget because they will be changed out as the child grows. Gillego likes to use neutral paint on the walls. The accessories can be used to add color and dimension.
"I used abalone paint on the walls in Evelyn Johnson's room, and then painted the dressing room niche area fuschia," Gillego said. "A bedroom needs to be soothing and relaxing, and the sleeping area should be calm."
When it comes to accessorizing a room, Gillego said to consider the child's personality and interests. "It's important to have the child be part of the process," Gillego said. "You want the child to feel proud and have ownership of the room."
Some ideas for easy and inexpensive accessories are to mat and frame images from a favorite book, or do art with your child and frame that.
"Think of the room in terms of 3-D, not just 2-D, too," Gillego said. "Think of height, not just a floorplan. I once painted twigs white to use as the base for a mobile."
Gillego also likes to create rooms with a variety of textures. "Every room should have several layers of interest and visually engage you," she said. "Children are tactile and like to explore textures – soft, hard, fuzzy."
The one exception to using less expensive accessories is if you have a piece of art that you want to use in the child's room that the child connects with. "It might be a sculpture or vase, not too narrow in design, that the child can take when he or she grows and leaves home," Gillego said. "That kind of piece can create a memory."
Space and Lighting
"Environment affects the person's experience," Gillego said. "How they interact with the space is so important. When I design in general, I like to be able to go into a main open area, and then have refuge – a space for protecting and coziness and a space for exploration."
The "refuge space" in a child's room might be a canopy over the bed or a reading space in a corner. "Children should have a place to go if they're feeling upset, or just want to be quiet," Gillego said.
Lighting in a room can also affect a person's experience with that room. Types of lighting to consider include task lighting, overall lighting, low lighting and sunlight or natural light. For example, low lighting lowers stimuli and is more calming than bright overhead lighting.
Toys to Create a Stimulating Environment
Misti Center, MHR, LPC, a registered Play Therapist in Tulsa said that a child's room should be a space that stimulates brain development and encourages a child to explore.
For infants, that means using mobiles, toys and other accessories in bright, primary colors. While we often equate baby rooms with pastels, Center says that babies recognize brighter colors better, thus providing more brain stimulation.
Center also says that parents should think of all senses when creating a child's room. Music, even for infants, encourages brain development.
According to Center, the tactile textures that Gillego incorporates into the design of children's rooms also have a developmental function.
"Feathers, finger paints, Play-doh," Center said, "all stimulate the senses."
Besides the five senses, Center says that parents should provide an environment that will stimulate the child's gross and fine motor skills. "For toddlers, things like blocks, stacking and sorting toys are good for fine motor skills," she said. "You also want to have toys and books down on the child's level," she added. "Children need to be able to get things independently."
To further enrich their children's room environment, parents can provide toys that encourage imagination, exploration and use kid-power rather than technology.
"Keeping it more simple with their toys will help them develop imagination," Center said. "Trucks that they have to push, books, arts and crafts, puppets and puzzles are all good for brain development."
Young children also like to model adults, so providing materials where children can "play school" or miniatures where they can act out jobs or adult roles is an important part of learning.
Finally, Center says that having open spaces and cozy spaces with a variety of lighting is more than just good design. It is developmentally sound advice. "Bedrooms should create calmness," Center said. "Never use fluorescent lights because they stimulate children. A dimmer switch is good to have. And natural light. Lower lighting is very calming," she added. "You can use lower wattage lamps in the room."
Having a "retreat" for children is also calming. "Even if you just put a pop-up tent over the bed with some soft pillows, books and a flashlight, that can help calm a child," Center said.
"And the one thing I think that parents forget," Center added, "is that children are afraid of the dark, even 9 and 10-year-olds. Use nightlights in their rooms and even in other parts of the house. A glimmer of light eases stress and anxiety."