Kevin Durant Basketball Camp Essay Contest Winner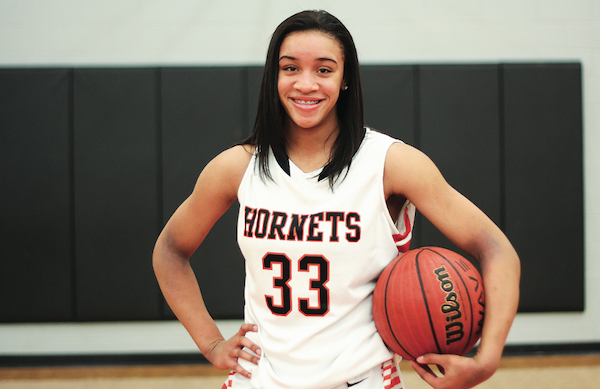 Booker T. Washington High School student Megan Jackson has been shooting baskets as long as she can remember. The senior plays on her high school varsity team as well as on the Amateur Athletic Union (AAU) Oklahoma Ballerz team. Last year Megan's essay on the topic "If you were to become an NBA superstar, how would you use your money to make a difference in the lives of youth and positively impact the community you grew up in?" earned her one of 13 camp spots to the Oklahoma City Thunder star Kevin Durant's two-day Pro Camp held at the University of Oklahoma. Megan said the camp enhanced her basketball skills, life skills and gave her insight into her future basketball and academic goals.
TK: How long have you played basketball and what teams do you currently compete on?
Megan: I've been playing basketball most of my life, starting in the second grade and continuing with AAU and school basketball since. I am currently playing my last year of AAU basketball with Oklahoma Ballerz. Not only do I perform on the court, but I excel off of it as well.
TK: How does participating in competitive basketball help you in the classroom?
Megan: This past school year I was inducted into the National Honor Society and recently utilized my academic and writing skills to enter the Kevin Durant Basketball Pro Camp Essay Contest. The contest was sponsored by Toyota, who, as the official sponsor, awarded 13 camp spots to the sold-out event, and distributed those spots to the 13 winners of the contest (one for each dealer in Oklahoma). I was…one of the winners of the contest. By having basketball as a part of my life, it teaches me to be patient when I don't understand on the court or in class, (mental thinking) ask questions and (compete) by doing my best.
TK: The contest essay prompt was: "If you were to become an NBA superstar, how would you use your money to make a difference in the lives of youth and positively impact the community you grew up in?"  What did you write?
Megan: I said, if given a chance to become a WNBA superstar, I would look around my neighborhood for abandoned buildings to start free youth organizations that would provide youth/teens an opportunity to learn different sports and improve their reading and math skills. I would offer mentors and youth advocates to help the youths get a job or get into school. I would arrange college tours for teens that hadn't considered going to college due to not knowing what to do or expect, and I would provide life skills classes, and much more. Also, I would provide church funds to allow youth/teens in the church and in the neighborhood of the church opportunities to experience mission trips. I've participated in several mission trips, and now I have even more respect for the people in the community just trying to make it. I feel if the youth/teens in my neighborhood and surrounding area could just have a place to go and make a positive change in their lives, many more teens would succeed. I've started working on making a difference and hope to continue, one life at a time.
TK: What did you learn at the Pro Camp?
Megan: I was very excited about this once-in-a-lifetime opportunity to not only participate in the camp, but to also receive a pair of Durant's signature Nike shoes courtesy of Toyota. I was thrilled about this opportunity to learn from one of the best in the game and despite being nervous about submitting the essay, I knew if I trusted the process it would all work out. I didn't get the opportunity to play one-on-one with Kevin Durant, but what I learned from him was how to be effective with the skills on and off the court. That means I have to work hard every day practicing those skills in order to achieve my goal for college and life.
TK: What are your future plans with basketball and college?
Megan: I plan to play basketball for a Division I college. While pursuing my basketball dream, I plan to major in pharmacy. I would like to take cosmetology to help me financially while in college to assist young girls in college with keeping their hair and nails done. Also, I would like to use the cosmetology trade to provide free events in the community to help young girls and boys struggling to get their hair needs met before schools start. After college I plan to provide mentoring opportunities for kids in the community to learn about basketball.