Keeping Communication Open with Teen Daughters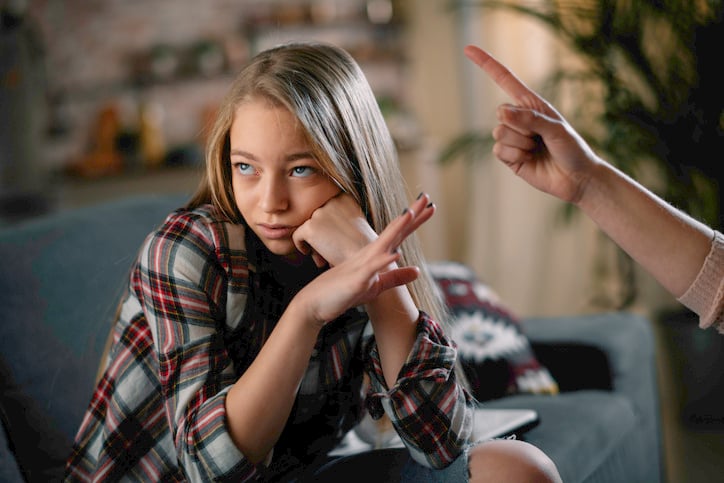 Q: My daughter and I used to be close. She would share her life with me. But now that she's a teenager, she is shutting me down, calling me nosey and can be a little mouthy. Should I be worried?
A: What an important question! Many of us do not think about the natural evolution of relationships over time and what we may need to do to prepare for it and protect ourselves from the sometimes difficult transitions that we may undergo! As a mother, you have many resources that can help you.
Does your daughter think things are any different between the two of you? Has she caught herself being mouthy? When you look at her with hurt and surprise at her treatment of you, what is her response? You have a right to be treated with respect. Is she aware that being mouthy is disrespectful? Does she wish to be hurtful, or is she just being thoughtless? Is she trying to establish some privacy, even though she's doing it awkwardly? Be sure to make quiet, private time available in your home.
When your daughter is negative to you, do you respond just as negatively? It is a natural response to pursue a person who is pulling away from you. The only problem is that it usually results in the person withdrawing even more! This is a time for you to make sure you are doing a good job of self-care. Are you spending good time with your friends, spouse or significant other, other family members, community activities and your hobbies? Are you eating right, exercising, and getting the nutrition you need? Don't forget how important all this role modeling is for your daughter!
How did you and your mother handle your relationship over the years? As you think back, can you remember shifts in your roles? Even though it was culturally a different time, were you able to keep an open and safe dialogue or did change somehow cause you to shut down and start developing some distance between you? Were either of you able to overcome that barrier? Be careful not to assume the same thing must happen to you and your daughter. First, she has different social and peer pressure. If you haven't already, be sure to share with your daughter the obstacles that you and your mom faced years ago.
Mary Pipher, PhD., writes in her book Reviving Ophelia that adolescent girls are facing incredible pressures in our culture, such as a focus on appearance, sexiness, and glamorization of drugs and alcohol.

Is it possible that your daughter is trying to cover up the struggles she may have as she navigates these pressures? Be available to listen to her struggles when the opportunity presents itself.
What keeps your communication open with your daughter? What shuts it down? Does there seem to be any rhyme or reason? For most of us, it includes several elements: taking the time to be together, letting go of judgment and criticism, honoring differences, and being flexible. All of these factors will be part of you doing your best to allow your daughter to see you as a positive force supporting her as she matures.
Have there been any changes going on in your daughter's life recently? Have friends, grades, activities, school or boyfriends put new pressure on her and are you witnessing her struggle to cope? In the past she shared her life. Is she sharing her life with new friends? Do you feel good about their influence on her or are you concerned? Is there anyone who can talk to her about these changes and create an opportunity for you both to reconnect in some new ways? Is your conversation so full of details and setting schedules and limits that you are losing the fun discussions you used to have? Make sure you don't keep conversations narrowed to scheduling of life.
What has been the strength in the relationship between you and your daughter in the past? What routines have you shared? Did you hike, volunteer, cook or shop together? Make sure she knows you still need her help in the ways she has always been a contributor. Try to keep the routines that are meaningful to both of you.
Do you have pets? Do you think that she would do a 10 minute walk with you and the dogs each day as a way to touch base to help you manage her life changes? If she says yes, remember, this is her time to share and your time to share about your life. Advice is awesome, when it is requested! As you listen, remember, your job is to remind your daughter of her strengths and to give her permission to be exactly who she is and not try to become some image others might have of who she should be.
Your long-term goal is to support her as she shows good thinking and becomes increasingly independent. Respect the decisions she makes, and keep the door open for future discussions. Even if she shuts you out for awhile, as long as you keep the door open, you can reconnect later. Good luck!
Books:
Reviving Ophelia by Mary Pipher
When You and Your Mother Can't Be Friends: Resolving the Most Complicated Relationship of Your Life by Victoria Secunda
The Mother-Daughter Project: How Mothers and Daughters Can Band Together, Beat the Odds, and Thrive Through Adolescence by SuEllen Hamkins and, Renee Schultz
My Teenage Werewolf: A Mother, a Daughter, a Journey Through the Thicket of Adolescence by Lauren Kessler
You're Wearing That?: Understanding Mothers and Daughters in Conversation by Deborah Tannen
Online resources: