Include Gluten-Free and Vegan Options in Picnic and Party Planning
Summer Vegetable Picnic Pizza, Vegan Potato Salad, Easy Black Bean Dip and Gluten-Free S'mores Bars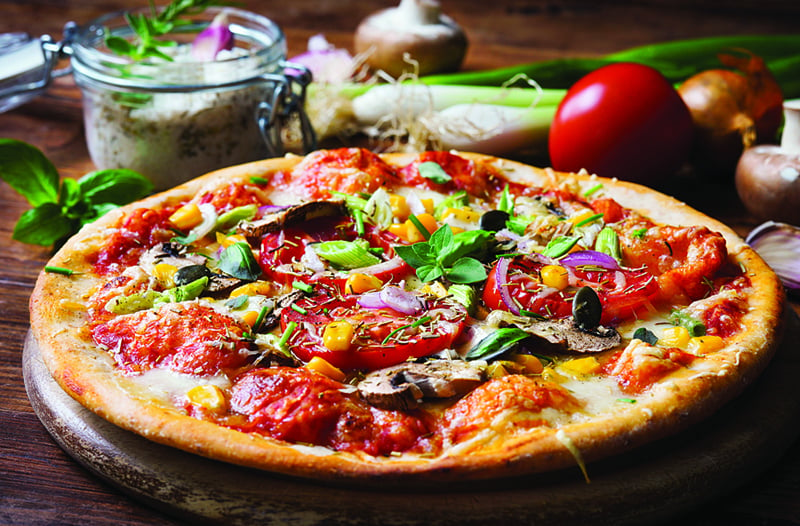 When a classmate brings doughnuts to school for her birthday, the kids who are gluten-free have to pass. Or maybe after a baseball game, the coach surprises the team with pizza, and a boy who is vegan or dairy-free can't have a slice.
So when you're planning parties, picnics or summertime gatherings, keep in mind those who may have food allergies. You don't have to feel constricted by the boundaries. If you planned on making your famous barbecued brisket sandwiches, go ahead. But maybe make a dairy-free potato salad to go alongside.
By including at least one or two options for those who are vegetarian, vegan or gluten-free, you'll make the party much more fun for those with food allergies. To make it easy for people to identify what's safe to eat, make simple labels with the name of the dish and a note if it's gluten-free or dairy-free. If you want to go a step further, make copies of the recipe, and set them next to the dish.
---
I love this recipe adapted from "The Toddler Bistro" cookbook. For a big gathering, try rolling the dough into a large rectangle, then placing it on a large roasting pan. Once topped and baked, cut into small squares to serve.
Summer Vegetable Picnic Pizza
Serves 12
2 tablespoons olive oil
1 sweet yellow onion, chopped
1 (12-ounce) can chopped organic tomatoes, drained
1 teaspoon tomato paste
1 tablespoon fresh thyme, chopped fine
Salt and pepper, to taste
1 red bell pepper, chopped
1 yellow bell pepper, chopped
1 zucchini, thinly sliced
5 cups baby spinach leaves
1 cup grated mozzarella cheese
1 ball pizza dough
1. Heat 1 tablespoon oil in sauté pan, and sauté the onion until soft. Add the tomatoes, tomato paste, thyme, salt and pepper. Simmer down to a thick sauce, which will take about 30 minutes. Remove from heat and cool.
2. Heat the last tablespoon of oil in the saute pan, and cook the bell peppers and zucchini until just brown. Cool. Put the spinach in a colander and pour boiling water over the leaves to wilt. Squeeze dry and chop.
3. Preheat oven to 425 degrees. Roll out dough, and place on a large, oiled baking sheet or roasting pan. Spread with tomato sauce, then top with spinach, bell peppers, zucchini and cheese. Bake in a preheated oven for 25 minutes or until crust is golden brown on bottom. (Carefully pick up an edge of the crust to check bottom for doneness.)
Tip: Look for fresh pizza dough at Whole Foods or Trader Joe's. Even the Pillsbury thin-crust pizza dough is pretty good for making a quick pizza.
---
Potato salad is a classic for summer get-togethers. When you make it without eggs or dairy, vegans can enjoy it, too. This one comes from the Pretty Bee allergy-free food blog.
The Best Classic Vegan Potato Salad
Serves 8
8 Yukon Gold potatoes, peeled and diced into cubes
3/4 cup sweet onion, chopped
2/3 cup celery, chopped
1/3 cup dill pickle relish
3/4 cup vegan mayonnaise, more if desired
3 teaspoons mustard
1 tablespoon sugar
1/3 teaspoon salt
1/4 teaspoon pepper
Sprinkle of paprika
Place the diced potatoes in a large pot and cover with water. Boil the diced potatoes for about 20 minutes or until tender. Don't overcook the potatoes – they should be tender but not mushy.
Once the potatoes are tender, drain the water out of the pan.
Let the potatoes cool before mixing in the other ingredients. If you are in a hurry, rinse with a few changes of cold water to speed up the cooling process.
Put the cooled potatoes, onions and celery in a large bowl. Add the mayo, mustard, pickles, sugar, salt and pepper and stir to combine. The amount of mayo will vary depending on the size of the potatoes. Add more or less if needed.
Sprinkle with a dash of paprika before serving, if desired.
---
When the host asks you to bring a dip or snack, this is a great one. It's both gluten-free and dairy-free. Serve it with sweet potato chips or tortilla chips.
Easy Black Bean Dip
2 (14-ounce) cans low-sodium black beans, drained and rinsed
3/4 cup salsa
4 garlic cloves, minced
2 teaspoons fresh lime juice
1 teaspoon ground cumin
1 teaspoon water
Pinch of kosher salt
1/4 cup minced cilantro
1. In the bowl of a food processor, puree the black beans, salsa, garlic, lime juice, cumin, water and salt until smooth. Add the cilantro and pulse until just combined.
---
Kids with Celiac or gluten-intolerance often have to skip dessert at parties and picnics. When you know there may be kids who are gluten-free at a party, bring these. The kids will be thrilled to find such a fun treat that was made just for them. This recipe comes from the MyRecipes site.
Gluten-Free S'mores Bars
Makes 24 bars
5 gluten-free graham cracker sheets, broken
3.38 ounces gluten-free flour (about 3/4 cup)
1/2 cup packed brown sugar
1/4 cup chilled unsalted butter, cut into 1/2-inch pieces
1 large egg
6 tablespoons heavy whipping cream
2 (4-ounce) bars semisweet chocolate, chopped
2 cups miniature marshmallows
1. Preheat oven to 350 degrees. Line an 8-inch square metal baking pan with aluminum foil, allowing foil to extend over edge of pan.
2. Place graham crackers in a food processor; process until finely ground. Weigh or lightly spoon flour into dry measuring cups; level with a knife. Add flour and sugar to crumbs; pulse until combined. Add butter; pulse 15 times or until blended. Add egg; process until moist. Press crumb mixture into bottom of prepared pan. Bake at 350 degrees for 15 minutes. Cool completely in pan on a wire rack.
4. Cook cream in a heavy saucepan over medium-high heat to 180 degrees or until tiny bubbles form around edge (do not boil). Remove from heat. Add chocolate, stirring until smooth. Fold in marshmallows. Spread chocolate mixture over cooled crust. Cover and chill 2 hours and 30 minutes or until firm. Holding edges of foil, lift mixture from pan, and carefully peel off foil. Place on a cutting board. Cut into bars.
Tip: Kids can help with a few steps of this recipe. Let them press the crumb mixture into the pan, melt the chocolate or stir in the marshmallows.
Natalie Mikles is a mom of three. She writes about food, sharing recipes for busy families and picky eaters. She has been recognized for her food columns as well as features on families and issues affecting local children. She loves pizza and movie nights with her family.
---