How To Introduce Your Kid to Golf: Make It Fun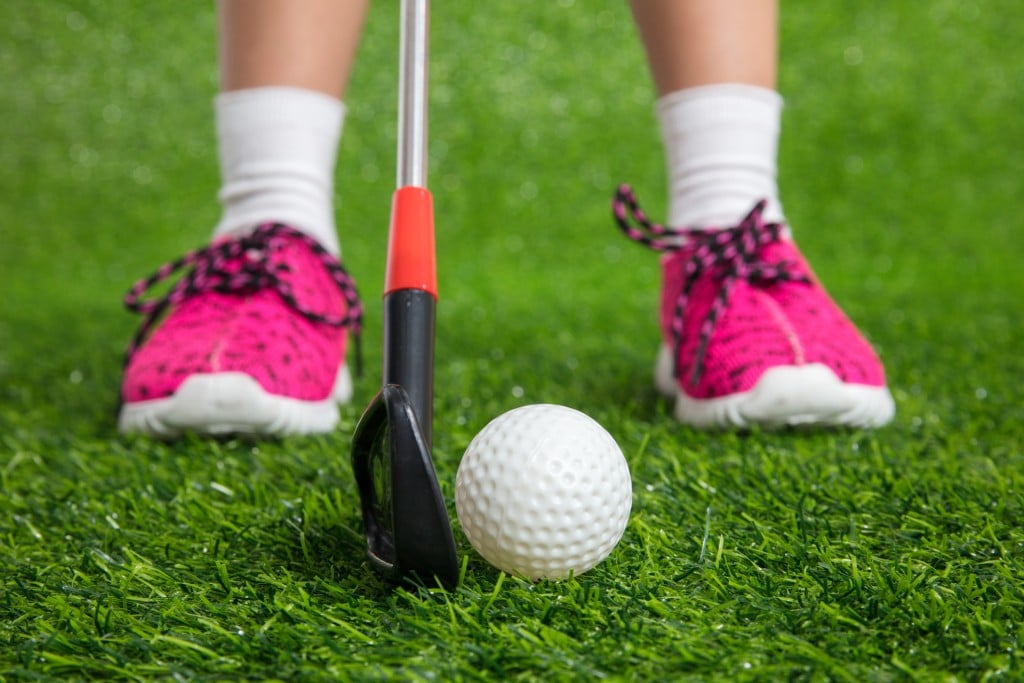 As the PGA Championship returns to Tulsa, parents may be dreaming of raising the next generation of professional players. Kids may be begging to learn to play like the pros. Even parents who don't play may be looking for ways to involve their children in a sport they can enjoy for a lifetime.
Patrick McCrate, director of golf for Tulsa County at LaFortune and South Lakes Golf Courses, says that golf is a great sport for kids because "it checks all the boxes." Kids can be outside, away from screens, and there are beneficial physical and social aspects to golf. It improves focus, coordination and fine motor skills.
"It's an individual sport," McCrate says, "but there's the social aspect, which is fantastic. You can play with your family or a pal."
McCrate recalls one of his favorite memories was playing golf with his friend when they were 12 years old. His friend's dad would drop them off at the golf course, they would play, and then when the dad came to pick them up, he would play nine more holes with the boys.
What Age Should Kids Start?
McCrate says that kids are starting golf lessons at younger ages than in the past. Some of the kids in LaFortune and South Lakes golf camps have been as young as 5 years old, but the majority fall into the 7- to 9-year-old and older category.
"Every kid is different," he says. "You have to know your own kid. They will need to be able to pay attention, have eye-hand coordination and be able to be outside. Parents usually know when their kid is ready to participate."
Introducing Kids to Golf
One of the best ways to pique a child's interest in golf is to take them with you if you play. Watching you play and riding the golf cart can be enough to encourage some kids.
While there's no hard-and-fast rule to choosing group lessons over private coaching, McCrate recommends group lessons to introduce kids to the sport because it's fun for them to be with others of their skill level as they learn to play. Both LaFortune and South Lakes offer golf camps as well as the Lil' Hooks program, which meets once a week for eight or 10 weeks. Kids may start with a camp, which is usually three hours a day, Monday through Thursday, and then participate in Lil' Hooks, which is a step up for 9-, 10-, 11- and 12-year-olds.
The two locations also offer the PGA Junior League, a national program that McCrate calls "noncompetitive competition." A team concept, PGA Junior League has teams of 10 or 12 kids that play matches with each other.
"It's fantastic," McCrate says. "Everybody's rooting for everybody. It introduces them to competition, but it's also fun."
The group lessons have a 6:1 ratio of kids to instructor. To help the pros with camps, McCrate says he uses girls from the Union High School golf team, and boys from the Jenks team as well as college student golfers.
"First and foremost, in my staff, I look for energy and enthusiasm," McCrate says. "If you're going through the motions, then you're not good. You've also got to care if the kid has a good time. We also have some specific rules, such as no phones, and you've got to be in constant interaction with the kids."
McCrate says he learned a lesson from watching how engaged tennis coach Melissa McCorkle's kids were. "I thought I was putting on a good program," he says, "but watching Melissa, these kids were going wild. I'm not in her league. She gave me a great tip. For every year old the child is, that's how often you change activities. So, if a kid is 6, you do something for six minutes, and then you change. I incorporated that, and it was a huge game-changer for me."
Equipment
LaFortune and South Lakes camps provide equipment for the kids, or parents can buy clubs at LaFortune or elsewhere. They also provide a lease program where clubs can be leased for $75 from March 1 – Oct. 31.
McCrate says it can be an advantage to lease clubs because you can take them home with you, which will often encourage kids to play. He says he learned this by getting clubs for his youngest daughter. He came home one day to find her waiting for him with her clubs, ready to play.
Advice to Parents
"My advice would be, don't expect Tiger Woods at 7 years old," McCrate says. "When you're introducing your kids to golf, the age thing is huge. If they're only interested in hitting balls for seven minutes and then want to chase butterflies, that's fine. Maybe they'll play a little, then stack the balls, take a drink and then hit a few more."
Finding a course that, like LaFortune, is not intimidating for children or even adult beginners is a good start.
"It's designed so I could take my 6-year-old out there, and we could enjoy it," he says. "LaFortune is not overly intimidating and it's a fantastic place to get started."
Above all, it has to be a fun place to go, and you have to go. McCrate says that with his 9 or 10-year-old daughter standing outside with her clubs, he knew she would probably only be good to play for 30 minutes or so, but he took her.
"They'll ask you to go," he says. "You'll know."
---