Homework: Too much, too little or individualized?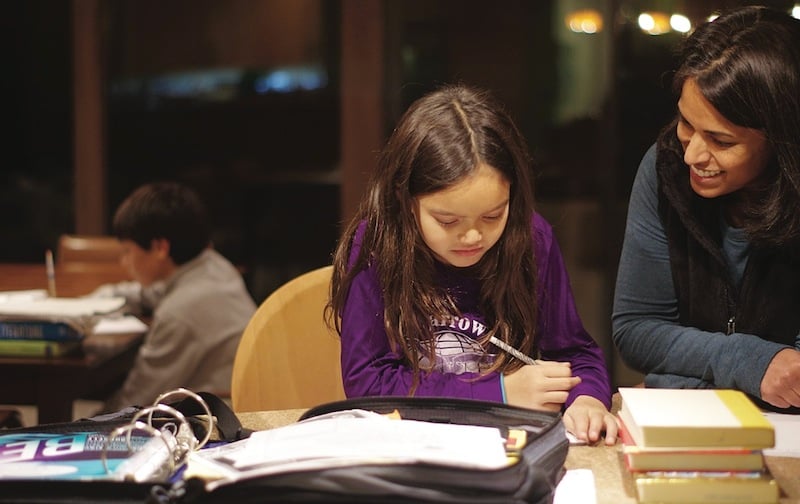 It's an ongoing battle waged most evenings in homes across the country – a controversial topic, hotly debated among scholars, teachers, parents and kids alike. Homework. How much is too much, and is it even necessary at all? While experts weigh in on both sides of the argument and parents ponder what's best for their kids, the students keep slogging through their nightly assignments. Homework is thought to improve test scores, self-discipline, study habits and independent problem-solving skills. However, some studies indicate, and many parents can attest, that homework can cause physical and emotional fatigue, limit leisure and family time, and fuel negative attitudes about learning.
Kelly Forbes, principal of Tulsa's Zarrow International School, a public elementary school with a Spanish language immersion program, decided to address the issue directly this school year by instituting a "no homework policy." According to Forbes, the response has been positive.
"I had meetings today with every grade level. One of the teachers said, 'I've seen such a huge difference in the excitement of our kids coming to school and a lot less stress,' and the parents have been telling me the same thing," Forbes noted. "They feel they're not fighting any more at home, and that they're actually able to have dinnertime. Kids are going to bed at a better time. They're not stressed out whenever they go to bed, so they're sleeping better."
Forbes, who has 13 years of experience in education and holds two master's degrees, did not arrive at this policy without a lot of thought, research and consideration. When Forbes started his job at Zarrow last year, he received feedback from parents who were frustrated with the homework load. Forbes responded by sending surveys home to parents and creating a focus group. He did his own research, reaching out to professors and reading through the studies. He encouraged his teachers to do the same.
"Going through all these studies, I just see so much research talking about how homework overall isn't necessary and isn't always beneficial," he said. "It may be for secondary school, in some aspects, but specifically for elementary school, there isn't anything that proves homework really helps when it comes to academics."
So far, Forbes is pleased with the results. The students are performing at or above grade level.
"Today was a data review day," he commented. "We went through all of our data for our third grade. According to an assessment called the 'Measures of Academic Progress,' our third graders are exactly at the point where they're supposed to be for the end of their third-grade year already."
Forbes notes that the new homework policy doesn't mean that students are completely off the hook. They are still required to finish assignments at home that they don't complete in class. The school also provides weekly updates about what the students are covering and what the learning objectives are, along with suggestions for how to incorporate those concepts into activities at home, a concept Forbes called "Living the Learning."
"We send home updates," Forbes explained. "Here are the objectives that we are working on. This is what our students are learning in the classroom, and here are some concrete examples of ways you can apply and conceptualize this learning at home with your kids. So if it's fractions, you can now cook together. If it's rounding numbers, here's an activity you can do with coupons and the newspaper. Perfect practice is what makes perfect. Not just practice makes perfect."
Forbes said the school continues to provide additional support for kids who need extra help in particular areas.
"I tell parents, if you feel like your child is lacking in something, please let us know, and if we feel your child is lacking in something, I want you to know," he noted. "We want to stay true to our mission which talks about a differentiated education. It's a little bit of extra work on our end, and it's going to be a little bit of extra work on your end, but that's okay because now we're really going to pinpoint the needs of that kid."
Tulsa parent Leena Alam has a fourth grader at Zarrow and a seventh grader at Carver. According to Alam, Forbes "has really been a transformative figure at what was already a good school," but while Alam and her husband think the new homework policy might work for younger students, they don't think it is as beneficial for the students in the upper grades.
"When they instituted the policy, we were very supportive of it," she explained. "We understood the pedagogical value of letting kids be kids and not requiring homework, especially in the early grades, so we were enthusiastic about it."
However, Alam and her husband, who are both lawyers and work full-time, have found that without homework from the school, they spend a significant amount of time finding material to reinforce and help their child master the concepts.
"In fourth grade, we've noticed the lack of reinforcement through homework has become a problem, especially in math in particular," she said.
As a result, Alam spends much of her limited spare time "finding the homework assignments that go with the classwork that they're doing and assigning my daughter to do the homework because she wasn't gaining mastery with just the classwork they were doing," Alam said. "She wasn't getting enough repetitions of the new concepts…It's basically made me her math tutor…I'm spending time finding the assignment, identifying what they should be doing in math and enforcing it in a world where she doesn't think she has homework. But she needs the homework to understand what they're doing in school and to continue to do it well."
Alam thinks the answer lies somewhere in the middle.
"I think there are pros and cons to it, and I think philosophically I do agree, especially for the younger students, that homework is unnecessary," she commented. "And even for older kids, even for my seventh grader, I think the volume of homework they get is sometimes excessive. I think there has to be a middle ground somewhere… I really don't know what the right solution is, but I think being flexible about it and realizing that maybe different solutions are appropriate for different grade levels is important."
Forbes, though, is happy with the policy thus far.
"I said, 'parents, I welcome your questions, and I want to be able to answer them for you, and if I don't know something, I'll tell you I don't know it, and we'll try to find it out together,'" he said. "But from what we're seeing, and from what our practices were last year and moving forward and looking at research, it's not diminishing anything, and it's been really exciting. It's been overall positive, and kids do seem pretty happy about it."
For more information on both sides of the equation, try Rethinking Homework: Best Practices that Support Diverse Needs by Cathy Vatterott and The Battle over Homework: Common Ground for Administrators, Teachers and Parents by Harris Cooper.
Julie Wenger Watson is a freelance writer who's worked in all aspects of music promotion. She's also Co-Director of "Live From Cain's," a public radio show pilot.