Helping Kids Achieve
Junior Achievement is more than child's play. It can turn around lives for some children.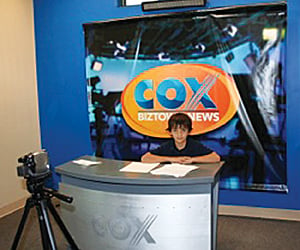 On a Tuesday morning in December Tulsa Junior Achievement's BizTown is buzzing with activity. Tulsa Lanier Elementary School fifth grader Steven Fernandez is preparing to visit the BizTown Bank of Oklahoma (BOK).  "I have to make a deposit to make sure there is enough money to pay my employees," explained Fernandez, BizTown's Cox Communications's Chief Executive Officer.
Fernandez said he was chosen by his teachers to be the CEO of BizTown Cox because he "had a good job interview" and because "I love math and am good at it."
For four hours 85 Lanier and Columbus Elementary School fifth graders, like Fernandez, bring the 5,500 square-foot Biztown to economic life. Students become working BizTown citizens, selling groceries at BizTown Reasors, enjoying their lunch break at BizTown Arby's and assembling a BizTown ONEOK pipeline that weaves its way through the community.
Occasionally, a student CEO seeks business advice from student BizTown Mayor for the day, Jeremiah Olsen. And throughout the morning student citizens stand at BizTown Williams Company Town Square and make announcements about their businesses.
Lanier Social Studies teacher Christa Wallace said BizTown allows her students to learn how a real business society works.
"My students get a real taste of supply and demand and how a free market system works," she said. "It is one thing to learn it in theory, but for the students to experience it like the real world is amazing to watch. This is their favorite thing they do all year."
Approximately 10,000 Tulsa area fifth graders participate in JA's BizTown program each year. And before the students even set foot in BizTown, they have engaged in 21 teacher- led lessons at their school. Combined, the classroom lessons designed by JA and the hands-on BizTown experience offer the students a vision as to why they should stay in school and seek a college education.
JA's economic curriculum consists of 20 programs for kindergarten through high school age students. Middle school programs include Economics for Success that explores personal finance and career options based on the students' skills, interests and values. JA offers 11 high school programs including the Investor Challenge designed to teach students the principles of trading and investing stock and the Job Shadow, which introduces students to careers through one-day, on-site workplace experience.
JA's Development Manager Brian Jackson said he was introduced to JA when he was a junior at Charles Page High School in Sand Springs. Marcus Lemons, JA volunteer and mentor, visited Jackson's economics class.
"Mr. Lemons came to our class about seven different times that semester," Jackson said. "We did a project and I was chosen to lead a group of my fellow classmates in a mock company called NU designs. It was my first taste of what business could be. I saw the people side of business, not just the numbers. To this day that project and Mr. Lemons visiting my classroom led me to where I am. My JA experience in high school made me realize education would give me options."
Jackson was the first in his family to go to college.
"I got my degree in marketing and applied to work at JA," he said. "My life came full circle. I now work for the organization that inspired me to continue my education and taught me about the business world."
Jackson said the JA adult volunteers are the heart of the organization.
"They make us stand out and our lessons come alive with real world volunteers. Business people like CEO's, managers and moms all participate," he said.
"I remember Mr. Lemons telling us to do for ourselves but also think of others," Jackson added. "I try to do that every day at JA. I think of all these kids who are being positively influenced through our programs and our mentors just like I was."
To learn more or to volunteer, visit www.jaok.org or call 918.663.2150.