Help Make Local Wishes Come True
The community can help Dan and the kids support Make-A-Wish Oklahoma Nov. 19-21 at a fundraiser radiothon at LaFortune Park.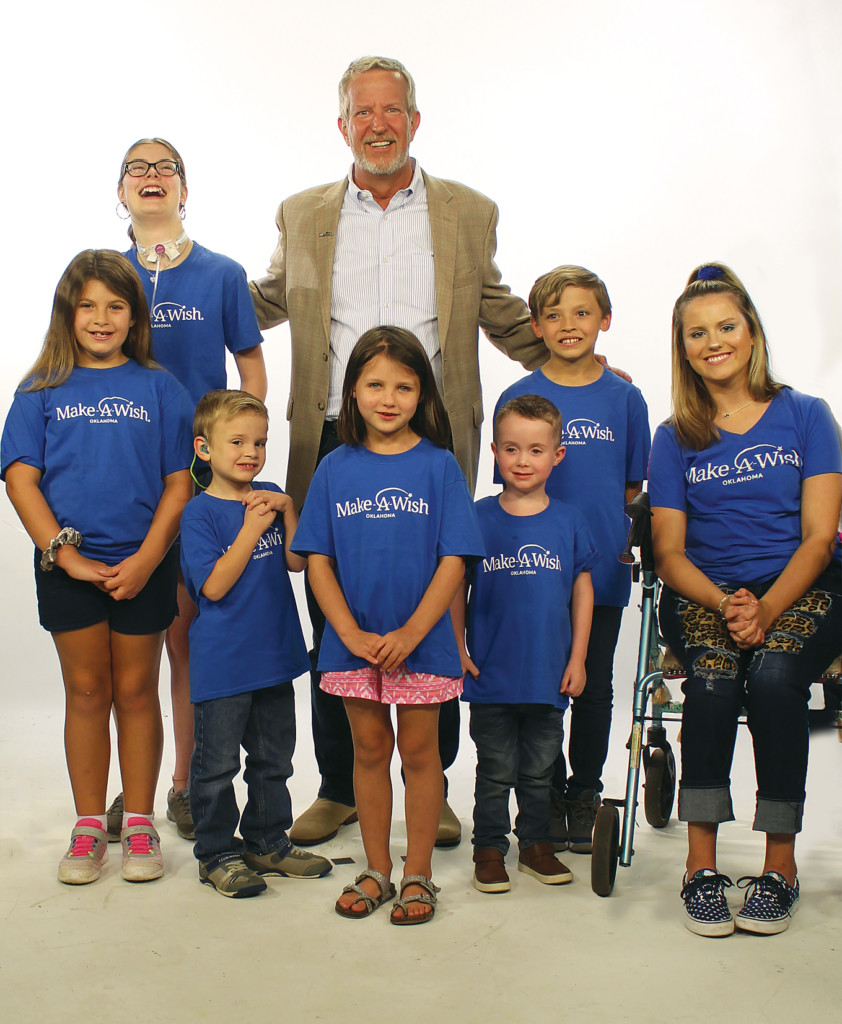 Oklahomans will have an opportunity this month to help make wishes come true during KRMG's 14th Annual Stories of Light three-day radiothon. The event is the largest annual fundraiser for Make-A-Wish Oklahoma and is hosted by KRMG's Morning News Host Dan Potter.
The Make-A-Wish organization was created to provide life-changing wishes for children with a critical illness ages 2 ½ to 18. Chapters are located throughout the United States and around the world. In the United States, a wish is granted every 34 minutes.
The KRMG fundraiser takes place each year the week before Thanksgiving, with this year's event scheduled for Nov. 19-21 at LaFortune Park in the baseball field parking lot at 5837 S. Yale. The radiothon features live broadcasts and accepts donations in person and by phone. The third day of the event has a festival feel with games and entertainment for families to enjoy. Satellite collection points will also be located in communities around the Tulsa area. The annual event usually raises around $300,000 for Make-A-Wish Oklahoma.
"There are incredibly generous people in the Tulsa area," Dan said. "People just open up and give."
The real linchpin of the whole effort is the stories of light, Dan said. These are poignant radio vignettes of Make-a-Wish kids that illustrate the process the kids go through to get their wish granted, usually in their own words along with comments from family members.
"When you hear from the kids and parents and the impact it has on the entire family and siblings, you can't help but be moved," Dan said.
Dan has been involved with fundraising for Make-a-Wish Oklahoma since 2008 when Joe Kelley left the station to be news director and morning show host for sister station News 96.5 in Orlando.
"It is one of the best gifts I have ever been given," Potter said.
The first radiothon raised about $30,000 and was hosted by Joe, who is a former Make-a-Wish kid, and Rick Couri in the parking lot at LaFortune Park. Now 14 years later, the KRMG crew has raised more than $3 million for Make-A-Wish Oklahoma. "It is the single largest fundraiser for Make-A-Wish in the state, making it the No. 1 revenue source for them," Dan said.
"Listeners like to keep their money local and see where their money goes," Dan said.
During his work with Make-A-Wish, Dan had the opportunity to meet Linda Pauling, whose son helped launch the cause. In April 1980, Linda's son, Chris Greicius, was only 7 years old and diagnosed with leukemia. When friends found out he had a wish to be police officer, they arranged for him to spend the day with Arizona Department of Public Safety officers. When he died the following month, Chris was honored with the ceremony of a fellow fallen officer.
"It was such a small gesture by the Phoenix police officers that has grown into the world's most powerful charitable organization," Dan said.
Last year, Make-A-Wish Oklahoma granted 172 wishes, with the average cost of a wish running around $7,000. The Oklahoma chapter started in 1982 and has granted more than 2,780 wishes over the years. About 300 kids are currently in the wish pipeline, Dan said.
"I'm such a believer in Make-a-Wish – it's a pure transparent charity," Dan said. "Every dime raised stays in Oklahoma."
From the volunteers, to the way money is raised and remains in the community to the fact you can make dreams come true is what makes Make-A-Wish such a great organization, Dan said.
"I took over the fundraising because I believe in the Make-A-Wish mission," Dan said. "I'm just so honored to be involved."
Katie Goss is 25 and serves as an ambassador for Make-A-Wish. Diagnosed with scoliosis as a child, Katie and her brother have both been Wish kids. She and her brother, Jared, also have Friedreich's ataxia, a genetic disease that causes difficulty walking, loss of sensation in the limbs and impaired speech.
"Katie is a rock star in the Make-A-Wish community," Dan said.
A heart specialist recommended the Goss siblings contact Make-A-Wish. Her brother got his wish granted first in 2010 with an opportunity to help coach the Minnesota Vikings in a home game.
"It was such an awesome wish that he got to coach them at their first home game, and they won!" Katie said.
Several years later, Katie was granted her wish in 2012 – a week in Hawaii. "Since my brother picked Minnesota and it was September and 50 degrees outside…and I hate the cold…when I was asked in Minnesota where I was going for my wish, I said I had no idea, but it would be somewhere warm!"
Katie and her family love warm weather and the beach. She enjoyed staying up late during her stay there just to watch the ocean.
"In Hawaii, I got to swim with dolphins, go to a luau and went snorkeling. The best thing about Hawaii was my dolphin swim. My dolphin's name was Kolohe, which means rascal in Hawaiian – which is just like my personality," Katie said. "Hawaii was just amazing and the people in Hawaii are completely different than the people here – they are so laid-back and chill."
After her wish trip, Katie had the opportunity to attend several Make-A-Wish events.
"I got the chance to see behind the scenes of Make-A-Wish just after my wish. That just touched me seeing people who don't even know you raise money for you to go on your wish for the chance for you to get the hope, strength and joy from it," Katie said.
Katie tries to attend every Make-A-Wish event in Oklahoma, and her goal is to visit every chapter in the world. In 2014, she received the top award at Make-A-Wish, the Lori Schultz-Betancourt Indomitable Spirit award for her bravery and spirit.
Katie and her brother live with their parents in Vinita. She enjoys riding horses, crafts, makeup and plans to get her cosmetology license this winter.
"I just love Vinita," Katie said. "It's a small town and I work at a gas station, so I know everyone and their grandmother."
Next year is a big year for Make-A-Wish as it turns 40. The national conference will be at Disney World.
"I'm trying to visit as many chapters as I can so they can tell the national chapter they want Katie speaking at the conference," Katie said.
Katie has a wall in her room dedicated to all of the people she has met through Make-A-Wish, including Garth Brooks. Country singer and guitarist Ty England even arranged for her to get an autographed guitar from Garth.
"My Make-A-Wish family is just humongous. I cry just thinking about it," Katie said.
For more information about Make-a-Wish Oklahoma and the KRMG Stories of Light radiothon, please visit oklahoma.wish.org.
---