Green Country Grown-Up: Dr. Colleen Abel, Poet
Abel is a Tulsa Artist Fellow and professor at Tulsa Community College.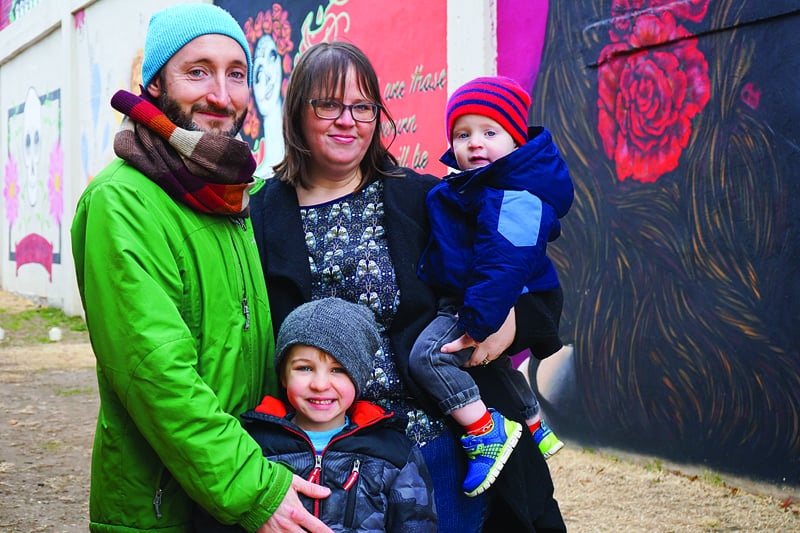 The Tulsa Artist Fellowship (TAF) was established by the George Kaiser Family Foundation to identify and entice talented artists from across the country to relocate to Tulsa for a year to immerse themselves in our community and to inspire and teach us while they're here. A little over a year ago, Dr. Colleen Abel was recognized for her talent in creative writing and was awarded a Literary Arts Fellowship through TAF. As an artist and a mother, Abel draws on personal and intimate topics such parenting and marriage in her writing. Her newest collection of poems will focus on being a female artist in the creative world. Her talent in creative writing also connects her with students at Tulsa Community College, where she is a professor.
TK: Where did you grow up and what brought you to Tulsa?
Abel: I grew up about an hour north of Chicago, but since graduating from college, I've lived all over the place. I came to Tulsa in January of 2017 because I was awarded the Tulsa Artist Fellowship, a program that awards artists from all over the country to come live and work in this city.
TK: Tell us about your family:
Abel: I have two sons. Griffin will be 7 in a few weeks, and Eamonn is 1 ½. My husband, Tim, is a visual artist, and he currently works at Philbrook Museum.
TK: What do you enjoy about living downtown in the Arts District?
Abel: It's such fun to live in the Arts District! My sons love being able to go to Guthrie Green almost every day; in the summer, we visit the splash pad. On Wednesdays, we check out the food trucks. We go to many concerts—but sometimes we feel like we have it all to ourselves, and just run around on the grass and enjoy the weather. My kids also love when there are special events in our neighborhood; this summer, all we had to do to watch the Tulsa Tough races was go out of our front door!
TK: What is your professional background?
Abel: I got my undergraduate degree in English, and I had a teacher in college who suggested I might like to try doing an MFA in Poetry. I originally thought I would be a literature scholar and professor, but I applied to a couple of MFA programs just to see what happened. When I got accepted, I figured the universe was trying to tell me to go, so I did. However, I never gave up on the idea of earning my PhD, so I did that, too! As of August 2013, I am Dr. Colleen Abel; my doctorate is in Creative Writing. I've spent a great deal of my time teaching at the college level, but since having kids, I've mostly worked part-time, and spent the rest of my time writing and parenting.
TK: How did you become interested in writing?
Abel: I wrote my first short story when I was four! It was about a vampire. I've always loved to write creatively; I've always been a huge reader. It helped, too, that my parents really loved literature and really loved poetry. I think most kids don't grow up with much, or any, poetry books in their house once they get past the age of Dr. Seuss. All the poetry I read as an adolescent came from being curious about my parents' bookshelves. By the time I was in junior high, I was writing pretty much every day.
TK: What types of writing do you enjoy the most and why?
Abel: In terms of reading, I enjoy reading absolutely everything. In the past couple years, I've started writing more book reviews, and I've come to really like the feeling of getting a book in the mail that is a surprise to me. I discover a lot of things that way that I might not otherwise have chosen. In terms of writing, I write mostly poems and essays.
TK: How would you describe your style of poetry?
Abel: I write a lot about marriage and family, especially in my first book. Having children is such an encompassing experience—I'm with my kids all the time!—that it's hard not to write about them a lot! But my second book is more about the experience of being an artist, especially a woman artist. It can be a very lonely undertaking, at times, and a melancholy one, too, so my second book (not out yet!) explores that. So, my work can be a little dark at times, but I also think there's some quirky humor in it, too.
TK: Where do you draw your writing inspiration?
Abel: Certainly, from my life, but probably even more from what I read. When I'm stuck or have writer's block, reading good work is really one of the only things that helps.
TK: Who is your favorite poet?
Abel: There are so many! Sylvia Plath was an early favorite for me, and will always be a writer I return to. Her life story overshadows her work, which is too bad—her poems are amazingly original. I also really love Louise Gluck, our former poet laureate. Other writers I love are Douglas Kearney, Vievee Francis, and Katie Ford.
TK: What is your favorite poem and why?
Abel: There is a little poem called "Angels" by Louise Erdrich that I go back to again and again. It's a masterpiece.
TK: Who is your favorite author?
Abel: Agatha Christie.
TK: What awards have you received?
Abel: The Tulsa Artist Fellowship is the largest award I've ever received, monetarily. I was fortunate to have a similar fellowship for a year at the University of Wisconsin-Madison a number of years ago. I've also received awards of residencies at different artist colonies throughout the Midwest and East Coast, as well as in Italy.
TK: When you are not busy writing or teaching, what do you and your family like to do around Tulsa?
Abel: In addition to spending time at Guthrie Green, we also frequently visit the Central Library. The boys love being outside, so we like to visit different parks or walk on Turkey Mountain. My oldest son just learned to ride a bike without training wheels, so I know he is looking forward to hitting some bike trails.
Learn more about Dr. Colleen Abel by visiting her website for contact information and to purchase a book: www.colleenabel.com.
Nancy A. Moore is a Public Relations Coordinator at Montreau, Adjunct Professor at Tulsa Community College, and has been writing for TulsaKids for almost 20 years.