Front Porch Desserts
Front Porch Chocolate Pudding, Banana "Ice Cream," Chocolate Angel Food Cake and Summertime Milkshakes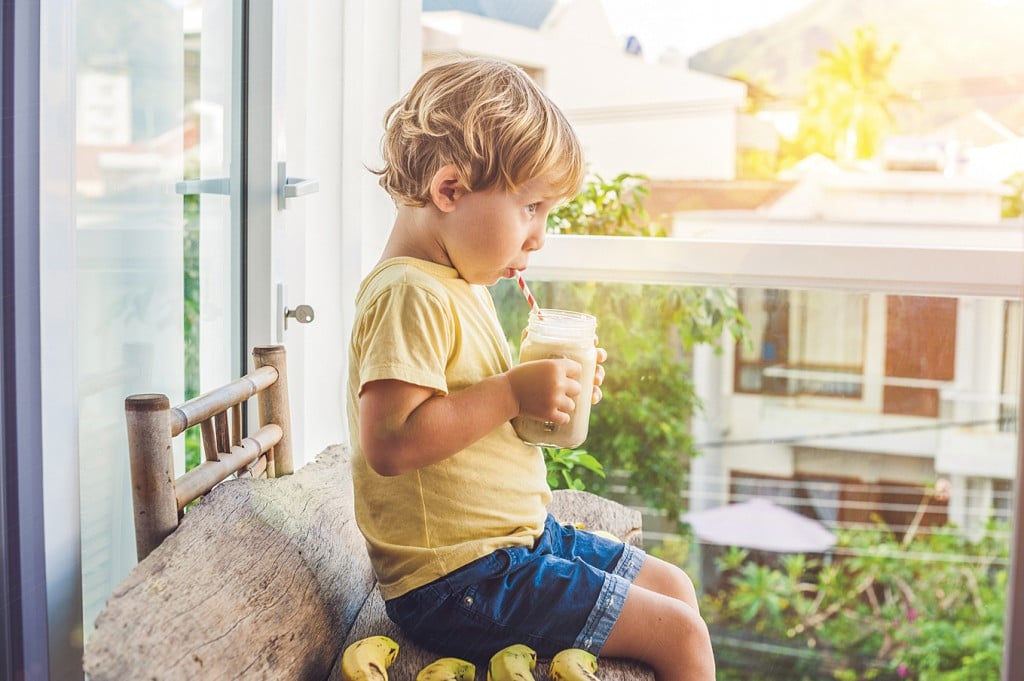 This article was originally published for TulsaKids' June 2020 issue
One silver lining from the time of quarantine has been the time we've been able to spend together.
A forced slow down from crazy schedules and activities has been replaced with catching fireflies, long talks on the porch, bike rides and playing catch until the sun sets. My aunt walks her dog in her neighborhood every day and said it's been amazing to see her neighborhood sidewalks once empty in the evenings now filled with families.
One of our favorite things in these social distancing days is to have something sweet on the porch at night. Our porch desserts are a fun thing the kids look forward to after dinner. We eat our popsicles or cake and wave to neighbors walking by.
I hope my kids will one day remember fun bike rides, hikes and backyard games during our quarantine, but I know they will also remember the laughs shared and fun had drinking milkshakes and eating cookies on the porch – sometimes in our pajamas.
---
We love this homemade chocolate pudding. It's good warm or chilled.
Front Porch Chocolate Pudding
Serves 8
6 tablespoons cornstarch
1/8 teaspoon salt
3 cups chocolate milk
1 cup semisweet chocolate chips
1 teaspoon vanilla extract
Stir the cornstarch and salt together in a saucepan, and set the pan over medium-low heat. Pour in about ½ cup of the chocolate milk and whisk until the mixture is smooth. Increase the heat to medium and add the rest of the milk, while stirring.
When hot, add the chocolate and stir until melted. Adjust the heat so that large bubbles break on the surface of the pudding. Keep whisking until thick, 3 to 5 minutes.
Remove from the heat, and stir in the vanilla. Serve warm. Or, spoon into ramekins or small coffee cups, allow to cool slightly, then cover with plastic wrap and refrigerate until chilled, at least 1 hour. The pudding will get thicker as it cools.
---
Adding other fruit, like mango or pineapple, is also delicious.
Banana "Ice Cream"
Serves 4
4 frozen bananas
Orange or pineapple juice, as needed
Break the bananas into chunks, and put in a food processor. Add a tablespoon of juice and puree until blended. Add additional tablespoons of juice as needed, until the mixture reaches a creamy consistency. Serve immediately.
Note: Bananas can be frozen whole with peel on. To remove peel, place banana under hot water, and use a table knife to scrape off peel.
---
This is so good with whipped cream and strawberries on the side.
Chocolate Angel Food Cake
3/4 cup cake flour
5 tablespoons cocoa powder
1 1/2 cups sugar
1 3/4 cups egg whites (about 12 large eggs)
3/4 teaspoon salt
1 1/2 teaspoons cream of tartar
1 teaspoon vanilla
Preheat oven to 325 degrees. Sift flour, cocoa and half the sugar into a bowl. Set aside.
Beat egg whites with salt until frothy. Add cream of tartar and beat until stiff, but not dry. Add remaining sugar, 1 tablespoon at a time, folding until incorporated. Add vanilla. Gently fold flour mixture into egg mixture.
Pour into a tube pan. Bake for 75 minutes. Remove from oven. Invert immediately, and let cool 1 hour.
---
My kids love these milkshakes. Substitute the chocolate chips for fruit, peanut butter, caramel or whatever you like.
Summertime Milkshakes
Serves 2
3 cups vanilla ice cream
1 1/3 cups milk
1/2 teaspoon vanilla
2 to 3 tablespoons mini chocolate chips
Place the ice cream, milk, vanilla and chocolate chips in a blender, and blend until creamy. Pour into a frosty cold mug.
Natalie Mikles is a mom of three. She writes about food, sharing recipes for busy families and picky eaters. She has been recognized for her food columns as well as features on families and issues affecting local children. She loves pizza and movie nights with her family.
---