Free Teacher and Parent Support Groups Just in Time for Back to School Uncertainty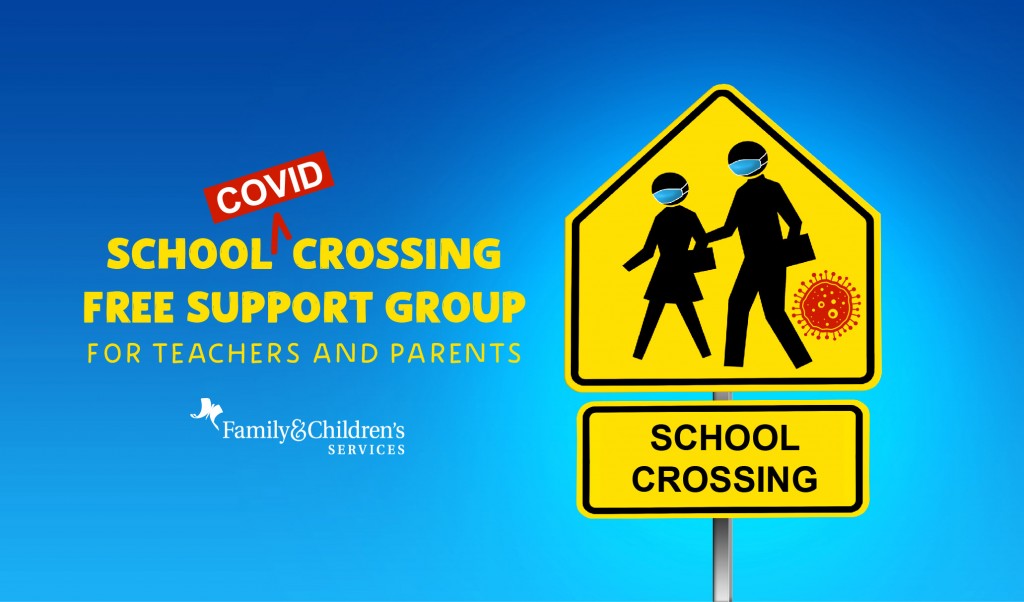 Sponsored by Family & Children's Services
The coronavirus pandemic has upended lives and forced us to make complex, high-stakes decisions with little information. Enter back to school angst. Teachers and parents have cobbled through the summer. Now, how can you best take care of your kids and manage your own stress levels? While there is a plethora of articles with tips on coping, nothing replaces human support and conversation.
Family & Children's Services mental health professionals have designed four virtual support group sessions for the needs and worries of both teachers and parents. Teachers and parents are one of the most critical sources of connection, education and support for children; but with the constant onslaught of worries, dilemmas and quandaries adults are tired and without any type of roadmap. We are here to help support your emotional exhaustion, give you some best-practice ways of coping and help replenish your strength during this time of uncertainty.
Teachers will meet online Thursdays from 4:30-5:30 p.m.
Topics include:
August 6 – Managing your anxiety about going back

Meeting your students on that first day is exciting; but in the current climate of COVID, these feelings may be more than just nervous excitement. We are now being presented with new challenges. Getting to know students online is less than ideal, but the alternative – returning to the classroom – is also a scary prospect for many.

August 13 – Helping Children feel more comfortable wearing masks

Wearing a mask can be really hard for children with anxiety, sensory differences, and autism. Your child may be extra sensitive to the way the mask feels on their face, head, and ears. Some children may even feel panicked when a mask is put on them. We're here to help you help your student feel more comfortable.

August 20 – Tips for classroom management during COVID

Classroom management is being challenged while students adjust to social distancing, virtual or at-home education. Add the emotional challenges — like increased anxiety or stress because of COVID – and you might just need some support. How will you provide structure, set expectations, and improve communication to manage classroom behaviors during COVID? Join us for this conversation.

August 27 – Age appropriate discussions about COVID to protect kids

It's easy to feel overwhelmed by everything you're hearing about COVID. Students might find it difficult to understand what they are seeing online or on TV – or hearing from other people – so they can be particularly vulnerable to feelings of anxiety, stress and sadness. Learn best practices for having age-appropriate and supportive discussions with students. 
Parents will meet online Thursdays from 5:30-6:30 p.m.
Topics include:
August 6 – Help your child face the challenges of school and COVID

Moving out of quarantine, with different families following different rules, is going to result in uncomfortable moments for kids as well as parents. Working with kids to anticipate unsafe situations they might find themselves in can help them feel more comfortable and make better decisions when the time comes.
August 13 – Help your child manage their anxiety during this time

How can I tell if my child is anxious about returning to school? If you don't think your child had any anxiety about school before but may be experiencing it now, we can help you understand the signs and prepare your child emotionally for returning to school following the coronavirus lockdown.
August 20 – Support your child's mental health during COVID

How can parents help their children navigate their feelings during school reopening? COVID has caused major disruptions to daily life and children are feeling these changes deeply. While the return to school should be welcoming and exciting for many students, others will feel anxious or frightened. Here are tips to help your children navigate some of the complicated emotions they may be facing with going back to school during COVID.
August 27 – What parents need to know about school in the age of COVID

COVID has exposed existing inequities in education and may fundamentally change how we conceive of school. Now more than ever, we must call upon our empathy, resilience, relationship building, and collective resolve as we innovate and rebuild how our children learn. How will you leverage social and emotional learning to support your student during COVID?
Both teacher and parent sessions are being led by licensed mental health professionals who work in Family & Children's Services children's mental health program. Adults needing immediate help with coping or crisis can also call the COPES COVID Emotional Support Line for Teachers and Parents at 918.744.4800.
Register for one group session or all. Space is limited. Learn more and register today at www.fcsok.org/supportgroups. Questions? Email info@fcsok.org.