Family Dinners in a Flash
Pizza Pasta, Chicken and Rice Soup and Easy Chicken Tacos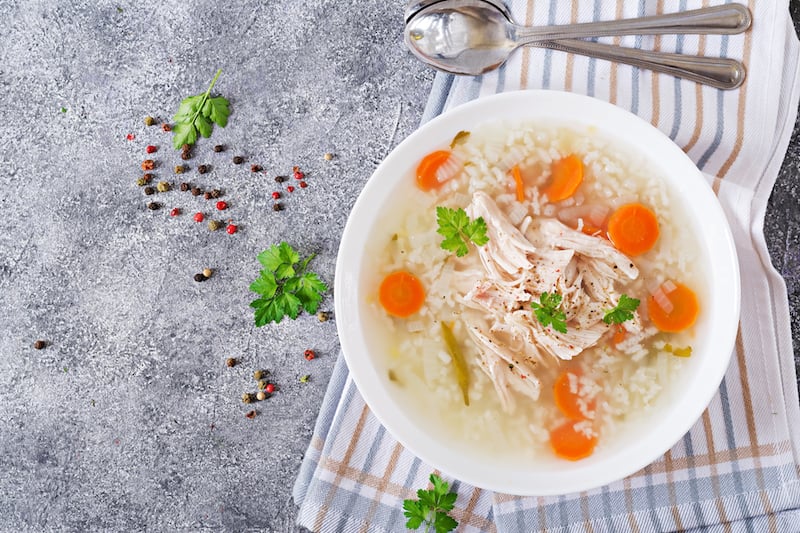 Before I had children, I dreamed of future family dinners. In these dinners, napkins were in laps, nutritious food was passed left to right, we laughed and talked about our day. A child may have even asked for seconds.
The reality of family dinner sure doesn't match the dream. Maybe one day it will. But with three kids ages 3 and younger, it could be awhile.
I've read about – and tried – nearly every tip out there for making family dinners simpler and better. Implementing bits and pieces of everything from menu planning to freezer meals has helped, but it hasn't created perfection.
Nearly every night, one of these three things happens: Someone spills a drink. A child escapes the table halfway through dinner. Someone refuses to eat.
Despite the spilled milk and untouched green beans, I still love dinnertime. I love watching them bow their heads before they dig in. I love the conversation, even if it's a lively debate about who we like better, Elmo or Grover. And I especially love when they actually like what we're eating. A "thank you" after dinner is nice, but it's even better when I can tell they mean it – or maybe that's the promise of ice cream talking.
Either way, I try to make their favorite foods a few times a week. I shuffle them in with foods to expand their palates and foods they're unsure about eating. But these favorite foods, the ones they ask for by name, are more likely to give us a successful dinnertime.
It's great to have the ingredients for these family-pleasing dinners ready to go for busy, exhausted or just-plain lazy nights.
Here is a favorite – a meal they like so much they'll even use a fork without having to be asked.
Pizza Pasta
1 (1 lb) package mini penne pasta
1 pound lean ground beef or ground turkey
1/4 cup diced onion
1/2 cup diced bell pepper
1/4 cup diced celery
1/4 cup diced carrots
1 (28-ounce) jar spaghetti sauce
8 ounces sliced pepperoni
2 cups shredded mozzarella cheese
Preheat oven to 350 degrees. Bring a large pot of lightly salted water to a boil. Add pasta and cook for 10 minutes; drain.
In a medium skillet over medium-high heat, cook beef with vegetables until beef is brown. Drain. Combine beef mixture with spaghetti sauce and cooked pasta, and pour into a 9-by-12-inch baking dish. Top with mozzarella and pepperoni.
Bake in preheated oven for 30 minutes, until cheese is melted and golden.
---
My 2-year-old likes to dunk French bread in this soup. Once you've chopped the vegetables, the soup comes together in no time.
Chicken and Rice Soup
2 tablespoons olive oil
3/4 cup chopped yellow onion
3/4 cup chopped celery
3/4 cup chopped carrots
2 garlic cloves, chopped or squeezed through a garlic press
2 teaspoons salt
1/2 teaspoon ground black pepper
1/2 teaspoon dry thyme leaves
1/2 teaspoon Italian seasoning
1 bay leaf
1/8 teaspoon crushed red pepper
8 cups low-sodium chicken broth
1/2 cup uncooked rice
2 boneless, skinless chicken breasts, cut into ½-inch cubes (or the equivalent of a rotisserie chicken)
2 tablespoons chopped fresh parsley
Heat a large saucepan over medium-high heat. Add the olive oil, then onion, celery and carrots. Saute 5 minutes.
Add the garlic, salt, pepper, thyme, Italian seasoning, bay leaf and crushed red pepper. Cook for a minute or two, making sure not to burn the garlic.
Add the chicken broth and bring to a boil. Cover and reduce heat to medium-low, then simmer for 20 minutes.
Add the chicken and cook until just cooked through, about 8 minutes. Add the parsley, stir and serve.
---
Make a taco bar with all the toppings, and the kids will like filling their own tacos. No cooking skills are required for this dinner, which is more about assembling than cooking.
Easy Chicken Tacos
Corn tortillas
1 rotisserie chicken, deboned, skinned and shredded
2 cups cheddar and jack cheese
Sour cream
Salsa
Lettuce
Tomato
Cilantro
Shredded cabbage
Wrap a dozen corn tortillas in plastic wrap, or between two damp paper towels, and cook in microwave for 45 seconds. Continue warming a dozen tortillas at a time, depending on how many you need.
---