Hands-On Science:
Experience the human microbiome at Discovery Lab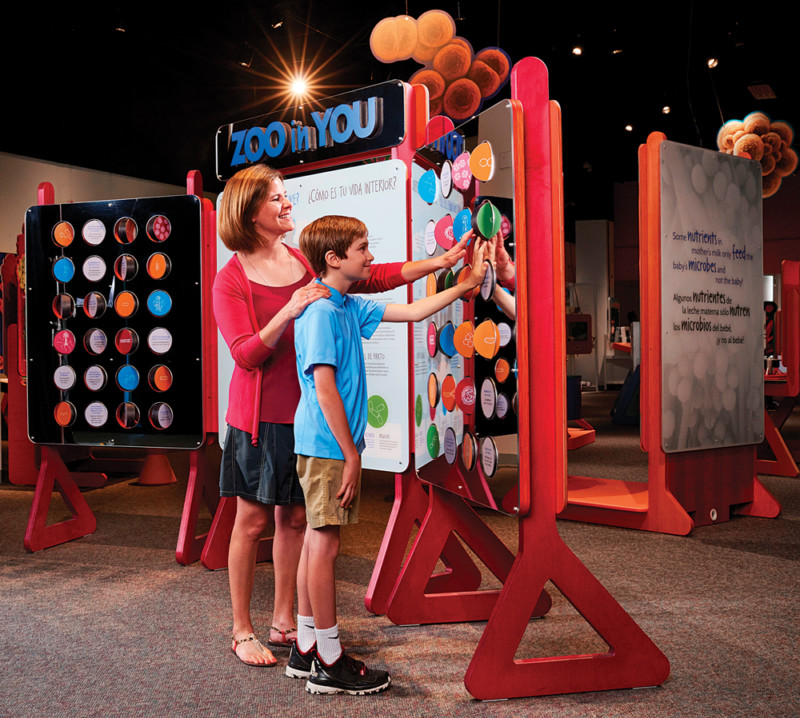 Did you know trillions of microbes live inside the human body? Kids and adults can get introduced to these tiny organisms at Zoo in You, Discovery Lab's newest exhibit, by exploring our microbiome – a dynamic, adaptable and delicately balanced ecosystem where humans and microbes coexist.
Zoo in You is a 2,000 square foot, bilingual exhibit that offers more than 10 interactive stations for visitors to engage with their microbiomes. Visitors can zoom down to the microscopic level, see a life-sized microbial reflection, sequence DNA, create a virus model and more. Zoo in You combines science, technology and health to fully immerse visitors into the world of microbes.
"We are thrilled to bring such an exciting, hands-on exhibit to Tulsa," said Ray Vandiver, CEO/executive director of Discovery Lab. "People of all ages will be entertained, engaged and educated by the Zoo in You experience. The exhibit is a fun way to explore a new science topic in a hands-on environment."
Since 2013, Tulsa's Discovery Lab has provided unique learning experiences, exhibits and programming for more than 600,000 children and families. Discovery Lab's hands-on, multidisciplinary approach emphasizes cognitive and process skills while extending and enriching classroom curriculum to build on children's interests and strengths and help prepare them for the future.
"Discovery Lab is much more than a science museum," Vandiver said. "Our focus is on process skills – creativity, innovation, awareness, problem solving – so children and parents can practice life skills together through science, technology, engineering, art and math."
At Zoo in You, visitors will learn who the constant microbial companions are, where they live, how diverse they are and in what ways scientists are discovering just how important they are to personal health. Zoo in You helps dispel the common misconception that all bacteria and viruses are harmful. Visitors to the exhibit will learn how microbes are necessary for healthy living, Vandiver said.
Zoo in You has three thematic areas: Meet the Microbes, Our Complex Ecosystems and Exploring our Microbiome. The exhibit opened May 23 and was developed and designed at the Oregon Museum of Science and Industry in Portland.
Later this year, Discovery Lab will break ground on its new location that will be built near 31st and Riverside as an addition to the Gathering Place park. Once built, the museum will serve as the southern anchor of the park. Discovery Lab will grow from its current size of 12,000 square feet to 50,000 square feet at its new location, making it comparable in dimension to similar museums in like-size cities, according to Vandiver.
Discovery Lab and its supporters work diligently to ensure educational programs and experiences are accessible to all schools and families across the Tulsa region. More than 25 percent of the students who visit on field trips and 40 percent of outreach programming receive free or reduced rates. Accessible Discovery, Discovery Lab's financial aid program, targets children and families in need through community partnerships.
"Discovery Lab is all about making learning science fun through a hands-on learning experience," Vandiver said. "The museum helps promote parent and child interaction around science topics."
Discovery Lab provides outreach to more than 30,000 students a year, making it the largest science, technology, engineering and math (STEM) outreach program in Oklahoma. Throughout the year, Discovery Lab also offers camps to engage and educate children from pre-kindergarten to sixth grade. Kids enjoy fun, interactive activities that focus on health and wellness, chemistry, engineering, technology and more.
Tape Tunnel, the museum's original exhibit and still a favorite for kids of all ages, features tunnels and a 30-foot slide made of packing tape. Inspired by TapeScape in Mankata, Minn., Tape Tunnel was developed, designed and built in Tulsa by Discovery Lab staff. This popular exhibit consists of six layers of tape in each tunnel, adding up to over 16 miles of tape.
The Zoo in You exhibit is open through Sept. 5.
A member of the Association of Children's Museums, Discovery Lab is located at 560 N. Maybelle northwest of downtown Tulsa. It is open Monday-Saturday from 9:30 a.m.-5 p.m. and Sunday from 11:30 a.m.-5 p.m. For more information, please visit discoverylab.org.
---