Everyone Looks Like Me: "Opal's Greenwood Oasis" Celebrates the Greenwood Community Through the Eyes of a Young Black Girl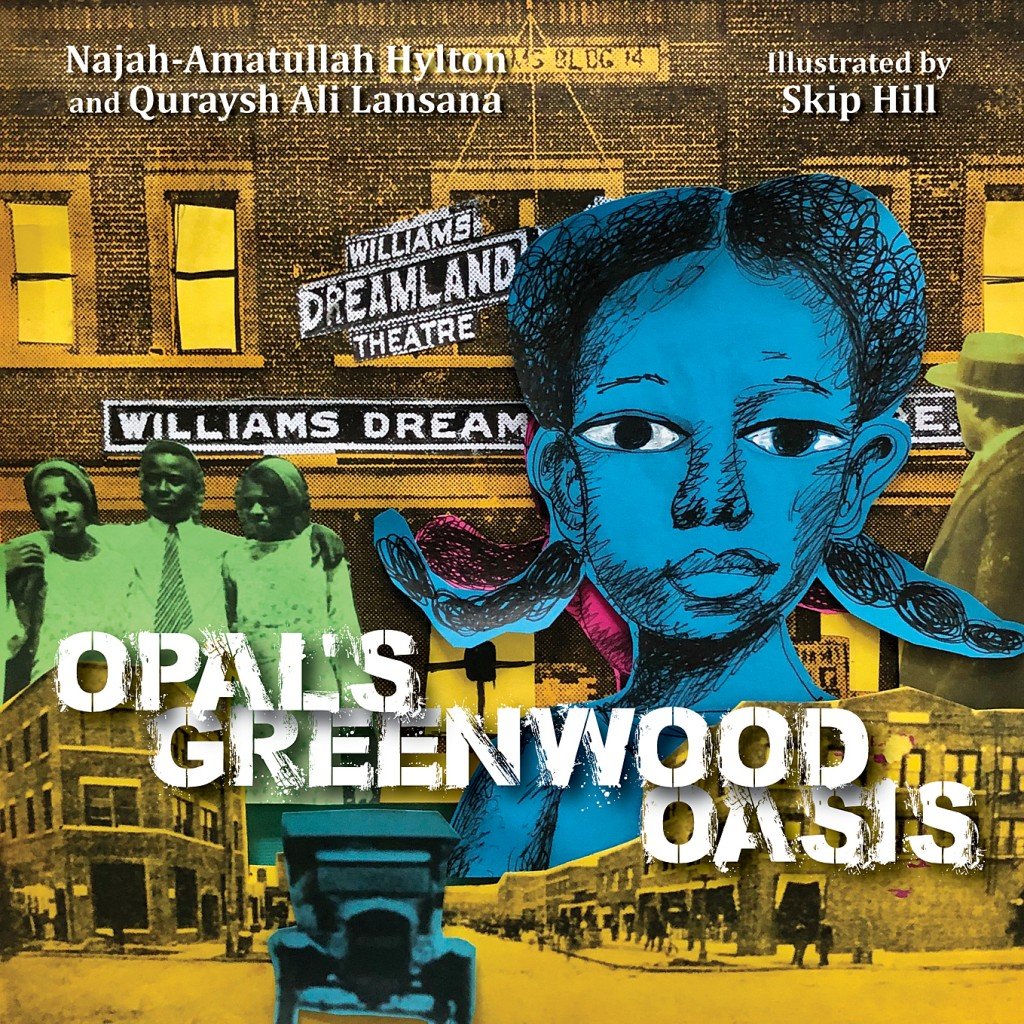 2021 marks 100 years since the Tulsa Race Massacre. A new children's book, co-authored by Quraysh Ali Lansana and Najah-Amatullah Hylton, allows readers to experience what it may have been like to live in Greenwood just prior to the Massacre. Opal's Greenwood Oasis follows third-grader Opal Brown as she rides her bike around Greenwood, helping her family prepare for the community's Memorial Day picnic.
"We wanted to write a picture book about Greenwood to share the rich, vibrant history of Black life in the District prior to its destruction," says Lansana. "We chose to highlight Black excellence over Black pain, and to provide children an opportunity to see themselves happy and loved. We chose to end the story just prior to the Massacre because we believe the horror and violence was too much for the age group to ascertain."
Thank you to the authors and illustrator for answering our questions about their work on Opal's Greenwood Oasis.
Q&A with illustrator Skip Hill
TK: Can you tell me about the process behind creating the art for Opal's Greenwood Oasis?
SH: The creative process began when I received Quraysh's manuscript for the book.
I read it many times, flipping pages back and forward, to get familiar with the story itself, and with the different characters in the story.
For me, putting an illustrated book together is like making a movie. The characters must be developed, and I establish the different scenes in the story like a film director. That means lots of thinking and sketching to figure out the visual flow of the book.
TK: What kind of research did you do? Where did you find the original photos used in your collages?
SH: I spent as much time doing research for the book as I did creating the actual illustrations! First, I visited the Greenwood Cultural Center to begin educating myself about the history of Greenwood, about the people who lived, worked and thrived there. I was gifted a copy of Tim Madigan's book The Burning: Destruction and the Tulsa Race Riot of 1921, a deeply compelling account of the local dynamics that enabled the building and flourishing of Greenwood and led to its devastation.
Because Opal's story takes place 100 years ago, it was essential for me to capture the small details of daily rural African American life during that time.
TK: What did you enjoy most about working on this project? What aspects were the most challenging?
SH: I am a history geek, so researching and revisiting the era in 'Opal's Greenwood Oasis' and seeing what the community of Greenwood managed to accomplish in a segregated Oklahoma was inspiring. I enjoyed finding just the right image to reference a particular scene in the book. Seeing the words of the authors come to life through my hands is always a thrill and is always the biggest challenge. While there are plenty of images of the smoldering ruins in the aftermath, it was challenging to find photos of normal life in Greenwood before the massacre. You can imagine all the personal archives and family photos lost in the destruction.
View Skip Hill's art at skiphillart.com or instagram.com/skiphillart.
Q&A with co-author Quraysh Ali Lansana
TK: Can you tell me about the writing process behind Opal's Greenwood Oasis?
QAL: We conceived of the storyline and direction collaboratively, and wrote collaboratively as well. It was important to us for the book to present a Girl-forward focus, as Black girls as lead characters doesn't happen as often as it should.
TK: How did you settle on Opal as the main character?
QAL: I actually don't recall how we arrived at the name Opal. I know we both like the name, and wanted to gift our lead character with a name that was not only period appropriate, but also possessed metaphoric weight. Opal's likeness is based on photos of Najah's daughter.
TK: What do you love most about Opal's Greenwood Oasis?
QAL: I love several things about this book. First, I love Skip Hill's amazing, vibrant and historically detailed illustrations. His work is stunning. I love that Opal guides us through her community that was economically independent and rich in Black love and faith. I love that we've crafted a book that will introduce Greenwood to younger readers, a place that all children, but especially Black children, can and should find pride.
TK: What age range is the target audience for the book?
QAL: The target age range is 8 – 12 years of age. I think younger readers will find a connection with Opal and her life in Greenwood, which was one of kindness and safety. I think older children will be introduced to the history of Greenwood, with its many businesses and homes. I think the sense of community is palpable for both younger and older readers.
Q&A with co-author Najah-Amatullah Hylton
TK: How did you meet Quraysh, and how did you end up working on the book together?
N-AH: Q and I were both asked to read poetry at an event in Oklahoma City in November 2015. We started talking about projects he was working on and he invited me to assist him in bringing those projects to fruition…When Q moved to Tulsa, in 2018, I believe, he immediately started thinking ahead to the centennial year of the Tulsa Race Massacre. He presented me with the opportunity to collaborate with him on a children's book about Greenwood, and I was glad to share it with him.
The most exciting thing about this project was that it would focus on Greenwood in its glory, rather than it living only as a ruin.
TK: What drew you to writing as a child?
NA-H: My grandfather said I wrote because I was lonely. I'm an only child to a single mother and I spent a lot of time with my grandparents. I think I also fell in love early with stories in every format. I was constantly retelling every detail of a movie or show or making up a new story. As soon as I had enough words in my vocabulary to make them rhyme, I was writing poems for fun and to impress my teachers, but stories were my go-to as a child. I still have most of my full notebooks and my documents from long-ago hard drives.
TK: What compels you to write as an adult?
N-AH: I fell in love with the way poetry can make hard themes beautiful. I was still scribbling poems for fun my freshman year of college when I was invited to the Red Dirt Home for Wayward Poets in OKC. My focus shifted to performance poetry, or slam, or spoken word, however you want to call it. Now I am chasing two things: words that transform the emotions behind real events (through poetry or fiction) and words that are accessible enough to explain what was previously inaccessible (through blogs and other nonfiction). I want to make people feel something different, and I want to teach through my writing.
"Opal's Greenwood Oasis" Presale
Opal's Greenwood Oasis will be published by The Calliope Group in February 2021. Pre-order the book at https://thecalliopegroup.com/product/opal/. Use the code tkopal through December 15 in order to receive 30% off of your pre-order. The books will ship in January.
---