Erica Lambrecht: Cascia Student Sleep Study Going International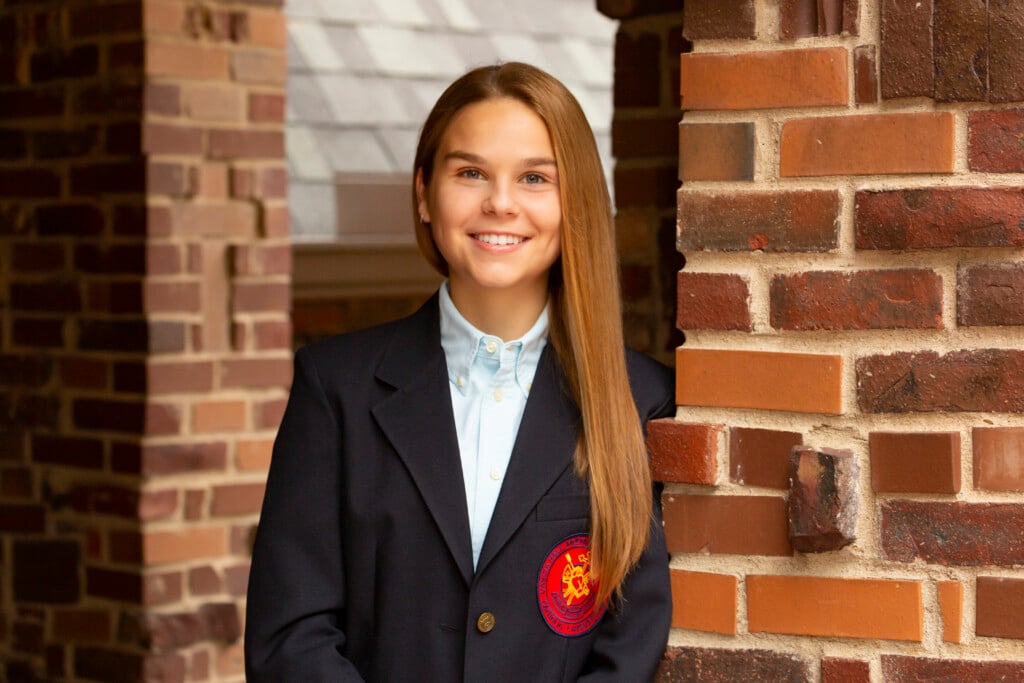 Senior Erica Lambrecht's regional science fair project on sleep has advanced to the International Science Fair. The Cascia Hall Preparatory School student talks about her research, her mentors and her inspirations.
TK: Tell us about the science fair and your project.
Erica: My project competed at the Tulsa Regional Science Fair that took place at the University of Tulsa. I ended up advancing straight to the International Science Fair.
My project aimed to determine if there is a statistically significant difference in heart rate variability, sleep efficiency and percentage of time spent in deep non-REM sleep due to daily exercise. My participants wore an Oura ring for 20 nights, exercising for only 10 of the days in order to provide data for comparison. I performed statistical analysis on each data set, and I concluded that there is a general increase in all three variables following a day of exercise, but only heart rate variability proved to be statistically significant for each participant. Therefore, only a correlation between increased heart rate variability and daily exercise can be stated.
TK: Why did you choose this particular subject to research?
Erica: I was inspired by a podcast on health and wellness with Dr. Peter Attia and Matt Walker. They made it clear that there is a strong difference in quality of sleep between those who exercise on a regular basis and those who don't. I wanted to amplify this to see if there is a statistically significant change in quality of sleep depending on day-to-day exercise, rather than simply exercise in general.
TK: Who helped you shape your project or helped provide guidance?
Erica: Our (Cascia) science research advisor, Mrs. Steen, pushed me to find a topic that I truly felt passionate about. Once I found my topic, she helped me turn the idea into a realistic project for the science fair. Also, my statistics teacher, Mrs. Foster, helped me a great deal to ensure my statistical calculations were accurate. Without them, my project would not have reached this point.
TK: Have you always been interested in science? As a young woman, do you feel that girls and young women are encouraged to go into careers in the sciences?
Erica: I was exposed to science from an early age at University School. I learned about geology, chemistry and biology through discussions and lab work all throughout grade school. This piqued my curiosity as a young girl.
In high school, at Cascia Hall, the teachers always encouraged me to explore my interest in STEM. The numerous opportunities that were presented to me, such as science research and challenging STEM courses, elevated my commitment to a path in science. I've also been extremely lucky to have a family that supports me regardless of what academic path I follow.
TK: What are your future plans?
Erica: I will be attending Colorado State University in the fall to study mechanical engineering with an aerospace concentration.
TK: Do you have any role models?
Erica: My father has been my biggest role model. I've always admired his discipline and work ethic. He graduated with a degree in chemical engineering and pursued further interests in science by attending medical school. His work influenced me from a young age, as he always spoke with my brother and me about medicine and science around the dinner table.
TK: What are some of the things you like to do?
Erica: I love running, hiking, biking and all things outdoors! These interests greatly influenced my decision to attend Colorado State University!
TK: Do you have a fun fact or something that might surprise people that you can share?
Erica: I am a huge hockey fan! Go Pens!
---