Elf: The Musical is Coming to Tulsa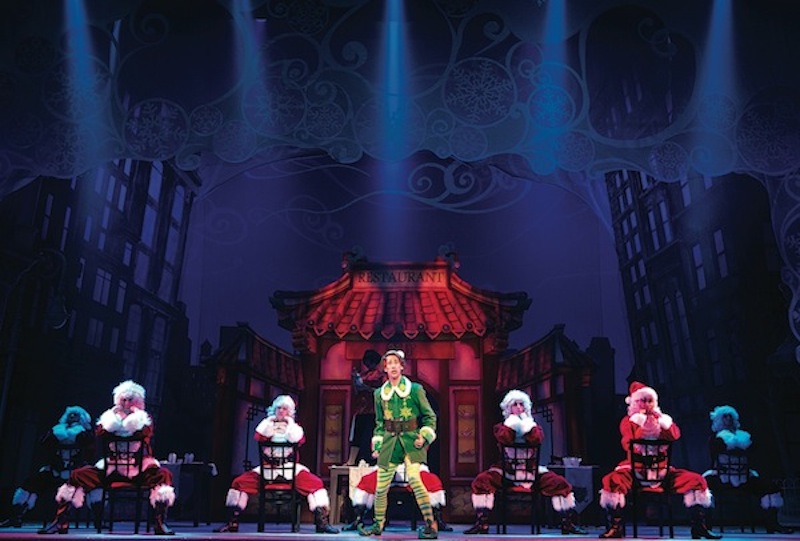 Veteran actor Ken Clement is in his fourth year of touring with Elf The Musical, which will be at the Tulsa PAC this month. In a recent phone interview, Clement talked about playing Santa, keeping it fresh, and how he "has grown into the suit" over the years.
Celebrity Attractions brings Elf The Musical, in all its sugar-coated, chocolate syrupy holiday fun, to the Tulsa Performing Arts Center Nov. 15 through 20, 2016. The stage version of the popular film tells the tale of Buddy, the orphan child, who crawls into Santa's bag of gifts and ends up at the North Pole. Upon learning that he is not an elf, Buddy embarks on a journey to New York City to find his birth father.
"Most of the really good bits from the movie make it in [to the stage show]," Clements says. But, Papa Elf and Santa have been combined in the musical as one character – Santa.
Clement laughingly describes his Santa as "more of a beer and pizza Santa Claus, a guy that owns 364 Hawaiian shirts" who wears his red suit one day a year. "I joke about the fact that it's an easy track and an easy job. Me in a comfy chair and they wheel me out."
Hearing the joy in his voice and the frequent chuckling, it's easy to imagine Clement as "the jolly old elf." Or, perhaps four years of playing Santa has imbued Clement with a Santa-like perspective on life.
Whatever the reason, Clement says that he loves the role and the score. "It has a wonderful big band soundtrack," he says. "And Santa gets to sing."
Clement says one of his favorite numbers is at the top of Act II, which is set in a Chinese restaurant. "All the mall Santas have gathered, and there are all different shapes and sizes."
Another number that Clement says to watch for is in Act I where Buddy sings "Just Like Him" about wanting to be like his dad. "It's a big, splashy number," Clement says, praising the talent of Elf's ensemble cast.
While Clement has worked extensively in film and television, he says, "I enjoy theater a whole lot more. It doesn't pay like film and TV, but you have the immediate satisfaction of knowing how you're doing by the audience's reaction. And I've been all over the world [with tours]."
Clement added that he hopes to have time to see some places in Tulsa while he's here, and has already looked up information on Philbrook.
Another aspect of stage performance that Clement enjoys is the opportunity to ad lib.
"I got permission to throw things in to pander to the audience," he says. "I've been known to leave the script a little."
Asked if he had ever thrown off the cast or if anything really unusual had happened on stage during a production, Clement said that one night the young boy who played Michael got sick halfway through the show, so the understudy, who looked dramatically different from the first Michael, had to take over after intermission.
"The understudy was six inches taller and rail thin," Clement says. "He makes his entrance and gets a laugh, so I shook his hand and say, 'hey, did you get a haircut?'"
The Christmas spirit that powers Santa's sleigh at the end of Elf is evident in Clement's enthusiastic endorsement of the production.
"I keep coming back," he says. "I just love this show! It's my Christmas gift to myself."