Early Literacy: Reasons to read to your child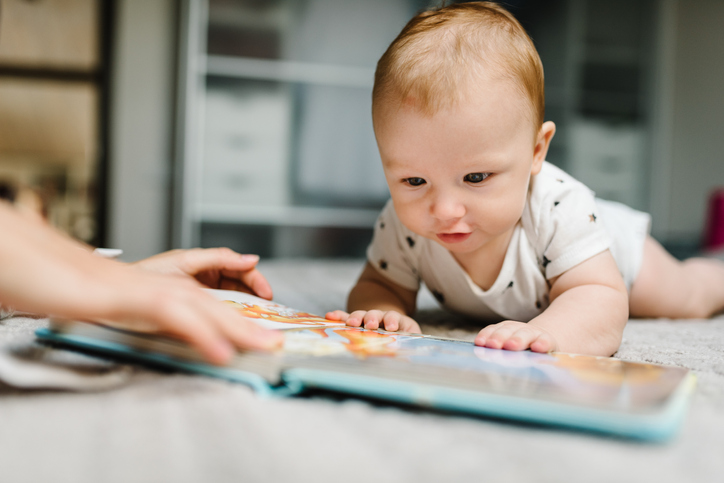 Teaching children early literacy skills is one of the best ways parents can provide an advantage when they are learning to read and write.
Early literacy skills are pre-reading skills. Reading to children exposes them to language that can lead to social and educational advantages, so start a habit of reading to your children when they are infants.
There are six early literacy skills, which you can help develop in your child in the following ways:
1. Print motivation is a child's interest in and enjoyment of books.
You can promote this skill by keeping the reading interaction positive. Choose a quiet time when your child is relaxed and open to sitting still on your lap. Take advantage of your reading time to cuddle with your child and follow her lead. If she gets tired of reading, put the book away for another time rather than force her to sit still until the end. A negative interaction may lead to a negative association with reading and books. Babies and toddlers have very short attention spans, so it is fine to read for a few minutes at a time.
2. Phonological awareness is the ability to hear and play with the smaller sounds in words.
Singing songs and saying nursery rhymes encourages development in this area. Try making up silly rhyming songs with your child in the car, or the grocery store, or anywhere you see an opportunity. This skill is important because hearing the beginning and ending sounds in words helps the child sound out words when he begins to read.
3. Vocabulary is important because children need to know the meaning of the words they are reading.
Reading to your children helps them build a large vocabulary. As you read, explain unfamiliar words rather than replacing them with familiar words.
4. Print awareness is noticing print everywhere and knowing how to handle a book.
Children need to be familiar with how a book works. For example, what the cover and title pages are, that we read the text and not the pictures, and we read the words left to right. One way to incorporate print awareness is to point at the words on the page as you read. You can also talk about words you see on signs, billboards, and menus and explain what they mean.
5. Letter knowledge is knowing that letters are different from each other and that they have different names and sounds.
In order to understand words, children must first understand that words are made up of individual letters. One of the best ways to teach this skill is to sing the alphabet song and read books about the alphabet.
6. Narrative skills are the ability to describe things and events and tell a story.
This skill helps children understand what they are reading and leads to good reading comprehension skills. While you read, ask "why" or "what" questions about the book such as, "What do you think will happen next?" Avoid asking questions with "yes" or "no" answers. Encourage your child to use her imagination to describe her thoughts about the story or the characters in the book.

When reading to babies, keep in mind that they have very short attention spans but will love exploring a new book through seeing the pictures, tasting and touching, and hearing the sound of your familiar voice. Choose board books or books with textures for babies to feel. Babies love repetition, so read their favorite book again and again.
When reading to toddlers, offer several books to choose from at bedtime and praise their choices. Read expressively, talk about the illustrations and ask questions. If you have a preschool age child, encourage him to "read" to you and look at the books on his own. Ask questions but do not make reading time like a test. Try introducing some non-fiction books. Most importantly, use reading time to bond with your baby, toddler or preschooler and have a positive experience. You are teaching your children early literacy skills just by reading with them.
The Tulsa City County Library provides free weekly storytimes for babies, toddlers and preschool age children. Library storytimes promote early literacy skills through books, songs, rhymes, fingerplays, puppets, felt board stories, and activities. Check our new kids' website, tulsalibrary.org/kids, or stop by your local library branch for an event guide for each library location.